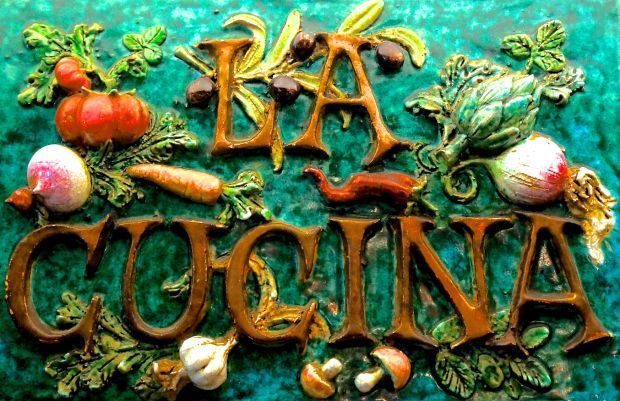 In celebration of their 75th anniversary, Tosi's Restaurant in Stevensville, Michigan is presenting a night of great art and gourmet offerings at their Fine Art + Fine Food fundraiser on Sunday, October 5th. The idea is to enjoy the works of Italian artists which were collected by the restaurant's original owner Emil Tosi. Local artists will be there to give presentations on each collection and then lead tours throughout the each of the restaurant's rooms where the art is exhibited. As an example, Anna Russo-Sieber, an arts educator and owner of ARS Gallery in Benton Harbor, will talk about the ceramics created by Silvano Tauti many of which are on display in the restaurant's Cypress Room including a Court Jester statue in teal and accented with gold (there's another Court Jester in the Cortina room—this one white with floral applications) and a chef bust created by the artist for Emil Tosi among other works by the artist.
Describing the magnificent opera scenes in the Tuscany Room is Southwestern Michigan College's theater director Paul Mow, formerly a member of the New York City opera while award winning fine artist Kristin Hosbein talks about the paintings of Madonini belonging not only to the Tosi Collections but also those on loan from Jan and Herman Berghoff, former owners of Tosi's, Jerry and Phyllis Alberts and Yvonne Tosi Wallsten on show in the Cortina, Cypress and Tuscany Rooms.
Vincent Iannelli will be on hand to talk about "Florence by Night," a mural in the Florentine Grill Room created by his father, artist Pasquale Iannelli. The grill room will also be the setting for another of Iannelli's work—that of the flag throwing contest held prior to the annual Palio horse race in Siena, Italy whose origins trace back to Medieval times—which has never before been on display and was created by the artist for Tosi in 1961.
But though this wonderful art collections has always been part of the Tosi's ambiance, it's the food that has made this a serious dining destination since opening three-quarters of a century ago. Formerly a summer resort for the Italians who flocked here from Chicago, Emil, using his mother's great recipes, turned this into a destination restaurant. As part of this heritage, there will be cocktails and appetizers in the garden—also full of artwork and music by Renaissance String Quartet. Desserts are by Bit of Swiss. Tabor Hill Winery is providing dessert wines. 100% of the ticket cost goes to support the Education and Exhibition Programming of the Krasl Art Center which is curating the event.
Tosi's Classic Osso Bucco
1 cup melted butter or olive oil
2 cups sweet Marsala wine
1 tablespoon minced garlic
¼ cup dry porcini mushrooms
2 cups veal stock (use chicken stock as a substitute if need be)
64-ounce can of whole peeled tomatoes in juice
Lightly dredge veal in flour. In a sauté pan, add the butter or oil, and on medium-high heat, braise the shanks on each side until you have a nice crust. Remove from pan and put in a roasting pan. Deglaze the pan with the Marsala wine, using a wooden spoon or other implement to scrape free any meat particles left in pan.
To that, add the garlic, carrots, onions and celery and sauté about 5 minutes. Add vegetable mixture to the shanks. Add the tomatoes, crushing them with your hands. Add the remaining ingredients and cook on stovetop for about 2½-3 hours on medium-low heat, checking every hour until meat is tender and almost falling off the bone.
Can be served over any sides (mashed potatoes, polenta, pasta, rice, etc.).