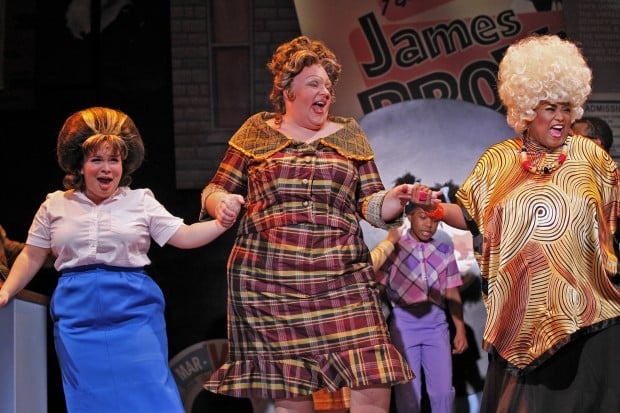 Edna Turnblad is one of those stage characters with a larger-than-life personality, who treats every day as though it's Mother's Day.
Anytime she's on stage in the musical "Hairspray," the spotlight loves to shine on her every move and line.
So when Jeff Award-winning actor Michael Lindner, fresh from his national Broadway tour of "Mamma Mia!" and after his well-remembered turn in Drury Lane Theatre's "Ragtime," auditioned for the role, he wanted to make sure the director and producers remembered his moment.
"When I auditioned, I didn't want to distract, but I wanted to do something to stand out in appearance," Lindner said.
"So I wore a simple pair of white gloves and had a purse on my arm."
The combination of both his talent and the added accessorizing, tickled the casting panel and Lindner is now in full wig, makeup and heels for performances every week for Drury Lane Theatre in Oakbrook Terrace's production of the Tony Award-winning musical "Hairspray," now playing until June 17.
It's directed and choreographed by Jeff Award winner Tammy Mader, who served as the director and choreographer for Drury Lane Theatre's critically acclaimed "Buddy: The Buddy Holly Story," and the choreographer of Drury Lane Theatre's "Spamalot," "Seven Brides for Seven Brothers" and "Gypsy."
Lindner found himself cast opposite a very funny favorite TV comedian as his stage husband Wilbur.
Horned-rimmed glasses claim-to-fame Tim Kazurinsky of the classic days of NBC's "Saturday Night Live" plays the novelty store salesman hubby to Lindner's heart-of-gold Edna.
And playing the couple's daughter is actress Lillian Castillo as Tracy Turnblad, the teen with the sky-high teased hair ready to take on the world.
Southside mainstay turned Broadway actress Felicia Fields rounds out the all-star cast as Motormouth Maybelle. Fields, who starred at Theatre at the Center in Munster last summer in "The Wiz," is a Tony Award nominee for Best Featured Actress for her run in "The Color Purple" on Broadway.
Also featured in Drury Lane's "Hairspray" are Erik Altemus as teen heartthrob Link Larkin, Holly Lyn Laurent as snooty Amber and Jon Michael Reese as Seaweed J. Stubbs.
Based on the 1988 John Waters cult classic film, "Hairspray" ran for 2,500 performances on Broadway and won eight Tony Awards, including Best Musical, in 2003. The production also won eleven Drama Desk Awards, including Outstanding Musical, in 2003, as well as the Laurence Olivier Award for Best New Musical in 2007. It also inspired the Golden Globe-nominated 2007 blockbuster film of the same name starring John Travolta.
While audiences love the camp, humor and the upbeat score — which includes rhythm and blues and oldies-inspired songs like "You Can't Stop the Beat," "Welcome to the '60s" and the title song "Hairspray" — Lindner also says audience members learn important messages about acceptance during the two and half hour performance.
"There's plenty to take from this show, including themes about confidence and being happy with who you are inside and out," Lindner said.
Stay up-to-date on what's happening
Receive the latest in local entertainment news in your inbox weekly!