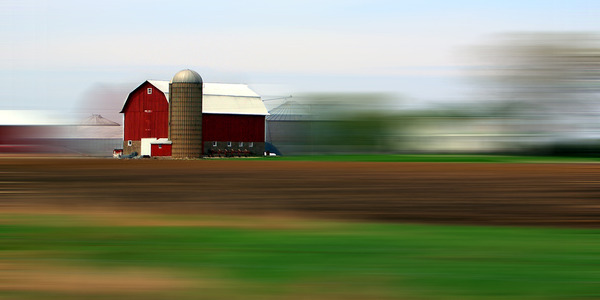 The photographs that served as the templates for Chicago–based photographer Larry Chait's "Motion and Memory" were shot in what may seem to be less than ideal conditions.
In 2005, Chait shot the images that would become his exhibit in transit from Chicago to Iowa.
"I was taking them from the window of my car, and my wife didn't let me take the window down because it was so hot and she wanted the air conditioning on," he said. "When I looked at the pictures, they weren't very good, but that's what sort of gave me the idea of playing around with them in Photoshop. I just sort of found by accident an interesting style to these."
On display at Michigan City's Lubeznik Center for the Arts' Hyndman Gallery through Dec. 18, Chait was reared in Iowa and Kansas. Although he was artistically inclined at an early age, Chait first pursued a career in science, receiving degrees in chemistry and pharmacology.
Chait made his way to Chicago in 1982, taking a position as a researcher at the University of Chicago, before immersing himself full–time into photography. Inspired by the possibilities offered in digital photography and computer manipulation of photographs, he has spent the last nine years primarily focused on his art.
"There's something about the power and the total control that it gives you compared to working in a darkroom," said Chait, who resides in Chicago's West Town neighborhood. "With digital, if you wanted to, you could change every single little pixel in an image. You can make it look however you want. And I really enjoy that kind of power and control."
Over the course of the last near–decade, Chait's works have been exhibited in group and solo shows at area venues such as the Chicago Cultural Center, Merchandise Mart and the Illinois Institute of Art. His creations have also been part of shows at galleries in Indianapolis, St. Louis, Colorado and Virginia.
"Motion" is made up of a dozen photos from Chait's 2005 trip to Iowa. Despite taking digital liberties with the source photos, Chait hopes that heartland exhibit–goers may recall their own excursions through rural America through his creations.
"I was sort of hoping they would remind me of the road trips I took as a child, when I was growing up," he said of "Motion." "It might make viewers remember where they grew up or they might just appreciate the unusual look of the photos. There's not any specific conclusion that I want viewers to draw from them. It's my expression if growing up in the Midwest."
Lubeznik Center for the Arts is open 10 a.m. to 5 p.m. Tuesday through Friday and 11 a.m. to 4 p.m. Saturday and Sunday.