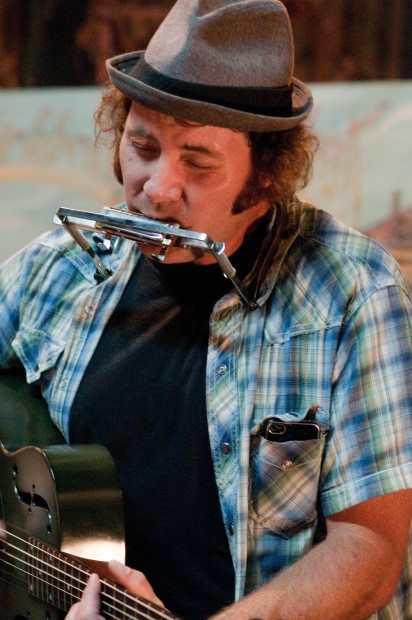 Last weekend, south suburban-based artist and songsmith Lou Shields took his music to the streets — literally — to drum up interest in his musical craft at Chicago's annual Blues Festival.
"I had my name duct-taped on my guitar and a bunch of stuff out there for people, where maybe they'd remember my name and maybe come to one of my shows," he said. "It's not really about making money. It's more about trying to get my name out there."
Heading indoors June 22 for a performance at Valparaiso's Cornucopia Coffee Company, Shields has been juggling the visual art with the musical art for decades.
Reared in Country Club Hills and currently residing in Crete, Shields' paintings, drawings and mixed media works have been shown at galleries throughout the region for nearly a decade; recent pieces are currently on display and for sale at Paul Henry's Art Gallery in Hammond.
Shields, who serves as an associate art professor at Prairie State College in south suburban Chicago Heights, is also a regular at Paul Henry's weekly acoustic open mic nights.
"I feel like (visual art and music) grew up at the same pace over my life," Shields said. "I've always done both together, really."
Shields traced the origins of his musical journey to pioneers from Elvis Presley to Johnny Cash to Led Zeppelin. From there, he made his way to their influences, which led him to acoustic American music from the '20s and '30s and the likes of Blind Lemon Jefferson, Charley Patton and Leadbelly.
Last year, Shields released a debut EP, "Five Songs," and has since released a series of sets both digitally and on disc. His most recent effort is a six-song EP, "Evenin'."
Additionally, Shields has graced Windy City stages such as Double Door and Elbo Room.
"Essentially, blues and country were the same thing for a long time," he said. "I don't set out to do covers of people's work … for me, the fully creative thing to do is to write my own songs, but to absorb a lot of people's material. I'm influenced by so many musicians from that era that I try to bring it into my own music."
Shields is sharing the stage at Cornucopia June 22 with Chicago-based acoustic songsmith Matt Heckler.