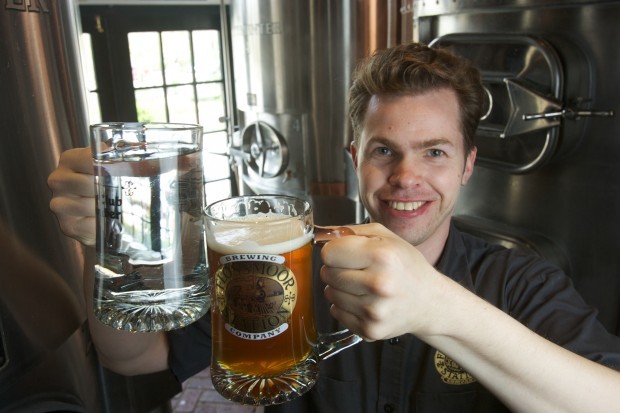 Goose Island Beer Company's Ian Hughes knows how to get people to pay attention.
"Beer is an incredible megaphone," Hughes says. "If you put a beer in someone's hand, they will listen to anything you have to say."
Hughes is putting that theory to the test in hopes of keeping the nation's waters clean. Chicago-based Goose Island and 20 other craft brewers around the country are joining forces with the Natural Resources Defense Council for the Brewers for Clean Water Campaign.
Karen Hobbs of the NRDC says the project, launched this spring, aims to unite the brewers "to have a consistent, strong voice" with policy-makers on water quality issues.
Lake Michigan breweries signing on include Chicago breweries DryHop Brewers, Finch's Beer Company, Goose Island Beer Company, Half Acre Beer Company and Revolution Brewing. Grand Rapids breweries Brewery Vivant, Founders Brewing Company and Harmony Brewing Company all signed the pledge as well as Flossmoor Station Restaurant and Brewery in the south suburban Chicago suburb of Flossmoor.
"These guys are rock stars," Hobbs says. "Their brews are beloved in the public."
Hughes, environmental and safety coordinator for Goose Island, says it only takes four ingredients to make beer: yeast, barley, hops and water.
Water is the most important ingredient, brewers say, making up 90 percent of beer.
"Water for breweries can be compared to a foundation for a builder or canvas for an artist," Hughes says. "It makes it vitally important for us as brewers to be its stewards."
Bjorn Johnson, head brewer at Flossmoor Station Restaurant & Brewery, says understanding the chemical makeup of the water—mainly calcium and magnesium-- is key in the brewing process.
"Calcium plays a bigger role in the process because they yeast need it," Johnson says. "Without enough calcium, you don't get the proper fermentation. Sulfate levels can create a perception of a drier beer."
Differences in the chemical makeup of water are credited with distinct beer types from around the world, Johnson says.
"The water of Dublin led to the dry stout Guiness and as did the water for the Czech pilsner," Johnson says. "With a little knowledge of that and knowing what our later from Lake Michigan looks like in terms of parts per million, we can adjust it was brewing salts. You don't need to be at a brewery in Belgium to match a Belgian brew."
Jason Spaulding, co-owner of Brewery Vivant in Grand Rapids, Mich., says changes in water can greatly impact the flavor of the product customers come to expect.
"If you have good tasting water, you'll have good tasting beer," Spaulding says. "If you don't have that first component of water, you're not going to have good beer."
Spaulding, who with his wife and business partner Kris made Brewery Vivant the nation's first LEED-certified brewery, says clean water just makes good sense.
"Historically, breweries have set up around the Great Lakes because of the great water," Spaulding says. "What's good for breweries is also good for our communities. There is really no down side to protecting our waters."