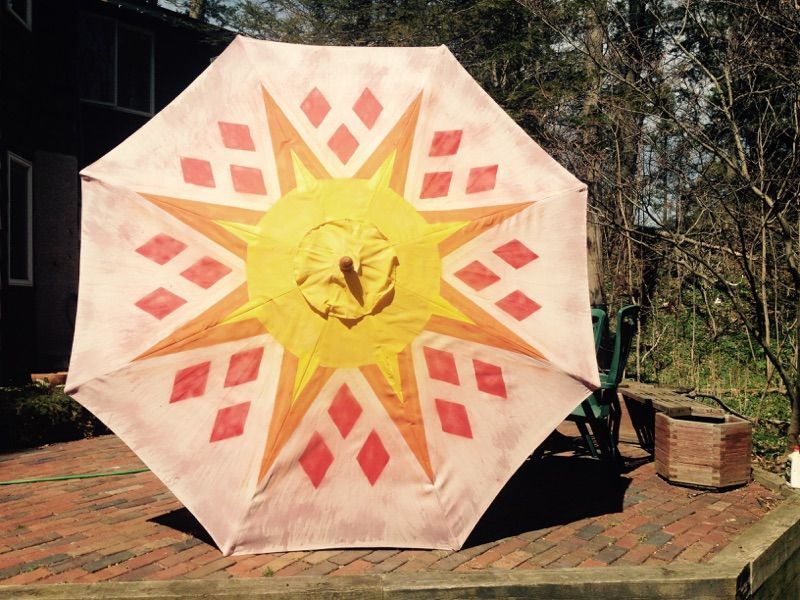 Umbrellas of Harbert in the line-up for this weekend's Art Attack: The U of H people along with the Harbert Business Association (HBA) are extending an invitation to a live umbrella painting at Peacock Place, 13436 Red Arrow Hwy, Sat 2-7pm and Sun 11am-1pm. After the painting on Saturday there will be an Umbrella Artists Potluck Gathering, Sat. at 7pm.
The first artist submission for 2015 umbrellas has been created Sharon Goodall, of Chesterton. Sharon is a frequent contributor to the umbrellas program who says she participates because, "When I see a blank wall, I just have to create. And it's better when I know it's going for a good cause."
Lubeznik Center for the Arts (LCA) AgriSculpture Kickoff: On Saturday at 11am in the lot behind the Artspace Uptown Artist Lofts (between 7th and 8th streets on Washington) in Michigan City, LCA is hosting a splashy announcement have its new initiative that will bring agriculturally-inspired sculptures to the Michigan City Farmers Market this year. The three sculptures will be made from repurposed agricultural equipment by specially-commissioned artists who will be announced at the Saturday event. The artists will be there along with the materials that they'll be using to create their sculptures. In the case of rain, the kickoff will be held indoors at Lubeznik Center for the Arts located at 101 W. 2nd St. Michigan City.
Valparaiso University Hosts St. Paul's Cathedral Choir of London: If you think that you've never heard the St. Paul's Cathedral Choir of London, you are probably wrong about that. The cathedral has hosted the biggest events in England including the funerals of Lord Nelson, the Duke of Wellington, Sir Winston Churchill and Margaret Thatcher; Jubilee celebrations for Queen Victoria; peace services marking the end of the First and Second World Wars; the wedding of Charles, Prince of Wales, and Lady Diana Spencer, the launch of the Festival of Britain and the thanksgiving services for the Golden Jubilee, the 80th Birthday and the Diamond Jubilee of Elizabeth II.
Next Wednesday the famous choir will be finishing up its first American tour in a decade at 7:30 pm at a concert at Valparaiso University in the Chapel of the Resurrection on April 29 at 7:30 p.m. "We're thrilled to host the St. Paul's Cathedral Choir," said Lorraine S. Brugh, University organist and director of Chapel music, Frederick J. Kruse Chair in Organ, and professor of music. "The Chapel of the Resurrection's acoustics and organ are particularly well-suited to the organ and choral music of the choir, and this concert is the only one in the metropolitan Chicago area."
Led by director of music Andrew Carwood and organist Simon Johnson, the St. Paul's Cathedral Choir consists of 30 boy treble choristers, eight probationers and 12 vicars choral. Tickets are available at valpo.edu/thearts or 219.464.5162 and cost $50 for priority, $20 for general admission, $15 for seniors, $10 for Valpo faculty and staff, and are free for Valpo students.
Painting Party in LaPorte on Saturday: La Porte County Historical Society Museum invites you to paint a masterpiece starting at 1pm when Artist Dori Huber will be giving step-by-step instructions for painting the Michigan City Light House at sunset. All supplies will be provided, including brushes, canvas, and paints. Cost is $30 per person, ($25 for Historical Society members), which includes admission to the museum, as well as light refreshments.
Reservations are mandatory. Call 219-324-6767 or send an email to: info@laportecountyhistory.org. The Museum is located at 2405 Indiana Avenue (US Hwy 35) at the south entrance to LaPorte and is handicapped accessible. Hours are Tuesday through Saturday, 10am to 4:30pm.