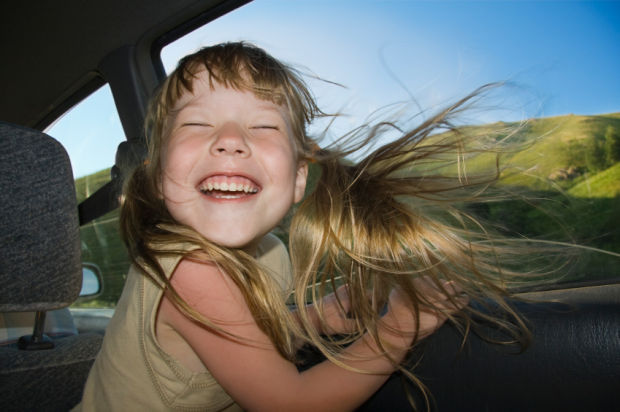 Summer is upon us, and that means road trips for many families.
But fun doesn't have to wait until the destination is reached. One of the fondest memories of family vacations can involve the trip en route, with road trip games and activities providing family bonding and even some educational benefits.
"I think a well-timed trip is essential, so know the characteristics of your kids and be mindful of age and amount of movement needed," said Stephanie Truitt, a 4th-grade teacher at Flint Lake Elementary in Valparaiso Schools.
When taking her kids to restaurants, Truitt would develop a restaurant bag that was ever changing and would peak the interest of her kids with special contents—a tip that can be used on road trips as well, she said.
"I stocked items that were more unusual, and were not found at home - fun colored pencils, markers, notepads and Playmobil toys," she said.
David Hoyt, known as the World's Most Syndicated Puzzle Author and a Chicago resident, said if families are headed to a specific location, like national parks or museums, check out the websites before you leave.
"For example, Rocky Mountain National Park has a whole section for kids and educators," he said. "If you dig a little, you can find activities to print off and do in the car."
Looking for some other ideas on how to keep the kids entertained?
Bingo: Larry Zak, a music teacher at Kolling Elementary in Lake County Schools, recommended playing Bingo on the road—identifying road signs in order to fill in the squares.
Musical CDs: Hoyt said he recently discovered "Brain Beats 2," a musical CD that is fun for the whole family because it features catchy songs that help you remember things you've always wanted to learn, but couldn't remember. "With a song, you are sure to remember because you just can't top singing," he said.
I Spy: This is an old game played for generations, but still a favorite among families, Hoyt said. Simply have one player look for something in sight, and then get the rest of the family members in the car to ask questions about the color, where it's located and other characteristics until the object is guessed.
License plate game: Perfect for youngsters learning the alphabet, have kids start with "A," looking for license plates that contain this letter. Once one has been located, move on to "B."
One Minute of Words: Give everyone in the car (except the driver, of course) a pencil and paper. Assign a timekeeper, who also picks a letter. In one minute, have everyone write as many words as possible that begin with that letter. The one at the end of that minute with the most legitimate words wins.
Geography game: When driving through a city, take the first letter from the name of that city and think of another place in the world that begins with that same letter. If driving through Valparaiso, for example, someone might guess Vincennes. The next person in the car then must think of a place that begins with the letter "a," and the next person after that, "l," and so on until the name is spelled out.
The House on the Hill: Ever wonder who lives in that house up on the hill you're driving by? What their house looks like inside? What they do for a living, or whether they have any hobbies or pets? Draw out the creative side of kids by encouraging them to create stories about the houses they drive by. What is that household's favorite food? Or what do they do in the spare time?
Word games app: For the technology-friendly family, check out just-2-fun.com, a simple word game that has a hidden educational value in it, Hoyt said. "Kids and parents love to work together on a puzzle," he said. "This is a rare occasion that everyone plays an app at the same time." The app is available through Apple, Nook, Google Play and Amazon.