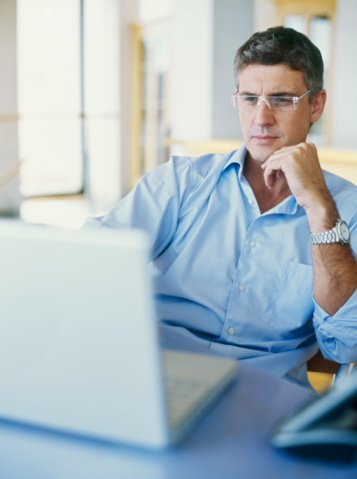 If our parents wanted to talk about us as children to other adults, they would have simply picked up a phone or visited a neighbor's house.
If they were highly motivated, they may have written a Christmas letter and mailed it to close friends and family once a year.
It's a miracle anyone knew us at all.
My generation, the one trapped between boomers and millennials, has turned parental sharing into an entirely different multimedia, multi-platform endeavor. You'll find our children's stories, pictures and videos on Facebook, Twitter, YouTube and blogs.
I approached researcher Jon D. Miller at the University of Michigan to get a better idea of how Generation X parents use technology, especially in regard to their children. He asked these questions on a survey that has been distributed to a national sample of 4,000 Americans for more than two decades.
The annual Longitudinal Survey of American Youth revealed some interesting trends when the latest results came back earlier this year.
Nearly two-thirds of the parents reported posting pictures of their children online, and slightly more than half shared news of a child's accomplishment. Sharing about our children online has become as much a part of modern parenting as potty training. And, most people fall somewhere between the Amish and the Duggars.
Three moms, each with children in different stages of life, shared their approach to dealing with their children's privacy (or lack thereof) online:
Amanda Doyle, 40, is a St. Louis writer with a 4-year old son. She lives by her iPhone. It stores the family calendar, helps her find recipes and entertains Milo, her son, on rare occasion.
"Also it's good for instantaneous ... commiserating with other parents, which sometimes is needed," she said. She'll post pictures and stories about her son on Facebook without much worry.
"I don't put anything that I don't assume someone can get if they want," Doyle explained. "We are fairly public. ... To me, it's not the biggest risk in my life."
Plus, the kind of effort it would take for her to lock down her family's online footprint and have a degree of online privacy, is not really worth it, she added. "I'm willing to live with the consequences."
"I don't know what the worst that can realistically can happen," she said, from posting about her son on social networks. Her bigger concern is about teaching her outgoing and social son how to share responsibly as he gets older.
"We'll have more parenting work to do when he gets to that age ... about controlling his own privacy," she said.
"I prefer erring on the side of optimism. I don't want him to have intense stranger danger fear. I don't want to him to grow up in that kind of world."
Inna Park's children have moved onto that phase, and she's started negotiating what is shareable with them. Park, 43, of Clayton, is a physician with 9-year-old twins, a son and a daughter.
It started with an incident about a year ago when Park posted on Facebook about her son's haircut. One of her daughter's friends mentioned the haircut to her on the playground, having heard about it from her mother, who saw it on Facebook.
"My daughter was completely weirded out and didn't understand how she knew something from in our home," Park said.
"That was my first inkling that this was awkward."
Shortly after, a few school moms started posting about some of the crushes blossoming in the classroom.
"At that point, I started to be more thoughtful," Park said. "I started asking permission from my children, especially about videos and photographs."
She noticed that the school had taught the children extensively about stranger danger, including the dangers online. It's made them hyper aware about privacy online, she said.
"At one point, in second grade, my daughter was convinced she could be kidnapped through the computer."
Park explained to her that she only kept a tight and limited circle of friends on Facebook and that the whole world was not seeing her information. She even keeps a separate family page for certain videos and photos, with even stricter privacy controls.
"These 9-year-olds are very vigilant about protecting themselves. I don't know if it will eventually unravel," she said. "But I'm very reassured by that."
She had to beg her daughter to let her post a video of a song she played on her guitar. It was only posted on a password-protected family site, Parks explained.
"I feel almost policed by her," Parks said.
Robyn Wright, 42, of St. Charles, has been writing about her 17-year-old son almost since he was born. She's an early adopter and a well-known lifestyle blogger.
"He has grown up with having an online mom," she said. "And the rules have changed over the years. When I first started out, it was easier to share info, and we didn't think much of it."
Recently, they had an incident that challenged their notions of what should remain private and what can be shared.
A particular brand had reached out to her to write about one of its products. The use involved her son, and he put his foot down against making it public.
"I was shocked that he didn't want me to share it," she said. "For me, it didn't seem like a big deal at all."
They went back and forth, and her husband stepped in on her son's side.
So, she approached that blog posting a little differently and did not mention her son.
"There's plenty that he doesn't mind me sharing about. He's used to it. He's used to being in pictures on my blog."
For her, sharing about her family and running her business is all one and the same.
"I am my own brand. My ability to share my own personal life, what bothers me, it's what makes my business also," she said. She makes money from advertising on her site, being a brand ambassador or doing paid campaigns online.
"It just really become a way of life for us." She's talked about her medical issues and therapy publicly. "I just don't feel I have a lot of things to hide."
She realizes her lifestyle is not for everyone: "Not everyone is so open to sharing so much."
And her son's comfort level is changing as he grows up.
"He knows once it's out there, it's out there. You have to count on it being there forever," she said.