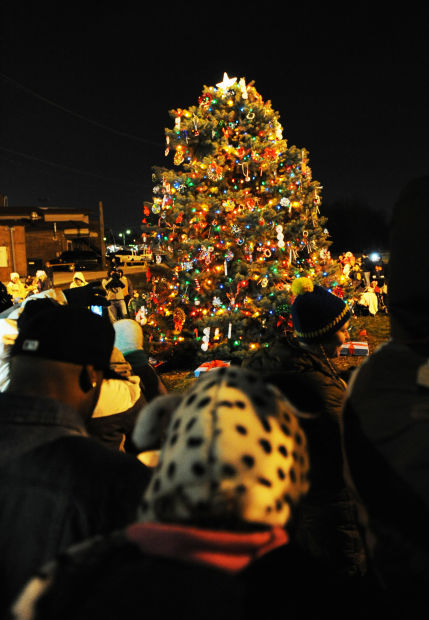 The holidays are a meaningful time of year for families, but sometimes that meaning can get lost in the hubbub of Black Friday shopping, presents under the tree and running from party to party.
To instill the true meaning of the holidays in children, it's not necessary to eliminate everything commercial or all presents under the tree, said Dr. Lawrence Brewerton, a practicing psychologist and professor at Indiana University Northwest.
"You don't have to de-emphasize Santa and presents," he said.
Children - especially young ones - love spending time with their parents, and there are several activities families can do together during the holidays that reflect the spirit of the season - whether it's spending quality time together or giving back to the community, Brewerton said.
Here are a few ways you can have fun as a family and bask in everything the season offers, without losing its meaning.
Get a schedule of local holiday-themed concerts, plays, parades, shows and other events, and choose a few to attend as a family, said Andrea Reiser, a mother of four boys, blogger and author of "Letters from Home: A Wake-Up Call for Success & Wealth."
Reiser, who writes about how to raise happy and healthy children, said kids will enjoy counting down to these outings, and will have an even better time attending them.
"In most communities, there are plenty of events to choose from that are free to the public," she said. "It just goes to show that you don't have to spend a mint to make memories over the holidays."
Have meaningful conversations
Conversation is the foundation upon which any memorable event is built, Reiser said.
"So to make the most of outings and experiences this holiday season, have a few meaningful topics up your sleeve to engage your family," she said.
For example, drive around a neighborhood looking at Christmas lights, and ask the kids about their favorite Christmas memories.
Brewerton suggests pulling out old family albums while sipping on hot chocolate by the fire place - emphasizing strong family roots and traditions passed down from generation to generation.
Make routine tasks anything but
With the holidays comes the tasks of wrapping presents. This is a perfect time to gather family members and turn a routine task like this into a beloved tradition.
"Get everyone together to wrap gifts for friends and family, and share hot chocolate and cookies while you're curling ribbon and cutting paper," Reiser said.
Decorating can be difficult for older adult relatives, so Brewerton suggests using a visit to the relative as a time to gather the whole family and turn the routine stop into a joyous memory.
"It's amazing how much kids value and remember family traditions," Reiser said. "Unlike anything else, they're a source of fun, they strengthen family bonds and they form a meaningful link to the past."
Whether it's baking cookies, watching a favorite holiday movie or Christmas caroling, creating traditions is a great way to enjoy each other's company and to make lasting memories, she said.
Brewerton suggests creating a family ornament each year as a craft or having a family grab bag as a new tradition as part of gift giving.
"Put names of immediate family members in a bag and each member chooses someone's name out of the bag," he said. "For the person you choose, you have to make something — a poem, drawing, anything."
The holidays are a perfect time to count blessings, and while kids may focus on what's under the tree, Brewerton said parents should help redirect their focus.
"Explain to them there are people out there who are less fortunate," he said. "Explain that Santa is a gift giver and doesn't expect anything in return. This helps set the tone for giving."
Make room for new toys by encouraging children to donate some of their toys and clothing they no longer use or need, or make a care package as a family for servicemen and women overseas, Brewerton said.
Rather than donating money to a charity, Reiser said gather family members and volunteer at a soup kitchen or go caroling at a nursing home.
"This is the perfect time of year to teach children that it truly is better to give than to receive, and it can actually feel really good, too," Reiser said. "These experiences will instill values in your children and broaden their perspective on holiday privileges."
Chris Eller Esparza, volunteer coordinator with the United Way Regional Volunteer Center, Lake County, said several organizations in the Region need volunteers during the holiday season.
The Salvation Army offers an Angel tree where participants can give a present to a child whose name is on the tree, and several pet rescue organizations are in constant need of supplies, Esparza said.
The United Way is also looking for volunteers to hold drives to collect new stuffed animals for elementary kids.
"We give each child in first or second grade a stuffed animal as a reading buddy," Esparza said.