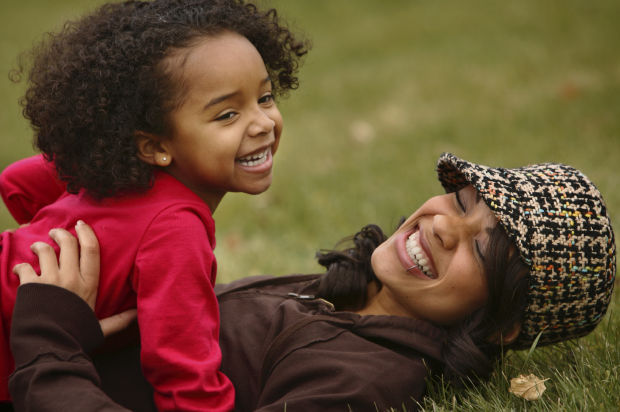 Every parent is familiar with this quiet prompting that they whisper to their kids after someone does something nice for them. Whether or not the child replies sincerely, parents are often left feeling embarrassed that they had to remind him or her to say it in the first place.
Kids and gratitude don't always go together, but parents shouldn't stress about that too much. Particularly with the younger set. "Infants and young toddlers operate under the assumption that the world revolves around them," said Dr. Kathryn Huls, Clinical and School Psychologist at New Leaf Resources in Crown Point and Lansing. "Children younger than seven can be taught and encouraged to engage in thankful behavior, but typically are seeking to please others and avoid punishment at this stage of moral development."
The understanding of gratitude progresses as children grow older. Huls said that between the ages of 7 and 12, children become less self-centered and are able to view situations from different perspectives, and by adolescence, they have the cognitive capability to fully grasp the concept of gratitude.
Interviews with 24 children ages 3 through 9 followed the progression Huls described. Her assessment that young children's thankful expressions come from "the joy of a new toy or activity" was indicated when the children were asked what they are most thankful for. Answers like candy, cards, food and flowers were given by some of the kids younger than age 7, while the older kids responded with more relational things like family, friends, pets and God.
Some answers, even by the younger ones, were surprisingly profound.
"I am thankful that I have a family and am not alone," said Lainey Schoon, age 6, who attends Highland Christian School.
Madison VanderMeer, age 9, of Dyer, said she's most thankful for school "because many kids don't even have a school."
"The mommy" is what Olivia Carter, age 5, of Crown Point, appreciates most.
While they may not be quick to say the words "thank you" right away, kids do express gratitude in varying ways, Huls said. "Young children's expressions of thankfulness are likely to vary as widely as their personalities," she said. "Bright smiles of admiration, shrieks of joy, bear hugs or a string of 'thank yous' demonstrate their delight."
By middle childhood, Huls said, children begin to show gratitude by doing something special for someone else or by reciprocating with a gift they have created.
When asked how they show their friends and family they're grateful for them, the kids interviewed gave varying, but affectionate, responses.
"I try to be nice and if I really love them, I can snuggle them," said Ethan Price, age 6, of Crown Point.
Nine-year-old Aubrey Porter of Schererville said she shows her friends and family her gratitude by "helping them when they get hurt."
Isaac Netherton, age 7, of Crown Point, preferred to keep it simple. "I just play with them or ride bikes. I love them."