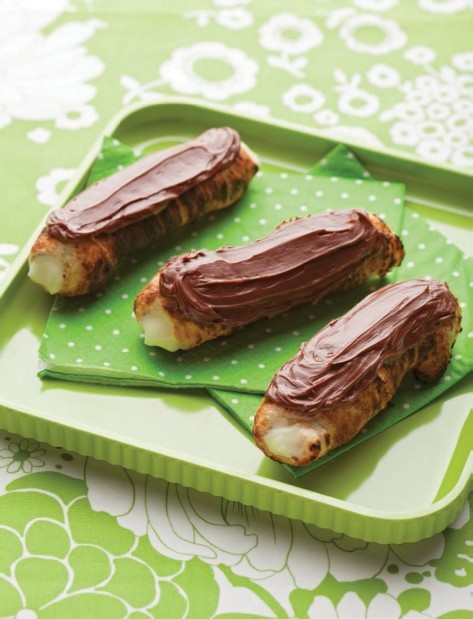 Invite a few friends over for a night of great campfire food — even the dessert is roasted! — and laugh-out-loud games.
Roast Your Main Course and Side Dish
You don't need a magic wand to turn a dog into a spider. A roasting stick will do. Simply slice each end of a hot dog to form four strips, leaving about a 2-inch section in the middle uncut. Put the hot dog on a stick or long skewer and roast over a fire pit or charcoal grill until the legs curl.
Let your guests get creative with combinations by offering an array of kabob ingredients that all grill nicely together. We used:
-sliced precooked chicken sausage, kielbasa, and prosciutto
-sliced zucchini and red pepper cubed apple and pineapple
-mozzarella balls and cubes of Halloumi (a Mediterranean cheese with a high melting point, making it especially good for grilling)
Also set out seasonings (salt, pepper, olive oil, vinegar) to brush onto the kabobs, and sticks or skewers for roasting.
Whether you like it plain or fancy, mac-and-cheese just tastes better when you get to prepare it yourself and cook it to bubbly perfection. Before the party, mix a pound of cooked macaroni with a little milk and melted butter in a large bowl. Set out mix-ins for the pasta. We used:
-cooked and crumbled bacon
-several varieties of shredded cheese
At the party, guests can spoon macaroni and their mix-in choices into a small foil pan, cover it with aluminum foil, and place it on the grate or coals. Be sure to use long tongs to remove the heated pans.
Cooking With Fire: Use green (freshly cut) sticks for roasting. Dried-out sticks can catch fire, and you might lose your food to the flames. Remove the bark from one end of a stick and whittle it to a point for skewering your kabob fixings and hot dogs. Use hardwood in your fire pit for good roasting coals.
S'mores aren't the only dessert you can make over a fire. Here, sweet, juicy berries perfectly complement toasted-on-a-stick cake. To make the shortcake dough, mix 2 cups of baking mix (such as Bisquick), 4 tablespoons of melted butter, and ¼ cup of heavy cream in a large bowl. Roll the dough into walnut-size balls (if you're doing this well before the party, refrigerate them until dessert time). At the cookout, flatten and shape a dough ball onto one end of a stick so that it's about ¼ inch thick, then roast it over a fire pit or charcoal grill until it's golden and cooked through. Crumble the shortcake into a bowl and top with strawberries, sugar and whipped cream.
The classic éclair is undeniably delicious, but our roasted version adds a measure of fun. Wrap a piece of refrigerated breadstick dough (we used Pillsbury) around the thick end of a stick. Roast the dough over the fire or coals until it's golden and cooked through. Let the bread coil cool, slide it off the stick, and fill it with vanilla pudding or whipped cream (place the filling in a plastic bag and snip a corner for easier piping). Frost the éclair with chocolate icing. If the coil is too small to fill, simply top it with the pudding and the frosting — it's just as tasty that way!
No need to separately roast the components of this kid-favorite treat. Place mini chocolate chips and mini marshmallows in a flour tortilla, wrap it burrito-style, cover it in aluminum foil, then roast it on the coals or grate until the filling is melted. Open the package carefully and let the filling cool a bit before nibbling.
Players try to catch an oversize firefly in this nighttime version of tag. In a large open area free of hazards, one player (the lightning bug) takes a flashlight and moves away from the other players, silently counting to 60 as she does.
When she reaches 60, she flashes the light once. The rest of the players then count out loud to 100 before they set off in pursuit of the lightning bug, who tries to avoid capture by hiding and changing directions. The bug must continually count to 60 and flash her light each time.
The first person to tag the lightning bug becomes the bug in the next round.
The goal of this classic game is to never show your teeth.
Sitting in a circle, the first player turns to his neighbor and asks, while keeping his lips over his teeth: "Is Mrs. Mumbles home?" Also hiding her teeth, the neighbor responds: "I don't know. Let me ask my neighbor." She then asks the next person: "Is Mrs. Mumbles home?" and so on.
If anyone shows her teeth at any time in the game, she's out. The players who are out can try to make the remaining players laugh — without touching them — so that they show their teeth, too.