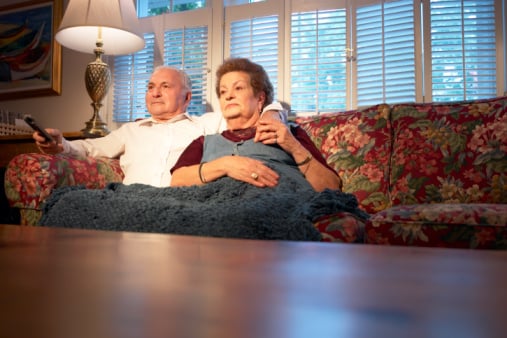 Who knew going home for the holidays could be such a rude awakening? "Reality hits you right in the face when you go home," says Eliza Kendall, 54, of Harwich, Mass. Last Thanksgiving, Kendall realized her parents had both lost weight. And when Kendall looked inside their oven, she found an uneaten pizza.
There were other worrisome signs. Kendall's mother, who is 81, was repeating herself. "Dad was having trouble with very simple tasks, like doing his bills. He'd stopped doing his crossword puzzles."
A holiday homecoming can be complex for adult children, particularly those who live out of town, whose parents typically visit them. While the holiday remains a time of togetherness and love, it's also an opportunity to observe your seniors' physical and mental health to determine if they may require greater assistance. Seeing them in their own home can be key to this awareness. Are they out of sorts in their own kitchen? Are they still doing their hobbies? Have their routines changed - and why?
"You are looking for any obvious signs of change," says Roger Baumgart, CEO of Home Instead Senior Care, a network of home care agencies based in Omaha, Neb. For example, it's clearly a red flag if your typically well-groomed mother has stains on her dress and disheveled hair, and she is not self-conscious about this. Watching your parent cross the room can be revealing, says Baumgart.
-A change in mobility - is your parent sitting in the same place all day? When they move do they wince in pain?
-Leaving belongings in strange places, like putting their eyeglasses in the refrigerator
-Frequent confusion/memory loss
-Spoiled food in the fridge-or little food (especially if this is abnormal)
-Forgetting the names of household items
-Decreased judgment regarding finances e.g. overspending
-Frequent changes in mood and personality
Try to avoid jumping to conclusions, however. If your parents are hosting the family get-together, they may be stressed and tired from days of preparation. "It is best to gather information from multiple sources a rather than coming to a hasty decision," says Mary Stehle, senior care counselor at Care.com.
It's best to avoid a heavy talk during the holidays, but if your relationship with your parents is fairly good, issues may come up naturally in conversation, says Barbara Silverstone, co-author of "You and Your Aging Parent." Immediate action must be taken, of course, if there are safety concerns, such as your parent forgetting to turn off the burner on the stovetop.
After the holidays, share your concerns with siblings. They may have noticed additional problems or have a different perspective on how to approach the situation. Says Stehle, "If you are aligned, the greater the likelihood any changes that need to be implemented will be successful." It may also be valuable to chat with your parents' neighbors, friends, and other members of their community like priests or rabbis, to see if they have noticed any decline. While at home, take a walk and introduce yourself to their neighbors, leaving your phone number and email address behind. Ask them to be comfortable contacting you if they become concerned.
Next, investigate what services are available in your parent's community, such as adult day programs, home care and cleaning services. Contact your parent's local area agency on aging at N4A.org. Understanding the available care options will be extremely helpful in the conversation you have with your parents.
Before you have this important meeting with your parents, be sure you have specific examples of changes in their behavior or health. Then, offer strategies to help them remain independent. "You don't want to be accusatory or judgmental," says Stehle. "Be honest. Say, 'This is what I'm noticing.'
How you deliver your message is equally important as what you say. "Keep it on an equal plain," suggests Silverstone. "You have problems too. It should be two adults talking to one another about how their lives are going." If your relationship with your parent is a difficult one, you may benefit from including your parent's doctor in the conversation, or hiring a geriatric care manager or senior care counselor to help you through the process. "The parent may have an easier time 'hearing' this information from a third party than from his or her own child," says Stehle.
Even if you and your parents are close, don't expect to resolve matters in one meeting. "Typically, it takes multiple conversations," Stehle says. "It's a process."
Parents may feel fearful and confrontational when approached by concerned children. "They may worry that it means their lives will have to change significantly," says Stehle. "It may also (summon) thoughts of mortality and loss of independence." You can reassure them by explaining that your goal is not to make decisions for them, but to guide them and help them maintain as much control as possible, she adds.
The good news is that there are often simple measures you can take to enable your parents to remain independent as long as possible, like installing a grab bar in the shower, or hiring a home health aide a few days a week.
First, advises Silverstone, take your mom or dad to see their primary care provider. "Very often you can bring attention to the doctor (about health concerns) he was not aware of and it can be sorted out," she says. You can also get a sense of whether the physician is competent and knowledgeable about geriatrics.
Eliza Kendall's sisters agreed that their parents needed more assistance. They decided to divide the responsibilities. Eliza, a businesswoman, has power of attorney and handles all the finances. One sister, a social worker, takes care of health related matters. The third helps the other two.
"We meet once a month for dinner for an update and to decide if any care changes need to be made," says Kendall.
It can be painful for adult children to admit that the people they have always leaned on now need their help. But it's far less stressful to be proactive, rather than reacting to a crisis.