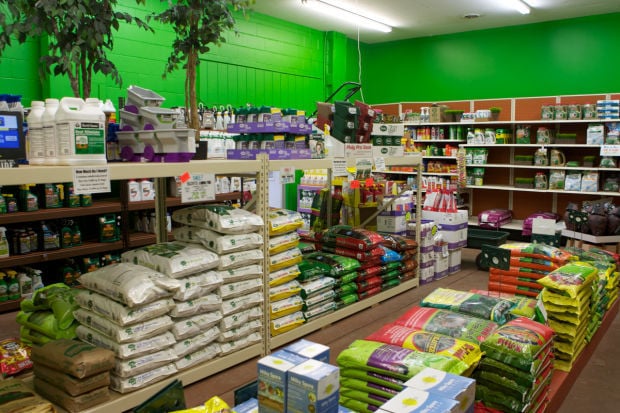 Children and pets love the outdoors, making it important to take the proper safety precautions with gardening and lawn care. With the influx of organic products on the market and a shift toward more natural solutions, gardeners are finding more "green" options for their green thumbs.
In some instances, avoiding products all together leads to a safer play environment.
Nikky Witkowski, the horticulture extension educator at Purdue University's Crown Point extension, said she encourages homeowners to question what they need to apply to keep their lawn in shape.
"The more you can live without trying to do something by applying a product, the better off you are," she said. Everything will not always look perfect, but finding a natural alternative, such as letting grass go dormant in the summer, reduces the need for chemicals.
Paying attention to product instructions is also important.
"You are applying a product and a child or dog should not be getting into it and eating it. Organic is on safer side but still doesn't guarantee it's safe. Proper application, including waiting time windows, is almost more important than what product you choose."
Her program has a public help line April through September. Call (219) 755-3240 with lawn or garden questions.
Getting children involved in gardening is a great way to get active outdoors, said Sharisa Eatinger, a lawn and garden manager and buyer at Alsip Home & Nursery in St. John.
"In an age of technology, nothing is more exciting for me than a family coming into the store and asking for guidance on building their first garden." She has seen tremendous growth in this category the past few years, she said, and cautions new gardeners and green thumbs alike to keep safety as a top concern.
In the past few years, many gardeners choose to go organic, which is easier thanks to more organic products on the market. Most organic gardening materials such as fertilizers, insecticides and fungicides pose little risk to children and pets because they are plant or animal based, she said, but they should still be kept in a locked area and properly marked.
"Even organic chemicals can be harmful and cause discomfort if not used properly," said Eatinger, who has been with Alsip for about 14 years and attends a yearly chemical certification course.
She recommended products like Dr. Earth Root Zone, an organic liquid starter fertilizer for root development; Wiggle Worm Soil Builder, an all natural organic fertilizer made from nontoxic organic earthworm castings; and Jonathan Green Mag-I-Cal, a pelletized all natural calcium fertilizer.
"Gardening is work. Weeds will need to be pulled, and plants will need to be watered, but the benefits are well worth it," Eatinger said.
Chuck Roth, owner of Chesterton Feed & Garden Center, said he has noticed more requests for alternative gardening products in the past few years, mostly from those with pets and kids.
His store carries alternative insecticides, fungicides, fertilizers and soil, he said. He also recommended Dr. Earth products.
"We like that brand because of the way it's built and made up," Roth said. "It has a lot of biotics, which are natural bacteria that are beneficial. The biotics help the plant grow better and help the organic fertilizer enter into the plant better. It also makes them hardier and more disease resistant so you don't have to use those fungicides."
Regular fertilizers are chemical based, he said, and can have unnatural materials in them. The level at which they would harm a person or pet varies by weight. Usually absorption just being around the products is not an issue, he said.
Roth said he and his staff emphasize following proper instructions with any product. "Overall when you're using any product, organic or not, you need to read and follow the label."
Always mix according to label instructions, he said, "you can't double kill a plant" by using a more concentrated mix.
Typically after application, you should water the area and let it dry. After that point, it is safe for children and pets to go back in that area because the active ingredient has been washed into the soil below. When spraying garden plants, the same "wait until it's dry" rule applies. Once dry, the chemicals will not rub off as much.
With more than 40 years in the gardening business, Roth said he has seen major changes.
"The chemicals here then are not here today," he said. New products are much safer. Over the years manufacturers built safety into the chemicals themselves. For example, a systemic chemical that is sprayed absorbs into a plant and goes into the sap providing a better "total kill" and locking the product inside the plant.
When choosing plants, buyers should always ask about toxicity to children and pets, even if ingested. Roth said several times each year, he gets emergency calls from parents whose child or pet ate a plant. Dogs have even gotten into bags of fertilizer.
The website for Indiana Poison Control, indianapoison.org, said both household and outdoor plants are among the top 10 agents that cause poisonings in children younger than 6. The Midwest has hundreds of poisonous plants that can cause illness or injury, with most exposures occurring in spring and summer.
The center also receives many calls regarding pets ingesting yard and garden products. It offers the following safety tips:
Label all plants with their proper name. Write it on tape and use permanent ink. Make a sketch of your yard and garden, showing location and name of trees, bushes and plants. Post this "map" in a convenient place in your home, so you can use it to identify plants, if necessary.
Children may mistaken seeds for candy - many are coated with fungicides or insecticides.
Because of their color, shape and texture, berries attract young children.
Most reported deaths from plants result from eating wild mushrooms.
Store products in their original containers to avoid children mistakenly getting into them.
For a poison emergency, call (800) 222-1222.