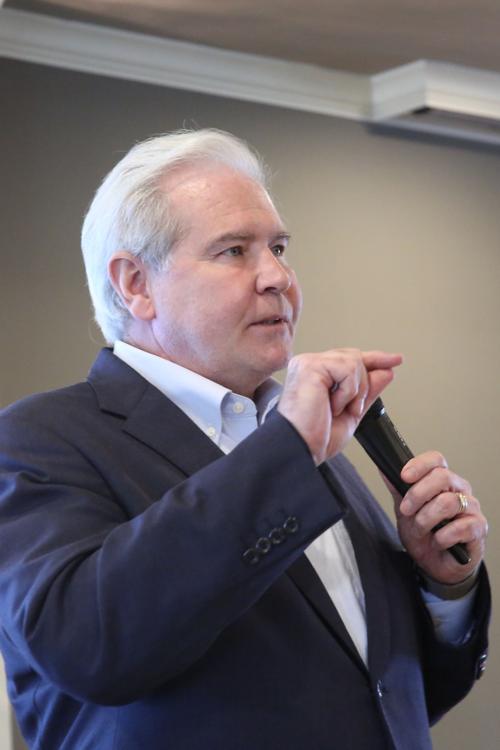 CROWN POINT — Indiana has never been in a better position for economic development and the bipartisan actions taken during the 2017 legislative session will transform the Hoosier State for generations to come.
More than 120 guests including business leaders and elected officials heard that message Tuesday during the Northwest Indiana Forum's celebration of the 2017 legislative actions at White Hawk Country Club.
Indiana Secretary of Commerce Jim Schellinger served as the keynote speaker while Bill Hanna, president of the Regional Development Authority, provided an overview of transit-oriented development in Northwest Indiana that will result from House Bill 1144. This bill provides investment in Northwest Indiana rail expansion and infrastructure, including the NWI Double Track project. 
In addition, a panel discussion moderated by the Forum's policy chair Spero Batistatos featured Sen. Eddie Melton, D-Gary, and state Reps. Mara Candelaria Reardon, D-Munster, Hal Slager, R-Schererville, and Ed Soliday, R-Valparaiso. The legislators discussed what they considered the highlights of the 2017 legislative session.
Schellinger congratulated Northwest Indiana's legislators for their efforts during the latest session. He recognized Soliday who sponsored House Bill 1002, which provides long-term planning and funding of local and state transportation infrastructure projects.
"This will take care of infrastructure for the next 5, 10, 15, 20 years. It is going to transform our state," Schellinger said.
Although he said he couldn't reveal the specifics, Schellinger said Northwest Indiana will benefit from four new projects that will provide $50 million in investments and create 640 to 700 jobs.
"There are 20-plus projects in the pipeline that will create 1,500 new jobs with an investment of $115 million," he said.
Forum President Heather Ennis said as the regional economic development organization, the Forum set out a legislative agenda in January regarding areas of concern. Those included the following:
• Expansion of the commuter rail line and double-tracking
• Transportation infrastructure improvements
• To concentrate on workforce development
• To provide money in the budget for Purdue University Northwest's Bioscience Innovation Center, and
• To continually watch that the climate for investment in NWI is strong and "that the economic development tools we use are enhanced."
"We want to continue to work to grow Northwest Indiana's economy and grow businesses in the Region," Ennis said.
During the panel discussion, Soliday said among the major victories during this session were the balanced budget and the protection of the state's AAA bond rating.
Candelaria Reardon said House Bill 1144 represented "unprecedented cooperation" while Slager said the town hall meeting in Munster that Candelaria Reardon hosted provided citizen input that became part of the bill.
Melton said his major mission during his first session was to provide the city of Gary with "a solid public school system."