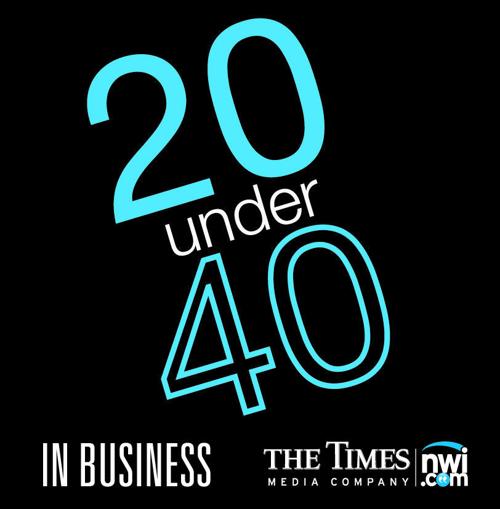 A big congratulations are in order for the young professionals named to the 2017 "20 Under 40" class.
I'm pleased to introduce them today and invite you to the "20 Under 40" awards dinner, which will be held Thursday, Oct. 26 at Blue Chip Casino in Michigan City.
The Times Media Co. and our IN Business Magazine sponsor this signature event in the Region, now in its 13th year. Young professionals in Lake, Porter and LaPorte counties who show leadership in business, education, government and social services are nominated for recognition. A panel of judges annually selects the honorees.
The "20 Under 40" class of 2017 includes:
Cory Armand, who helps manage the information system that keeps the Hammond plant of multinational firm Cargill running smoothly.
Amy Blaker, who serves others and helps improve their lives in her work as constituent caseworker for U.S. Rep. Pete Visclosky, D-Merrillville.
Giles Bruce, who shines a bright light on the Region's critical health challenges and promotes a physically active lifestyle as The Times' health reporter.
Rich Christakes, the CEO of Alsip Home and Nursery, who is passionate about making things grow, whether it's trees and shrubs or his business.
Maura Durham, who always knew she'd stay in the Region and now works to improve quality of life as president of the Duneland Chamber of Commerce.
Alfredo Estrada, who helps clients navigate the complicated waters of immigration policy as an associate attorney at Burke Costanza & Carberry LLP.
Claudia Garcia, co-founder of Parkdale Center for Professionals, who understands first-hand helping a loved one work through addiction issues.
Kevin Hand, who credits his family for encouraging him to start his own businesses, and now owns three Zounds Hearing franchises in the Region.
Jonathan Hildebrand, who likes to help people realize dreams through his work as Centier Bank vice president and department manager of commercial loans, small business and small business administration.
Leah Konrady, who supports big projects and helps break down silos and build a sense of community in her role as president and CEO of One Region.
Katie Kirley, who channeled her early life's travels into leadership roles, including that of executive director and principal of Steel City Academy in Gary.
Brian Laciak, executive accounting manager with Laciak Accountancy Group, who knows his job is more than getting to know the numbers – it's about getting to know the people.
Brian Lyter, who brings an exuberance for baseball and youthful drive for management as the youngest general manager of the Gary Southshore RailCats.
Ashleigh Marlow, who entered the grocery business by chance a few years ago and now handles public relations and human resources for Strack & Van Til.
Byron Martin, an administrator at Valparaiso University, who helps minority students appreciate their cultures while bridging the gap to the wider culture on campus and beyond.
Ibrahim Najamuddin, who uses his financial background to understand the financial health of clinics as director of physician practices and recruitment for Community Care Network Inc.
Anthony Novak, an attorney with Newby, Lewis, Kaminski & Jones LLP, who is making a broader mark through Michigan City Chamber of Commerce's Lakefront Career Network.
Anna Ortega, manager of labor relations for NIPSCO's parent NiSource, who works to make sure the company's contract with two labor unions runs smoothly.
Marisa Smoljan, a CPA with McMahon & Associates, who returned to the Region after time at a larger firm and enjoys working with many local clients.
Beth Szamatowicz, who helps restore hope and build dreams for at-risk youth as director of public relations and volunteer services for Campagna Academy.
Profile on these honorees will appear in IN Business Magazine and nwi.com later this month.
Join us in recognizing this outstanding class. Visit nwi.com/20under40 to order tickets for the "20 Under 40" awards dinner Thursday, Oct. 26 at Blue Chip Casino in Michigan City.
Are you excited for the change in season? Our Autumn in the Region special section can be your go-to guide for fun things to do this fall.
The 20-page section, which runs in Wednesday's edition, will be packed with stories and information on apple and pumpkin picking, haunted houses, one-tank road trips to see fall foliage, tailgating parties, wineries, restaurants serving up local comfort foods and so much more.
There also will be extended calendars for entertainment events in NWI, Chicago, Indianapolis and Michigan.
Bob Heisse is editor of The Times Media Co. He can be reached at (219) 933-3327 or bob.heisse@nwi.com.