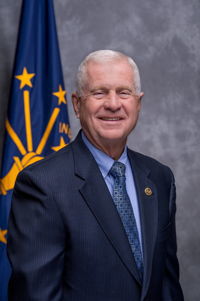 As Gov. Eric Holcomb works with business and local leaders across the state to reopen Indiana in the wake of the novel coronavirus, it is time to shine a spotlight on family caregivers for all they have done during the crisis to ensure those most at-risk receive the care they need.
Family caregivers have always contributed meaningfully to the management of their loved ones' care and have stepped up even more so in the pandemic.
As the home care workforce has been challenged by the crisis, and some have become fearful of workers coming into their homes, family members have taken on even more responsibility: managing doctor's appointments, telehealth visits, medications, bathing and dressing, and even providing wound care and at-home dialysis. They are making great personal sacrifices despite unprecedented levels of stress and exhaustion.
Indiana is a leader among other states in recognizing both the value that family caregivers bring and the support the caregivers need. Structured Family Caregiving (SFC) has been available since 2013, helping those who care for an adult with a disability or an older adult who wants to avoid a nursing facility.
Family caregivers have access to a care team as well as a financial stipend to assist with household expenses. At the start of the crisis, the Family and Social Services Administration (FSSA) and the Division on Aging moved quickly to ensure SFC services continued without interruption. Thousands of families benefited from that action.
I applaud the administration for the foresight and flexibility and, moreover, all family caregivers for their unyielding commitment to doing whatever it takes to help keep their loved ones safe and at home. Once again, Indiana has shown all the good that can come from taking care of our own.
Sen. Ed Charbonneau, a Republican, represents the 5th District which includes Valparaiso, Hebron, Kouts and Jasper County. He is chairman of the Indiana Senate's Health & Provider Services Committee. The opinions are the writer's.
Catch the latest in Opinion
Get opinion pieces, letters and editorials sent directly to your inbox weekly!