After a couple years of court battles ultimately decided by the Indiana Supreme Court on July 26, Griffith residents cast 3301 yes votes and 70 no votes (98 percent to 2 percent) on Sept. 25 to secede from Calumet Township and request an adjacent township to accept the town. The reasons for leaving have been argued for about a decade. Without relitigating the entire movement, the bottom line is that the people of Griffith want a township that taxes less and spends more wisely what is taxed.
Currently, Griffith sends over $2.2 million per year to Calumet Township while essentially receiving minimal or no services in return. Should Griffith be accepted by one of our neighboring townships, the payments would be dramatically reduced — to about $525,000 to North Township or $73,000 to St John Township.
The Griffith Town Council has passed resolutions asking both North and St. John townships to accept Griffith into their townships.
State law specifically states any township presented with this resolution has exactly one year to act on the request and may either vote to accept or reject or simply take no action. If a year passes without action, the resolution will be considered rejected.
State law further stipulates that a transfer cannot take place during the year before a census is taken. In Griffith's case, this means the town can only transfer to a new township in 2018 or 2020, and one of the townships would have to vote to accept before Dec. 31, 2018, for the transfer to be effective in 2019. Should that happen, Griffith's assessed valuation and tax dollars will go to the new township.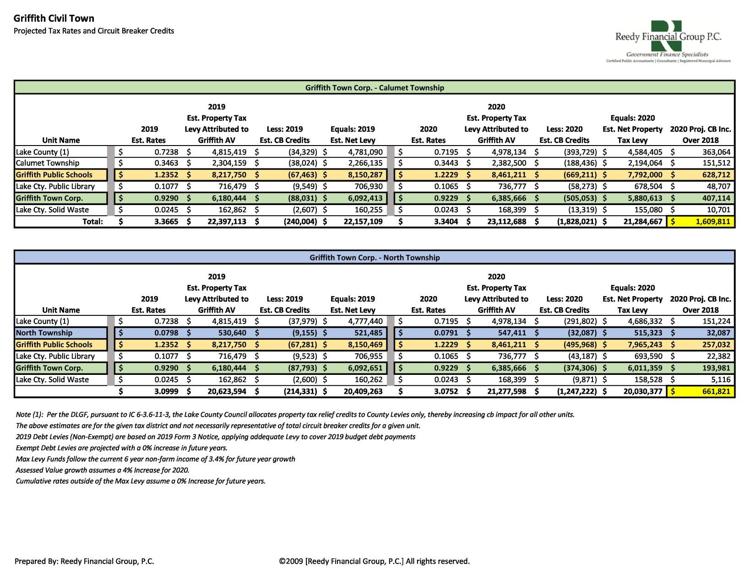 If a vote is taken in 2019 to accept Griffith, the assessed valuation and tax dollars would be transferred in 2020.
However, this December deadline is not do or die for us to be ultimately accepted; the Griffith Town Council simply provided a path, under very trying circumstances, where if an accepting township would like our tax dollars in 2019, they can pass a resolution this year to receive them, and we would happily fork them over to realize enormous savings.
The 2020 fiscal year will bring some extreme challenges to many municipalities in Lake County when the full effect of the tax caps take place. Currently, exempt debt taken out before July 1, 2008, is billed and paid outside the 1 percent property tax caps. Starting in 2020, this is paid as part of all taxes due subject to the 1 percent caps.
Property owners for most towns and cities will see a reduction in property tax bills (circuit breaker credits) as many homes will reach the 1 percent tax cap, meaning no homeowner will pay more than 1 percent of their home's assessed value each year unless a referendum has been passed to tax the home above the tax cap. Circuit breaker credits (money not paid by the homeowner) will cause a reduction of revenue for all taxing units resulting in less money to provide current services.
The town of Griffith will be meeting with North Township officials on Tuesday. In preparation for that meeting, we have asked our financial advisors to prepare an analysis of a 2020 Griffith property tax bills should Griffith be accepted by North Township. As illustrated on the table here, significant reductions of all circuit breaker dollars (loss revenue) will be realized by all taxing units, with the increase in revenue below:
Lake County, $102,000
Griffith Public Schools, $173,000
Griffith Town Corp., $131,000
Lake County Public Library, $15,000
Lake County Solid Waste, $3,500
All illustrated, all taxing units on a Griffith-North Township tax bill would see a benefit. Griffith would be sending over $500,000 to North Township and in return would see a multitude of benefits for our citizens not currently received.
If this were simply a business transaction involving two companies, it's a no-brainer that Griffith move to North Township. It is clearly a win-win for both entities. The Griffith Town Council fully supports this merger and kindly requests acceptance.