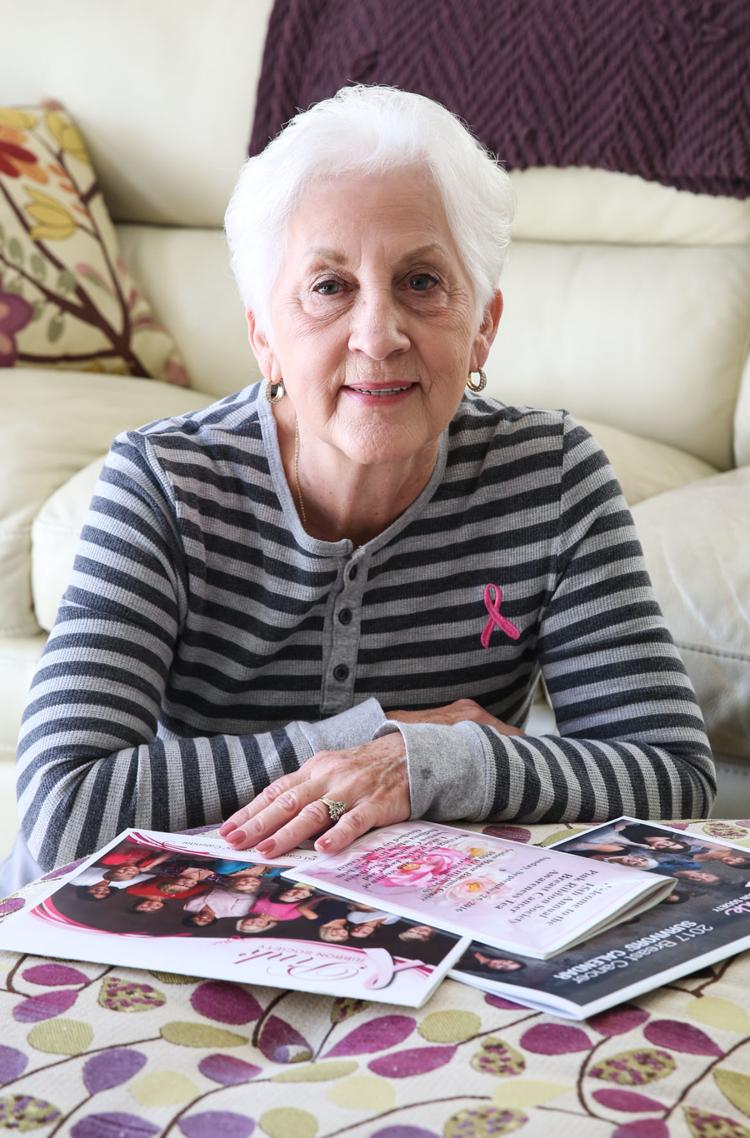 When people talk about "getting older," I just think of how grateful I am to be among them.
Forty-two years ago, I was diagnosed with stage 2 metastatic breast cancer. The prognosis was not a good one, yet 42 years later here I am. Yes, getting older — and yes, very appreciative.
All those years ago, getting that diagnosis didn't hold a lot of promise for surviving. You were often sent home with a wish and a prayer.
I was just 33 when diagnosed. I had two small children at home: Brian, 7, and Chrissy, 4. I hadn't yet celebrated my 10th wedding anniversary with my husband, Paul.
I had so much to look forward to, and who would have thought at that age and stage in my life I would have to struggle with the diagnosis of breast cancer. I endured a year of chemotherapy — 36 rounds — followed by several reconstructive surgeries.
Those of us in this "sisterhood" strive to reach that first plateau — the five-year mark. Never far from the back of our minds is the question:
"Will my cancer rear its ugly head again in the future?"
At some point, you have to move forward, being grateful for the years you've had and pray for the years to come.
This year, Paul and I celebrated our 51st wedding anniversary. Who would have thought?
I got to watch my children grow, graduate and get married, and experience the greatest joy of all, becoming a grandma. I got to watch all four of our awesome grandchildren come into this world.
Taylor graduated from Valparaiso University and now is an intensive-care nurse at St. Mary Medical Center. Savanna is in her sophomore year at Valparaiso University. Benjamin is 16 and a sophomore at Hebron High School. And our Shelbi became a teenager this year.
In August, we partied with my daughter, Christine, and her husband, Bill, as they celebrated their 25th wedding anniversary, and are getting ready to celebrate with Brian and Natalie as they prepare for their 14th anniversary this fall.
Helping my daughter pick out her wedding dress was a dream come true, and it was amazing watching her walk down the aisle on the arm of her father.
We were overjoyed watching my "little boy," Brian, get down on one knee as he proposed to his soon-to-be wife, Natalie, at the stroke of midnight on New Year's Eve 2004, knowing that the coming years would be amazing for them.
How could things get any better?
OMG, my Taylor is engaged to her fiancé, Andrew — to be married in 2020.
This coming year promises to be filled with the excitement of planning their future, dress-shopping, showers and parties.
I get to be there to help make these beautiful memories.
I often ask myself, "Why am I still here?"
Keep reading for FREE!
Enjoy more articles by signing up or logging in. No credit card required.
Life has been so good to me and to my family. I am so appreciative for the many doctors and nurses who helped me through the most difficult times — and to family who were there every step of the way.
Why am I still here? Not sure, but I am thankful and try to pay it forward every chance I get.
In the early years following my diagnosis, I was busy with treatments, surgeries, working, raising my family, etc. But never far from my mind, I kept thinking of a way I could help others as they struggle with the diagnosis of breast cancer.
I wanted to find a way to show my appreciation for surviving — a way to thank God for letting me have such an awesome life.
That's where Pink Ribbon Society comes into the picture.
In 2000, Pink Ribbon Society was founded. With an amazing group of volunteers by my side, we worked to find ways to help women following their diagnoses. There are a lot of organizations raising money to help find a cure for breast cancer, and we pray that day isn't far away.
But we know there are so many things patients need right here and right now following such an unexpected diagnosis.
Our plan was to raise funds to develop programs that could support the women in our community — patients who were struggling with the awful challenge of surviving breast cancer.
There are no instructions on how to act or react to this hideous diagnosis.
Many of the ladies who make up Pink Ribbon Society are advocates who empathize with patients. Others are survivors themselves.
They understand the struggle the patients are facing. Been there … done that.
They have lived through the diagnosis, treatment and struggles and share the fears of the unknown.
The first initiative we implemented was our Wig Reimbursement Program. So many women lose their hair during treatment. A wig can help a patient maintain their dignity and confidence during this difficult time. Most insurance companies do reimburse the cost of wigs. It is often considered a cosmetic expense and not covered by most plans.
Pink Ribbon will underwrite the cost of a wig up to $150 per patient/per diagnosis. They are referred to one of several salons in the area that can accommodate their specific needs. To date, Pink Ribbon has underwritten more than $82,000 for about 600 women in our community.
We also focus on the early detection of breast cancer by covering the cost of screening and diagnostic mammograms and ultrasounds for women who are uninsured, underinsured or who simply don't have the means to pay for these lifesaving tests.
Remember that early detection is key to surviving breast cancer. Since its inception, Pink Ribbon has underwritten more than $100,000 to cover these costs.
Other programs include Bundles of Hope, Pink Compression, Indiana Women In Need and Pink Pockets.
To date, Pink Ribbon Society has donated over $550,000 to individuals and other organizations in Lake, Porter, Jasper and Newton counties in need of the programs, services and programs we provide.
For more information, contact the Pink Ribbon offices at 219-472-0704 or check out our website at pinkribbonsociety.org. You can stay up to date on all of our programs and activities on our Facebook page at Pink Ribbon Society.