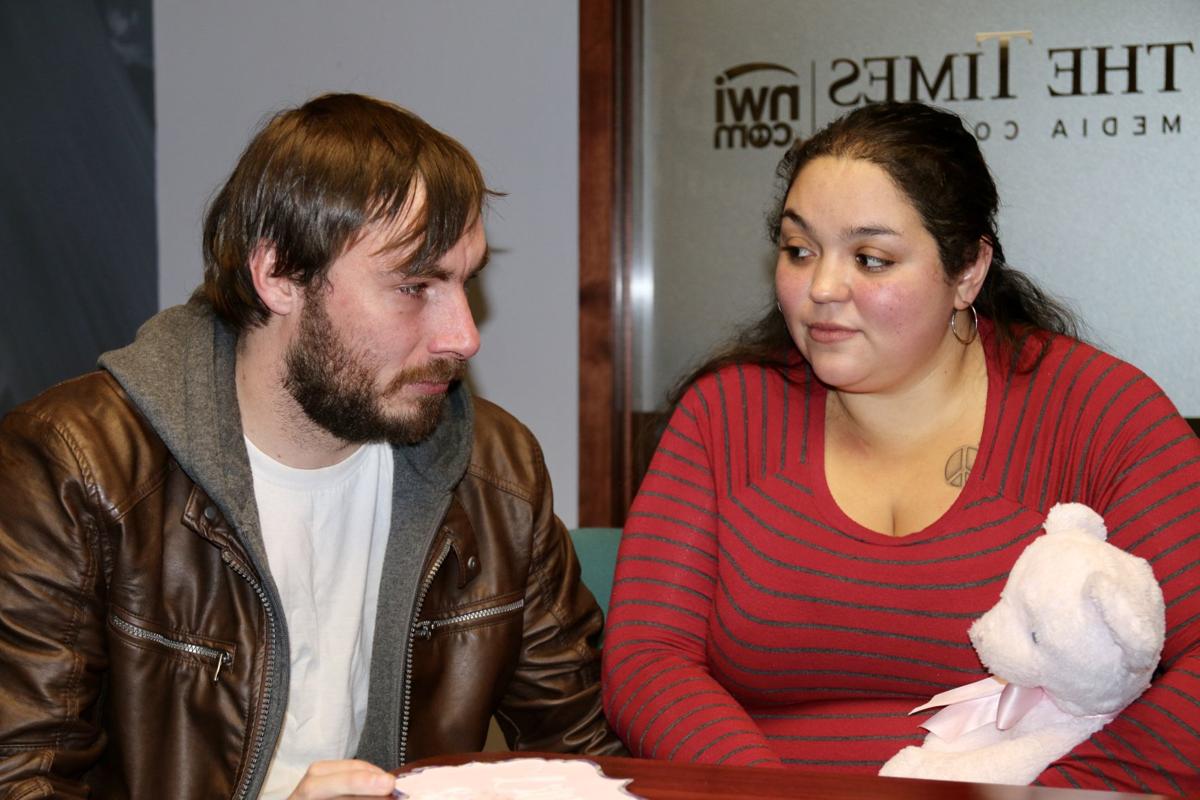 The cooing of an 8-month-old baby should be radiating holiday warmth in the home of Amanda and Matthew Bell.
Instead, the Valapraiso couple is spending silent nights this holiday season, mourning the loss of their baby in the wake of an allegedly unlicensed midwife, according to state regulators.
Cradling a stuffed teddy bear their little girl would have received at birth is only the smallest of comforts.
Their story is the most tragic of cautionary tales for any Region couple weighing their options for an impending pregnancy and birth.
I met Amanda and Matthew Bell recently to hear about their experience.
Tears dampened their cheeks as they told me about the woman they had hired and trusted to help them through one of the most exciting — but potentially dangerous and chaotic — things a woman and newborn child can go through: birth.
That woman, supposed midwife Julie Lentz, who ran Sacred Lotus Midwifery Services in Chesterton, has been prohibited by court order from continuing service.
And a baby girl, whose name was Natalie, can only join her mother and father for the holidays via an urn of ashes in their Valparaiso home.
Amanda Bell, 32, said it all began with the guarded excitement of a mother -- who already had two sons ages 10 and 13 but also had suffered through past miscarriages -- learning she was pregnant.
Amanda and Matthew, 27, learned that exciting news in summer 2018.
Fresh off a devastating miscarriage, the couple learned they were again pregnant in August of that year.
Intrigued in the past by the prospect of a home birth, Amanda previously had searched Facebook for listings of midwives who would provide such a service.
The couple decided to hire Julie Lentz, who purported to be a midwife and seemed to fit the couple's financial parameters, in February 2019.
At that time, the couple was without health insurance, but Lentz offered a payment schedule and plan that seemed workable, Amanda said.
Everything seemed to be in order. But nothing was as it seemed.
Lentz, in fact, held no license as a midwife, according to the state.
And the ultimate payment made by the Bells would be the death of Natalie and an infection that threatened Amanda as well.
There were red flags with Lentz and her services throughout the pregnancy, Amanda said.
She rarely showed up on time for scheduled appointments, which angered Matthew but which Amanda excused as the norm for a midwife potentially tending to the needs of other expectant mothers.
But then there was the matter of payment.
Lentz would request money ahead of the agreed-upon schedule, Amanda claims.
When the couple signed on to Lentz's services, they agreed to make payments every two weeks until the due date.
Often, Lentz would ask for a portion of payments a week ahead of time and promise a future discount, Amanda said.
"I excused this at the time," Amada said. "I understood she had children of her own, and I knew what it was like to struggle financially."
There were other warning signs too, which Amanda says she now regrets not acting upon.
At 35 weeks of pregnancy, Amanda took off work as the pregnancy became challenging because of hypertension she was suffering.
Amanda purchased her own blood-pressure monitor, which often showed abnormal readings.
"I would share this with her (Lentz), and she would dismiss it or not seem worried," Amanda said.
Lentz would tell her to meditate and relax and would say electronic monitors weren't accurate, Amanda told me.
When Lentz would take Amanda's blood pressure in person, she never spoke in precise numbers, Amanda noted.
Then on April 22, despite the challenges, it looked as if there was an exciting light at the end of the tunnel.
It was six days before Amanda's due date, and it appeared Amanda's water had broken, signalling labor.
Letnz swabbed some of the fluid during a visit to Amanda's home that day and told the patient the swab tested positive for amniotic fluid.
Letnz also told Amanda the process leading up to actual birth could take up to five days, Amanda recorded in her notes from the experience.
The next day, April 23, Lentz took another swab, this time telling Amanda that the swab tested negative for presence of amniotic fluid, Amanda said.
"She explained that my body likely closed up the leak, and my body simply wasn't ready for the baby to come," Amanda wrote in her notes. "So I continued to wait.
"Several friends voiced their concerns, but I had learned to 'trust the process,' which was consistently Julie's (Lentz's) advice."
On April 24, a Wednesday, Amada told Lentz she was still experiencing discharge and having contractions.
Nine days of intermittent contractions, pain, discomfort and ultimately concern passed for Amanda.
On that day, the pain became so great, Amanda recalls, she asked to go to the hospital for an epidural and treatment.
"She (Lentz) discouraged us from going," Amanda said. "That's what she would do. So I just kept going on at home."
Amanda was running a fever.
She says she was told not to worry about it.
Matthew was frustrated, especially when he says Lentz would leave for meal breaks — or long periods of time for various reasons.
Finally, on May 2, after bouts of pain and dilation, Lentz performed a vaginal exam on Amanda and said "something was weird," Amanda said.
There was an orange-colored discharge and lots of pain. Amanda said she was told the baby was breech, meaning it was coming feet first rather than the preferred head first.
"But she said it was fine," Amanda said, echoing a common refrain throughout the process.
Amanda was told she had a swollen cervix blocking the birth canal and that the swelling would need to subside.
At one point, "I started telling my husband I needed to go to the hospital. I asked him what happens if the swelling doesn't go down," Amanda wrote in her notes. "When he replied he didn't know, I asked him to ask Julie (Lentz).
"That's when I found out she had left again!"
Matthew called Lentz, reiterating that his wife now wanted to go to the hospital.
Matthew said Lentz told him she would return to the house in 20 minutes and assess the matter.
Lentz returned in what Amanda believes was about an hour, encouraging homeopathies, some sort of herbal treatment, as a temporary remedy, Amanda said.
"But I had one more excruciating contraction, and I couldn't take it anymore," Amanda said.
She demanded to go to the hospital.
Matthew and a friend of the couple, who came to check in, noted they remembered Lentz then checking for a heartbeat for the baby.
They "remember her taking a long time to find the heartbeat."
But Amanda said she was assured the baby was safe.
Amanda said Lentz then "coached" her of what to say and ask for when going to the hospital, including telling the medical staff her water broke in the past 24 hours, even though it was believed it had broken days before.
An ambulance arrived, and Amanda ultimately was raced to an emergency delivery.
Amanda said she remembers looks of confusion as the hospital medical staff searched for a fetal heartbeat.
She also remembers the doctor telling her, "I'm sorry we're meeting this way..."
"It was then I felt we had lost our baby," Amanda told me.
The baby was delivered by C-section.
When Amanda awoke from the surgery, she had to endure what no once-excited, expectant mother should ever have to endure.
She was allowed to hold her baby, Natalie Rose Bell, 9 pounds, 3 ounces, 20 inches long — and no longer living.
As an investigation continues, a July court injunction prohibits Lentz from practicing as a midwife until or unless she becomes licensed.
Lentz could not be reached for purposes of this column.
Now Amanda and Matthew are left with an overwhelming feeling of loss, one that exhibited itself in rolling tears when they spoke to me in The Times Valparaiso office earlier this month.
Contributing to the agony is a feeling of being fooled — a feeling of naivety.
They don't want another couple to ever experience this pain.
Do your homework on any midwife or other birthing service. Ask for licenses and certifications. Check in with doctors and medical professionals.
And listen to your own body and conscience above all other things.
Gallery: Babies don Baby Yoda caps at Franciscan Health hospitals
The force was strong with a group of newborn Jedis Thursday. The babies born at Franciscan Health hospitals in the Region were gifted Baby Yoda hats on their first day on Earth. Adorable, they are. Their photos here, you can see.