Our Region loves survivor stories.
The accounts of our neighbors who find a way to thrive despite lives put through the ringer provide hopeful guides for all who face adversity.
It's why The Times Forum section introduces you today to new columnist, Olivia Clarke, whose survivor-themed column will be running monthly.
Olivia is a Region native and Bishop Noll graduate, a former Times reporter and longtime friend.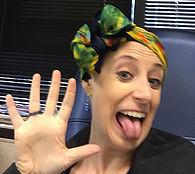 In a March column, I introduced you to her as a breast cancer survivor who is using humor through a growing website to cheer up — and cheer on — others struggling with this scourge of a disease. That previous column is attached to this column online.
Please enjoy Olivia's inaugural column today on the right side of this page, and look for more inspirational wit from Olivia in the future.
On Wednesday's front page, Times readers also saw, perhaps unwittingly, the account of another Northwest Indiana survivor.
After 21 years of helping administer justice, Porter County Superior Court Judge Julia Jent presided over her last veterans court before she retires.
The special court she championed provides sentencing and treatment alternatives for Region veterans who need help finding a new path, rather than jail cells.
In that sense, for years, Jent has helped create survivors, who have successfully found their way to jobs and social productivity.
But Jent has her own inspiring story of survival.
In 1956, Jent was a 9-year-old German orphan, living in a post-World War II facility run by Carmelite nuns.
In 2016, I interviewed her for a column, and the details she provided of that time in her life were both awe-inspiring and heartbreaking.
Jent and her sister Edith, then 7, were adopted by an American family into what should have been a storybook new life.
"I was so excited initially," Jent told me in 2016, recalling the adoption. "We worshiped the Americans."
But reality didn't match the fantasy.
Their new mother frequently was physically abusive, Jent recalled.
Their father "liked little girls," she said, noting sexual abuse that haunted their childhood.
But that adversity drove her on to a new life, culminating in a career as one of the most respected Region judges in memory.
Jent believes her time as an orphan, and then as a child who suffered abuse at the hands of adoptive parents, gave her valuable perspective in many of the cases over which she presided.
On Thursday, Indiana Gov. Eric Holcomb attended Jent's final veterans court hearing, presenting her with a Sagamore of the Wabash, a distinguished Hoosier citizenship award.
We all should thank Jent for showing us the transformative potential we all can possess after emerging from life's trials and tribulations.