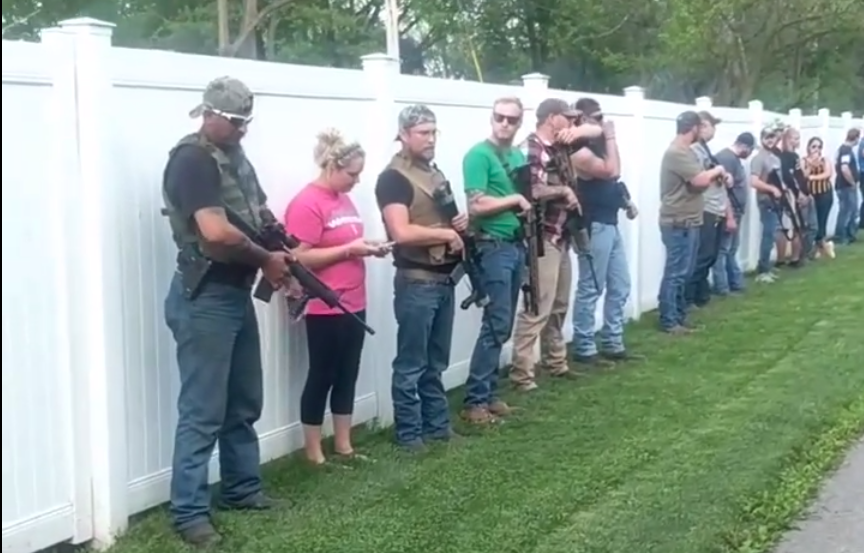 Unless you graduated from the police academy and carry the official badge of a sworn officer, you are not the police.
This is a message that needs to be forcefully driven home with some in our community.
One way to do that is with aggressive prosecution of anyone who brandishes firearms while playing the role of illegitimate justice of the peace.
Another is for the majority of sensible citizens on all sides of the political spectrum to speak out, particularly in these times of civil unrest, against those who would use firearms or other intimidation tactics to carry out roles the police are supposed to fulfill.
It doesn't seem like the type of matter of which people should need to be reminded.
Unfortunately, some disturbing recent cases in the nation and Region show otherwise.
National headlines have recounted cases of armed vigilantes making a showing at protests across the country.
We saw something similar in the Region — in Crown Point — late last month as residents toting guns lined private property near the Erie Lackawanna recreational trail, showing strength in force as protesters of George Floyd's death made their way back to the downtown square from a demonstration at the Lake County Government Center.
While the gun-toting residents weren't breaking the law, according to police, it was an unnecessary show of force against peaceful protesters. Thankfully it didn't foment any further reaction.
But two other recent cases appear to cross the line into the criminal realm.
On Sunday, police said a man told them he drew his gun and approached a couple near a public war memorial at U.S. 231 and 145th Avenue near Leroy because he thought the couple might be vandalizing the memorial.
Police said there was no evidence the couple had been doing anything wrong.
But even if they had been, the unnamed man who drew his gun had no business playing cop.
Police chose not to charge the man after they said the couple declined to press criminal charges, deferring instead to a formal police report being filed in the matter.
No one has the right to draw a gun on another unless it is being done in defense of oneself or one's family. Those who brandish guns while taking the law into their own hands should be prosecuted.
Another disturbing incident of alleged vigilantism appears to be poised to garner criminal charges.
Lake County sheriff's police said they are pursuing criminal confinement charges against a Lowell man accused of blocking in a female Amazon truck driver to prevent her from leaving his driveway earlier this month.
We're not naming the man yet as formal charges were pending Tuesday.
The 49-year-old white male reportedly confronted the woman, who is black, because he believed she was speeding along his half-mile-long gravel driveway, according to a police report.
The woman, self-described as 110 pounds and dressed in her Amazon attire at the time, said the man blocked her from exiting the long driveway, approached her delivery truck, tried to open her door and started yelling at her for speeding past his house.
She told the Times he put his hand on her door and demanded her driver's license, so she asked if he was a cop. She said she called a dispatcher with her employer, Amazon, and then dialed 911.
No one has the right to play police officer aside from those who are certified and sworn to protect.
Troubled times laced with civil unrest don't provide a pass for such behavior.
Clear messages must be sent that this behavior will not be tolerated — now or ever.
Catch the latest in Opinion
Get opinion pieces, letters and editorials sent directly to your inbox weekly!