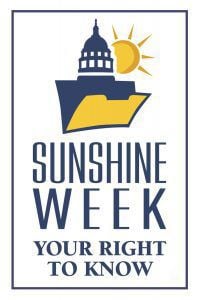 Tenacious fact-finding by determined journalists is the hallmark of what we celebrate every year during National Sunshine Week.
So it was fitting Wednesday, in the heart of a week celebrating the importance of public records and the people who bring them to light, that a nearly year-long investigative report resulting from such tenacity published on the front page of The Times.
The article, mostly written and reported by Times court reporter Steve Garrison before he recently departed our staff to work on a graduate degree, unearthed a disturbing narrative surrounding the death of 15-month-old Najae Musgrave, of Gary.
Dogged, stubborn, necessary reporting revealed a system that clearly failed the baby girl in ways that should send shudders down all our spines and calls for change echoing from our lips.
Najae's father, Khabaugh Musgrave, 25, awaits criminal trial on felony battery charges in his daughter's death.
Police and prosecutors allege Musgrave abused Najae on March 6, 2017, at the family's Gary residence.
But it turns out there was far more to the story than the shaken-baby-syndrome injuries authorities say ultimately led to the little girl being declared brain dead on March 8 of that year.
A tip passed on to The Times last year indicated that state child protective workers had investigated Musgrave and his wife and had made determinations of past substantiated abuse prior to the incident that led to Najae's death.
Determined to find out, Garrison filed a formal public records request with the Indiana Department of Child Services for any records involving the family.
A several-month battle for the complete records ensued.
Months passed before anything was provided, but Garrison kept pushing.
Then files with some redactions were produced by the state.
Garrison pushed for more.
After doggedly pursuing the facts for the better part of a year, The Times obtained the detailed records that provide far more insight into the case.
In May 2016, nearly a full year before Najae's death, the little girl's mother brought Najae to a Region hospital for treatment of blisters on her feet, records obtained by The Times show.
Doctors were unable to explain those injuries, and a skeletal exam revealed the girl had suffered multiple bone fractures caused by yanking or pulling.
Such injuries are considered a red flag for abuse.
Indiana Department of Child Service workers were alerted to the case at that time and took emergency custody of Najae and her brother, the DCS records show.
In an August 2016 report, DCS substantiated abuse allegations against both parents.
But less than a year later, the children were returned to Musgrave and their mother, Stephanie Swift.
By March 2017, Najae was declared brain dead.
Without journalistic tenacity, the public would still be unaware of this detailed way in which a system failed to protect a baby.
Such failures are part of the reason why Indiana's system of dealing with child abuse has been under an intense microscope in recent years.
Hard work by fact-seeking reporters is key to unearthing shortcomings and beginning a conversation to improve the system.
At the close of National Sunshine Week, no clearer illustration can be drawn than the work done to bring context and truth to the tragedy that claimed Najae's life.