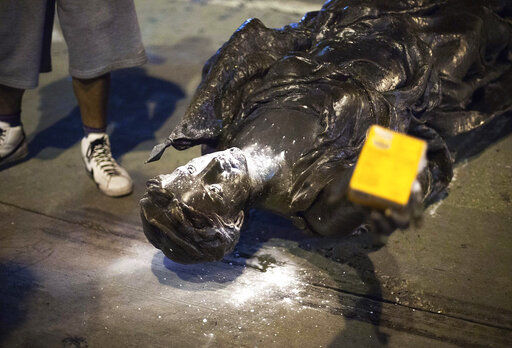 Our nation offers no shortage of righteous causes for which men and women have long struggled.
Many of these struggles have persisted for years — in some cases generations — and those of us who crave justice and equality should not be patient in a strong push for positive change.
But we don't get there by mindlessly and indiscriminately destroying historic symbols of the very things for which so many righteous people strive.
Destroying national monuments, especially those that stand for truth, progress, justice or equality, is more a sign of criminal anarchy than righteous protest.
And crippling businesses and the livelihoods of individuals by destroying private property runs counter to everything upon which our nation was founded, much less human decency.
Some of the latest examples of such occurred in Madison, Wisconsin, Tuesday night as rioters toppled monuments from their foundations in that Midwestern state's capital city.
The destruction comes in the wake of very real injustices, including the slaying of George Floyd last month at the hands of Minneapolis police. The world has watched video captured from the scene of a police officer pressing a knee into the back of Floyd's neck, ultimately killing him.
The senseless slaying of Floyd and other people of color has rightly awakened a push for racial justice and police reform, including through countless protests throughout our nation.
But violence and destruction have no place in a push for justice, equality and peace.
Tuesday night in Madison, mindless destruction consumed symbols of the very values for which many protesters clamor.
One was a statue of Union Civil War Col. Hans Christian Heg, which was torn down and dragged for some distance.
Heg was a Norwegian immigrant and journalist who died of his wounds at the Battle of Chickamauga, the Civil War's second-bloodiest battle. Among highlights of Heg's service were his efforts to raise volunteer Wisconsin troops to fight in a war that ultimately ended the scourge of slavery in our nation.
Hundreds of Northwest Indiana troops also fought, and in some cases died, in that 1863 battle in Georgia, just across the Tennessee border from Chattanooga.
Another toppled and destroyed statue in Madison Tuesday was the "Forward" monument, the likeness of a woman dedicated to the values of progress and devotion. The statue has often been the central gathering point for peaceful demonstrations for social justice and equality.
Protesting vandals hit the statue with paint earlier this month and then destroyed it by toppling and dragging it into the roadway Tuesday night.
Tuesday's mayhem in Wisconsin's capital city occurred as the destruction from previous protests and the COVID-19 pandemic have put the future of numerous shops in a main Madison business district in jeopardy.
Similar destruction is sweeping our nation, desecrating some of our nation's dearest symbols and upgrading to a nuclear event the firestorm already surrounding many businesses because of the COVID-19 pandemic.
It's anarchy, and we cannot stand for it as a nation.
So many righteous causes deserve platforms of peaceful protest — and even more importantly real action to bring those values to fruition.
Rioting anarchists deserve a jail cell. There is no time or place for this behavior, which if left unchecked will rip our nation apart at already weakened seams.
Catch the latest in Opinion
Get opinion pieces, letters and editorials sent directly to your inbox weekly!