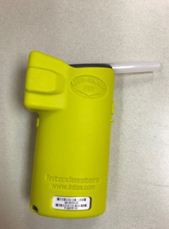 The purchase of 346 portable breath test devices for use by 28 police departments in Northwest Indiana will, we hope, make the Region safer.
The portable units are not a replacement for blood alcohol tests administered at police stations and hospitals. However, the devices will allow police to give a quick test to drivers to determine whether there is probable cause to use a Breathalyzer test at the police station. 
If the portable breath test is given after police conduct field sobriety tests, the results from the portable unit can then be used in court, Hammond police Lt. Patrick Vicari said.
The Indiana Criminal Justice Institute used a grant from the National Highway Traffic Safety Administration to purchase these portable units.
Dyer Police Chief Dave Hein said his department's 20 kits will allow each patrol officer to have one.
"The new (tests) are 'next generation' and allow officers to also test vapors of a liquid to determine if they are an alcoholic beverage or not," Hein said.
Chesterton Police Chief David Cincoski said his department would not have been able to afford the 14 kits it received were it not for the federal grant.
Over the coming year, 725 additional breath test devices will be purchased for the Indiana State Police at a cost of $310,000.
Law enforcement, like everything else, must continue to evolve to meet growing expectations for public safety.
Equipping police with new technology, funded through grants like these for departments that couldn't afford them otherwise, is a way to officers can more efficiently function.