Lovings Heating & Cooling Inc
| | |
| --- | --- |
| Sunday | Closed |
| Monday | |
| Tuesday | |
| Wednesday | |
| Thursday | |
| Friday | |
| Saturday | |
About Lovings Heating & Cooling Inc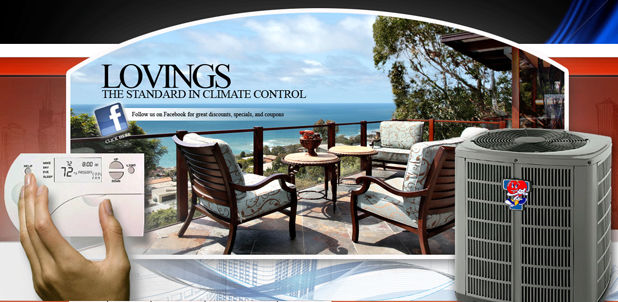 Lovings Heating and Cooling offers 24/7 service and support for residential heating and cooling in Northwest Indiana.

When you do business with Lovings, you get...

• Fixed Right or it's Free. When we service your system, it is done right the first time or it's FREE.

• True 24 Hour Service. Your call will be answered live by one of our friendly specialists, 24 hours a day 365 days a year.

• Technician Seal of Safety. Your technician will be drug free, background checked, highly trained and will have undergone a rigorous selection process.

• Straight Forward Pricing. You will always know - to the penny - what your investment will be with no surprises.

About our Installers and Lovings Technicians - and Why You Should Care

Remember back when "he does it for a living" meant that the guy was really good at it? And that he took pride in his work and professional reputation?

Lovings Heating and Cooling only hires people who still believe in that, because, at the end of the day. . . These people are working in your home. And that matters to us enough to make sure that everyone we send to a customer's home is someone that we would invite into our own home.

Lovings offers the finest in heating and cooling in Northwest Indiana. With customer service as our primary focus, we do all we can to take the pain out of service calls related to heating and cooling. Our focus is 100% complete customer satisfaction. Our understanding of the client's needs and molding our services to fit their lives and timetables is what helps us remain number one when it comes to heating and cooling here in Northwest Indiana.

Check out our superior customer support, and don't miss your chance to see why Lovings Heating and Cooling is Northwest Indiana's number one choice for heating and cooling service and repair.





Fixed Right or it's Free. When we service your system, it is done right the first time or it's FREE. We also offer true 24 HR SERVICE!



Accepts:

Discover

MasterCard

Visa
We specialize in comfort!
Lovings Heating and Cooling has proudly been serving the Northwest Indiana and Chicago Land market for more than 30 years. Lovings specializes is several areas of home quality and comfort control. The following is a brief list that includes just a few areas of our expertise.
Heating and cooling emergency service, preventative maintenance, repair and replacement. We also specialize in many popular air quality services including duct leakage and repair, humidification, dehumidification, filtration, odor control  and so much more.
Call Loving's Heating & Cooling Today!
Valparaiso – (219) 531-7570
Chesterton – (219) 912 7247
Portage – (219) 926-7125