Illiana Heating & Cooling
| | |
| --- | --- |
| Sunday | Closed |
| Monday | |
| Tuesday | |
| Wednesday | |
| Thursday | |
| Friday | |
| Saturday | Closed |
About Illiana Heating & Cooling
Welcome to Illiana Heating - Providing quality workmanship and superior service with professional, dependable and knowledgeable technicians for your complete heating, air conditioning and indoor air quality products and systems, that's our promise to you.


Your home's comfort is important to us, that's why we only install the very best Heating, Ventilation, Air Conditioning (HVAC) and indoor air quality products available, providing you with the utmost in energy savings, comfort, protection and preservation of your home and its belongings. Whether you'd like to request more information, need to set up a service call, or are interested in installing a new HVAC system or comfort accessory, our finely trained staff is fully equipped to handle all of your HVAC equipment and indoor air comfort questions and needs.
Read More About Our Over 30 Years In Service HERE
COOLING
Reliable and durable. That's the only type of cooling system we sell. Along with our professional service and installation, you can expect a system that offers exceptional home cooling and comfort with quiet operation and unsurpassed efficiency. Ask us today about how replacing or upgrading to a higher efficiency cooling unit can not only increase you and your family's comfort but also lower your home utility bills.
Indoor Air Quality Accessories
If you're considering upgrading or replacing your cooling system, now is a good time to increase the overall comfort of your home with quality, whole-home indoor air comfort products. From central dehumidifiers that lower the humidity in your entire home to whole-home air cleaners, attractive and technologically advanced thermostats and zone control systems, adding indoor air comfort accessories can not only improve the quality of your air but save you money on your utility bills. Ask us how an indoor air quality accessory can be fitted to your central heating and cooling system today.
HEATING
Whether you're remodeling, building a new home, upgrading or replacing your existing heating system, you can depend on us for reliable and efficient heating solutions that will last for years to come. We specialize in high-efficiency heating systems that provide total comfort throughout your home. Our knowledgeable and friendly staff will help you select the right system for your home and no matter what choice you make, you can rest easy that it's a choice we will stand behind. All of our heating systems are backed by excellent manufacturer's warranties with extended warranties also available. Ask us today about how replacing or upgrading to a higher efficiency heating system can not only increase you and your family's comfort but also significantly cut your home heating bills.
SERVICES
Reliable. Trusted. Guaranteed. That's how you'd describe our family of services here at Illiana Heating & Air Conditioning. For over 30 years, your friends and neighbors have counted on our no-nonsense approach to servicing South Suburbs & NW Indiana's heating, ventilation and air conditioning needs. We provide authorized warranty service for American Standard & Armstrong. We also provide post-warranty service for all makes and models. Our service fleet utilizes the latest diagnostic technologies to quickly and efficiently determine the nature of your service problem. Our technicians are fully trained and certified by the EPA. Some are also NATE Certified. We are available for emergency repairs if needed. Our regular service hours are 8:00am - 4:00pm Mon - Fri.
You can depend on Illiana Heating to help you stay cool through the heat, warm through the cold and comfortable every day in between. Call us first for your next service need.
• Blown-in Attic Insulation
• Duct Cleaning Service
• Geothermal Heat Pumps
• High Efficiency Equipment
• Service for All Brands
• Annual Maintenance Programs
• Free Estimates
• Financing Available
• Emergency Service is Available
• We Accept Visa, MasterCard & Discover
Indoor Air Quality
Few things are more important when it comes to your family's health and comfort than the quality of your home's indoor air. But that same air may not be as clean and healthy as you think. Consider this: U.S. Environmental Protection Agency studies have shown that Indoor Air Quality can be up to 100 times more polluted than the air outside - even in smoggy, urban areas.
To help protect the health and comfort of your family as well as your home and its belongings, the only truly effective solution is a whole-house solution from Aprilaire. Whether pollen, dust mites, mold spores or air that is too dry or too humid is your problem, Aprilaire has a whole-house, indoor air quality solution that can help.
Aprilaire Whole-House Humidifiers were introduced in 1954 as the first evaporative, flow-through design humidifiers. Aprilaire humidifiers introduce the right and healthy amount of moisture into your air, never too much or too little. Aprilaire humidifiers can help symptoms with dry sinuses, itchy skin, static shocks, dry, cracked damaged wood floors and furniture and help ease allergy and asthma symptoms.
The Aprilaire Models 1700 and 1720 Whole-House Dehumidifiers offer total comfort from the sticky, sweaty, and potentially unhealthy conditions caused by excess moisture. The 1700 and 1720 models differ only in capacity - with the model 1700 having a moisture removal capacity of up to 90 pints vs. the 1720 with total removal capacity of up to 150 pints per day.
An Aprilaire Air Cleaner can help rid your home of dust, dust mites, pet dander, mold spores, pollen, bacteria and viruses and more. Aprilaire Air Cleaners are installed as part of your home's central heating and cooling system - completely out of your way and out-of sight. Named the #1 whole-house air cleaner by a leading ratings magazine 3 years in a row. Aprilaire Thermostats control not just your home's heating and cooling, but your overall comfort. All Aprilaire Thermostats operate electronically (digitally). Unlike mechanical thermostats, Aprilaire Thermostats are mercury-free and provide pinpoint accuracy and control of single-or multi-stage forced air, heat pump or hydronic systems.
Aprilaire Whole-Home Ventilation Systems
exchange the air inside of your home with fresh outdoor air. Aprilaire ventilation systems deliver the proper exchanges of fresh air for your home, making it a more healthy, comfortable and energy-efficient place to live.
One room too hot while another is too cold? Not with
Aprilaire Zoned Comfort Control
. Aprilaire Zoned Comfort Control is a system of more than one thermostat, electronically connected to a control panel which operates a number of dampers in your forced air heating/cooling system. Conditioned air is then distributed to various part of your home as needed.
Illiana heating and Cooling. Serving Northwest Indiana and Illinois, including, Cedar Lake, Crown Point, Lowell, Merrillville, Dyer, St. John, Schererville, Munster, Highland, Griffith, Hammond, East Chicago, Gary, Crete, Lynwoon, Lansing, Glenwood, Homewood, Chicago Heights, Valparaiso, Hobart, Lake Station, Chesterton, Hebron, Demotte.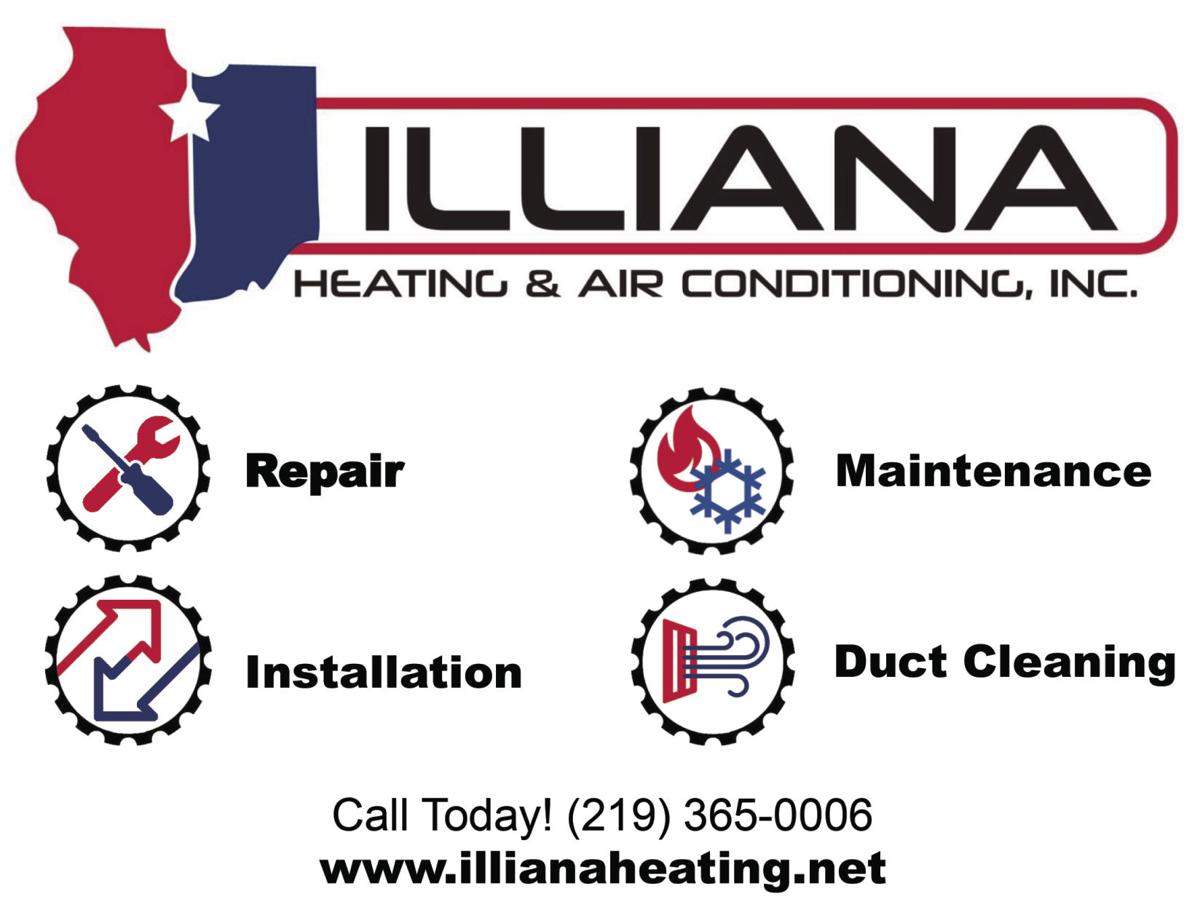 Accepts:

Discover

MasterCard

Visa
Illiana Heating & Air Conditioning, Inc.
Furnace Cleaning $89
(includes no breakdown guarantee)
CLICK HERE TO SEE SPECIALS & COUPONS!
Illiana Heating & Air Conditioning Inc has been serving customers for over 30 years. We are the leading provider of high quality heating & cooling service in the Northwest Indiana and South Chicago suburbs. Whether you need routine maintenance or our 24 HOUR EMERGENCY SERVICE, we are here for you. Call us today or visit our website to learn more about our services and SPECIALS!
Illiana Heating and Air Conditioning
11407 Wicker Ave., Cedar Lake, IN 46303
219.365.0006