Freddy's Steakhouse
Come for the food, stay for the fun!
| | |
| --- | --- |
| Sunday | |
| Monday | |
| Tuesday | |
| Wednesday | |
| Thursday | |
| Friday | |
| Saturday | |
About Freddy's Steakhouse
Freddy's Steakhouse proudly has served the Hammond community for nearly half a century by providing amazing food and tremendous customer service. Widely recognized and renowned as a "landmark" restaurant, Freddy's Steakhouse has developed a reputation for quality steaks and entrees at an exceptional value. Freddy's Steakhouse, which is acknowledged throughout the surrounding communities and local media, recently has received accolades such as the "Best Steakhouse" and "Best Business Lunch" in the region.

Conveniently located at 6442 Kennedy Avenue, which is just minutes away from the casinos, Freddy's Steakhouse has daily food and drink specials for all tastes. For more information, you can contact us at (219) 844-1500 or visit our website at www.freddyssteakhousehammond.com. Check us out on Facebook at www.facebook.com/FreddysSteakhouseHammond.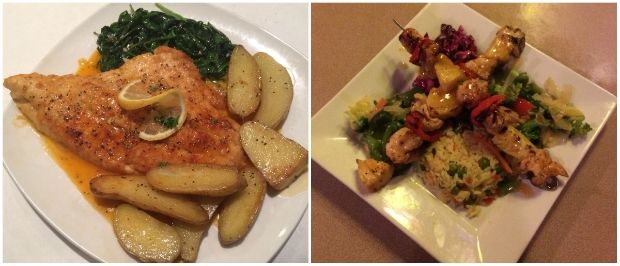 Our menu offerings have something for every taste, from fresh baked bread, all the way through to our delightful desserts. Rounding out your experience at Freddy's is a fine selection of wines, alcoholic concoctions, popular beers and premium liquors. Several times a month we have live weekend entertainment that helps create an even broader appeal and more enjoyable experience for Freddy's customers.

Our menu includes:

* Appetizers
* Soups
* Salads
* Steak specialties
* Ribs
* Chops
* Seafood sensations
* Classic combo menus
* Prized poultry menus
* Perfect pasta

Open for lunch Monday through Friday and for dinner seven nights a week, Freddy's is waiting to treat your taste buds to a great dining experience.
Kamradt and his wife, Tammy, personally oversee all operations within the restaurant. Kamradt selects and monitors the cutting and the processing of Freddy's Signature Angus Steaks which are all hand-picked, hand trimmed, well-marbled and aged for tenderness. Tammy handles the primary day-to-day responsibilities of managing the dining establishment. Together, Jim and Tammy strive to maintain the tradition of excellence that has made Freddy's the Premier Steakhouse and fine & casual dining establishment in the area.

Our Executive chef brings more than a dozen years of culinary expertise to Freddy's. His distinctive touches grace each and every dish, whether they are offerings from our extensive menu, or our daily lunch and dinner "specials." We promise great food, attentive service, reasonable prices, and a clean and relaxing environment while dining at Freddy's Steakhouse.


Freddy's Steakhouse Catering & Private Parties
Freddy's Steakhouse catering will assist in making your celebration memorable, whether it's a small intimate gathering in your home or a large group event. Our event catering delivers the service, the expertise and of course, the flavor wherever you and your guests gather.

We have a highly trained staff of employees who will come to your private event and make it memorable. They will be professional and deliver a high quality food service that your guests will remember forever. Between our food, and the menu you design, your guests will have the time of their lives.

From choosing your menu to overseeing the smallest details, Freddy's Steakhouse event catering staff looks forward to helping create your perfect occasion. We will help you choose the best venue, your tableware, the setting placements and decorations for whatever event you are wanting to host. Freddy's will come equipped to execute your every desire and give you the satisfaction of knowing that your event will be perfect.

"If you can imagine it, we will create it."

We offer our entire menu for our customers' to choose from when hosting an event. However, if you prefer to create your own menu, we'd be happy to accommodate any requests you make. At Freddy's we want to help you create your ideal event and we will do what we can to make it happen.
Planning a private party?

Let us host or cater your perfect event.

We look forward to working with you on all your event needs…

* Breakfast/Brunch Luncheons
* Bridal/Baby Showers
* Christenings
* Business Meetings
* Product Launches
* Cocktail Receptions
* Sit Down Dinners
* Rehearsal Dinners
* Corporate Dinners
* Cocktail Receptions

We look forward to serving you.
Looking for the perfect gift idea?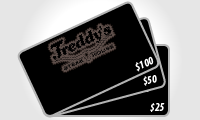 Purchase a Freddy's Restaurant Gift Card! With our landmark restaurants in Hammond, there's no better gift than a gift card to our award winning location! Our Gift Cards are available in any denomination, and are perfect for any occasion.

To order a gift card, stop by our restaurant at 6442 Kennedy Ave, Hammond and speak with a staff member or call us at (219) 844-1500 to purchase over the phone with a credit card. We accept MasterCard, Visa, Discover and American Express. No personal checks please.


Visit us at http://www.freddyssteakhousehammond.com