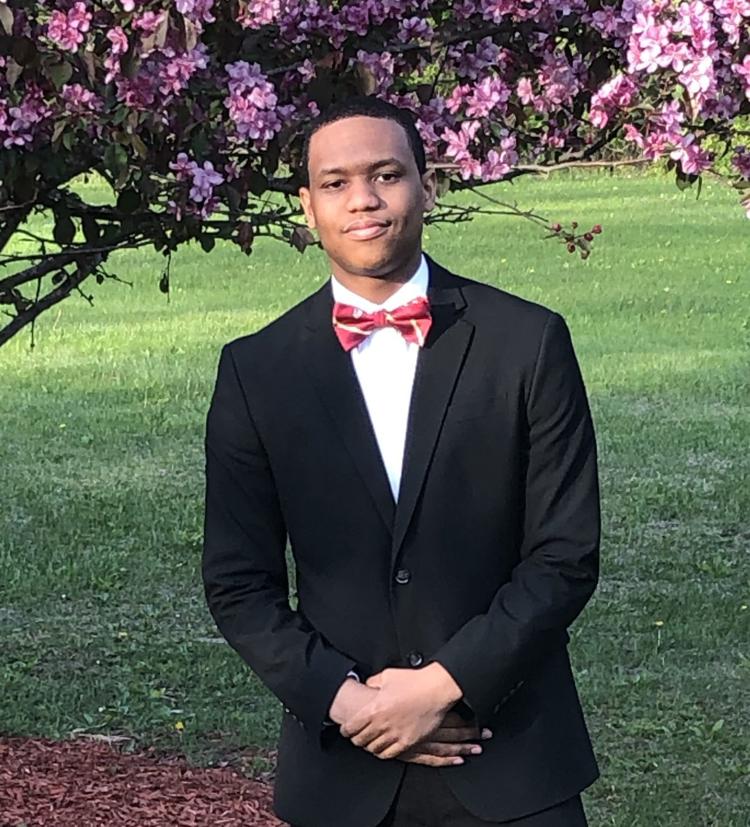 Educators testimony: Nicolas Washington a wonderful, outgoing student here at Thea Bowman Leadership Academy. Nicolas is a part of the National Honor Society, and he is currently number two in his class. His commitment to education and excellence speaks highly of his academic success. One of our local universities, Purdue Northwest offer our students the opportunity to take two college courses free of cost during their junior or senior year. Nicolas is currently enrolled in Composition and Trigonometry at Purdue Northwest. In a recent discussion about him taking spring classes, Nicolas showed interest in continuing his studies to earn additional college credits even if he had to pay for the classes. Nicolas willingness to not only pay for additional courses, but also to use his free time to pursue his post-secondary education show his commitment to his education. Other ways that Nicolas has shown dedication to his academics is through his participation and leadership in the MANRRS (Minorities in Agricultural and Natural Resource Related Sciences) program and the Gary, Indiana chapter of the Kappa League. Through both programs he has added to his knowledge through conferences, classes, and competitions in which he had the opportunity to compete and share research. He has also served his community through both organizations through serving families at the food bank or working the local farmers market. Nicolas ability to build relationships and connect with organizations that can help in his pursuit of his academic goals, gives me the confidence that he will excel where he chooses to continue his education. -Davina Drummond
Plans after graduation: I plan on attending the University of San Francisco majoring in computer science.
Given the events that have happened in recent months, what I would say now is much different from what I would say at graduation before the pandemic occurred. Before, I planned to be full of joy and encouragement, saying anything is possible when you put your mind to it; and that the Class of 2020 is the best and can tackle any significant obstacle with ease. I would reminisce and talk about the fun memories we had together as a class, and end by saying something along the lines of: " No matter where we may go, whatever challenges we face, I know that everyone will be okay and succeed in life. Now given the pandemic, my speech would be more cautionary. Many things that have happened on a personal and global level have changed my perspective. In my revised statement, I would start with the facts we were and still are in a bad spot. The way we thought the world worked is different from how it does. Can we overcome obstacles? Yes, but not easily; some problems we face can take months if not years at best. Therefore it is essential to have a plan and be proactive instead of being reactive when a problem surfaces. Most big challenges we can't see coming, and we don't ever want to imagine a time that a problem as big as let's say a pandemic would happen. But it is still crucial to plan for success, plan for failures, and the unexpected, because you never know what can and will occur. Always have a plan B, nothing is set in stone, and if something life-changing happens, you need multiple plans. Just because something is working does not mean it is the best option or solution to your problem. Secondly, I would encourage dedication and consistency. I believe that not everybody needs to or should go to college; there are many other pathways to take and still be successful. Whatever you do after high school, see it through till the end. If you go to college, make sure you finish; if you go into a trade, make sure you finish. If you are going to the armed forces, finish basic training and keep going until you have the tools you need to excel. Persistency is the key to being successful in whatever you pursue. Thirdly I would talk about failure, and the only way to get better is to fail. In my high school career, I have won various awards and trophies for multiple things, but I learned the most from the times that I have failed. If you never fail, you never see your faults; failure shows us what we did wrong and how to improve. Now I am not saying to get to college and flunk out to learn how to succeed, but what I am saying is that we will fall, but as we fall if we evaluate what's happening and get back up know why we fell and are standing firmer than we were before. Never quit because of a failure, you never have genuinely lost or failed until you quit. There is always a chance to get off the ground, but you can only get up if you take that chance and try to get up.
Lastly, I would push the idea of living in the present, not the past. I know that high school was fun, and the time after high school can be scary. Still, it is vital to move forward. Do not waste your time focusing on the past, and your past accomplishments, instead focus on your future and all the success you can and will achieve. Too many times I hear and see adults talking about how great they were in high school, still, now they have nothing to show for it. I do not believe people peak in high school, but I do think we put what happens in high school on such a high pedestal that it becomes the peak of their existence. The memories of high school will always be with us, but we have many more years ahead of us and many more memories to make. Don't waste your future. Will it be easy after high school? Will we live lives of all ups and no downs? Can I coast through life and be successful? No, life is hard; it is a constant battle that we never win but continue to set higher and higher goals to achieve. Can You overcome any problem? Will there be times when you won't want to get out of bed? Can anyone and everyone be successful in what they want to pursue? Yes, there is no limit to our potential, and we can go and progress as far as we want to if we plan, see things through in the end, don't rest on our laurels, and look at the now and the future, not the past. "The difference between what we do and what we are capable of doing would suffice to solve most of the world's problems."- Mahatma Gandhi.