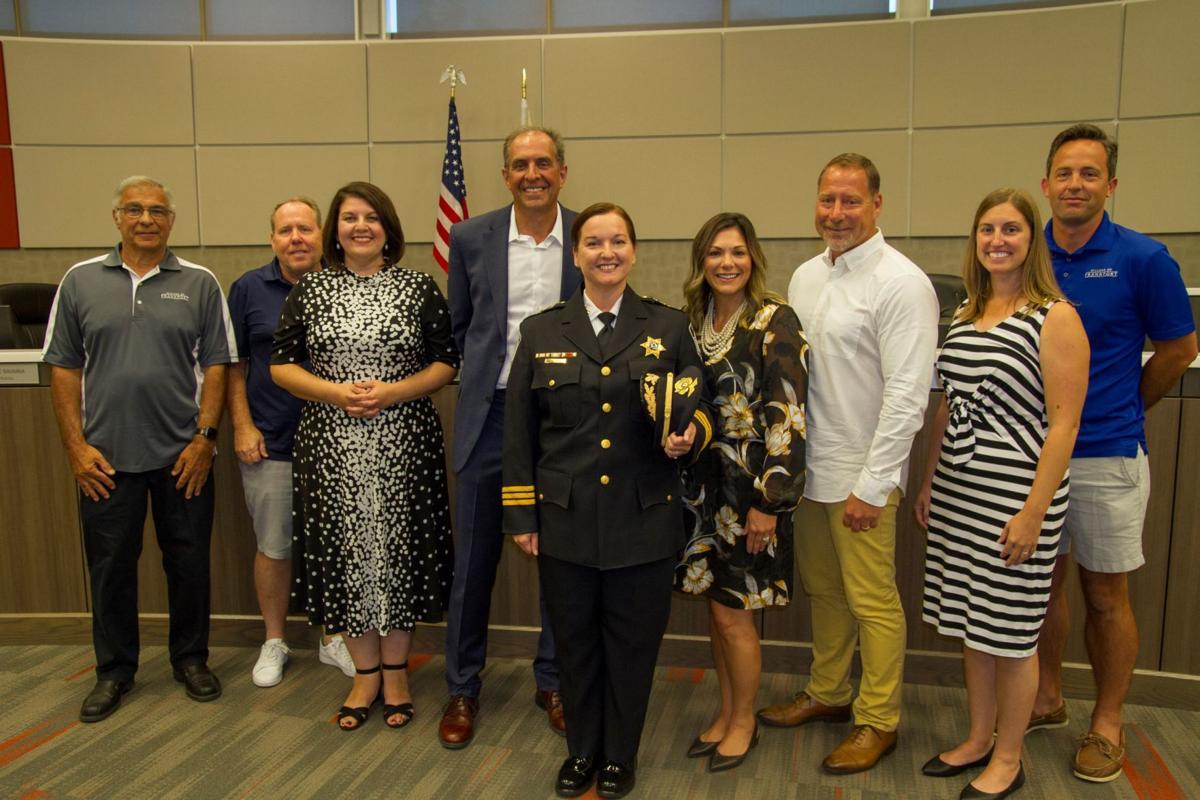 "It is still very surreal when I think about it. I feel very proud, very honored," Leanne Chelepis said of being sworn in as police chief of Frankfort. "I love Frankfort, and I want to do my best for the officers at our agency and do my best for the community I serve in." 
Chelepis has been a member of the Frankfort Police Department since December 2002, first drawn to law enforcement by a criminal justice class in which she explored the various aspects including attending court.
"I also had a family member who was an FBI agent, and I was just really intrigued by the work and the help that law enforcement and criminal justice could provide to a community," said Chelepis, who is from the Lincoln-Way area. "From there on out that's what I decided I wanted to do."
Chelepis started as a patrol officer in Frankfort, cementing her dedication to the work. "I felt like I was doing very meaningful work; every day was different and interesting. It checked all the boxes," Chelepis said.
From there, she went into crime prevention, engaging with residents and initiating community policing programs. Chelepis helped with the creation of a safety group for older adults called TRIAD, as well as a community Night Out Against Crime.
In 2017, Chelepis was promoted to special services sergeant, which entailed overseeing the investigations unit, school resource officer, patrol officers and training.
Chelepis is grateful for the help she has had along the way, noting her relationship with John Burica, who left the police chief's job in July to become assistant village administrator. "John was truly a mentor to me, and we still have a good working relationship," Chelepis said. "He's been very helpful with any questions I've had and has offered guidance when needed, a great support to me in this new position."
Noting that the chief's job was filled from among internal candidates, Frankfort Mayor Keith Ogle said: "I think Chief Chelepis will continue to move us in the direction of high morale and professionalism and providing great service to the residents.
"We have a very good culture within our police department," Ogle said. "The expectation is to continue having outreach to the community with our policing and incorporating additional resources toward combating cybercrimes against seniors."
As Chelepis settles into the position she has held since August, she is pursuing a master's in public administration at Governors State University. She received her undergraduate degree from Western Illinois University in 2001. In her free time, she enjoys bike riding, exercising, reading and being with her family.
She also plans to continue building relationships with the community  and welcomes new programs and ideas to stoke that engagement.
"In the interest of crime prevention and keeping everybody safe, we try to look at new technology and new crime trends to remain relevant," Chelepis said. "Our neighborhood patrol officers have done a great job talking to businesses, driving around subdivisions and getting kids on school buses safely. Just really engaging with the people, and we want to continue to establish that."
Frankfort has a quality-of life-reputation to maintain, ranking among the Top 10 Illinois communities for families and the 12 safest communities in the state, according to 2016 data from SafeWise, which promotes safety at home.
"I believe police agencies are really important to communities," said Chelepis. "It is not always about when tragedies occur, and horrible things happen. Sometimes it's about simple interactions to be there for people who may be going through a tough time. My motivation is caring for the community."