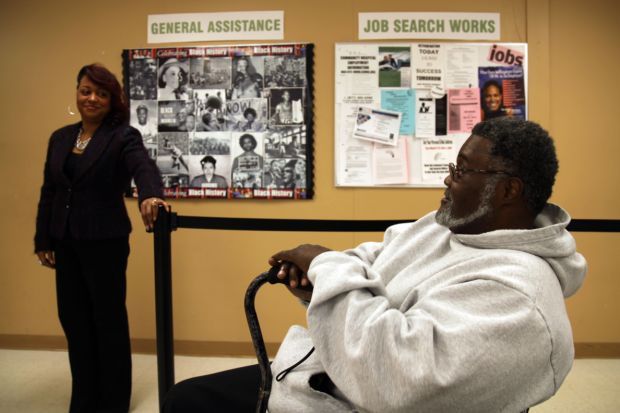 Jobs. For many, that seems to be the one overarching solution to poverty both nationally and regionally. But the skills needed to get the work that pull a person and his or her family out of poverty are an essential part of the formula. If jobs are No. 1 on the road to overcoming poverty, then based on the views of many experts, education is No. 1-A.
The means of getting to better-paying jobs is one area many say is sorely lacking in parts of Lake County because of the absence of a regional bus system. 
"Everybody desires to have a better life, but not everybody has the resources to help them get there," said the Rev. Darnell Johnson, chief executive officer of the Holistic Community Coalition and pastor of Mount Hermon Missionary Baptist Church in East Chicago, at a recent panel discussion in East Chicago on "Poverty in the Urban Community."
As she waited in a long line for food in May at the Food Bank of Northwest Indiana's Pantry on the Go, Kouts resident MaryAnn Nimtz, 49, said she has to provide transportation to a relative, Roger Byers, who just had heart surgery, because of the lack of public transportation where he lives in Portage. 
Eddie Melton, manager of corporate citizenship and employee involvement with NIPSCO, said "a lack of opportunity" is one of poverty's root causes.
Melton said while employees with his company are involved in mentoring students, there is a need for students to take math and science courses to obtain the skills needed for some of the higher-paying jobs available.
Various programs have been proposed to expand opportunities for low-income residents and to make them ready for opportunities that do exist. In some cases, however, Indiana is seen as lacking in providing the resources to ensure low-income residents can sustain themselves while awaiting these opportunities, or ensuring the opportunities already available are adequate to meet the need.
According to the Center for Law and Social Policy, 66 percent of families with children that fall below the poverty level have at least one member who works: 40 percent have a family member with a full-time job; 26 percent have at least one member who works part time.
One of the biggest pushes by both national and local advocates of the poor has been trying to obtain an increase in the minimum wage, although some opponents say raising the minimum wage could lead to increases in unemployment, as companies scramble to pay the higher wages. 
Minnesota, which recently passed legislation to raise its minimum wage, included in the law a provision that companies could not lay off workers to pay the higher wage.
The Indiana Institute for Working Families said an increase to $10.10 per hour could help nearly 700,000 state residents. It also would like to see Indiana not tax families earning $25,000 or less a year.
The advocacy group's biggest push this year, was trying to get a work-sharing program approved, which the state organization's policy director, Derek Thomas, indicated could save thousands of jobs.
The program gives an employer the option of reducing hours and wages of all employees in a particular group of employees instead of laying off some of the workers. The workers with reduced hours and wages would be eligible for partial unemployment benefits. The organization, however, was unsuccessful in getting the legislation approved in the last legislative session.
"It was really a big missed opportunity," Thomas said.
According to the Indiana Institute for Working Families, the poverty rate among those with a bachelor's degree is 4.1 percent compared to 12.2 percent for high school graduates.
Advocates for the poor have noted Indiana is one of just 10 states without a state-funded pre-kindergarten program. The state recently passed legislation to allow for a pilot program in four counties, and representatives at the recent panel discussion in East Chicago said a push has to be made for Lake County to be one of them.
According to Calumet College of St. Joseph President Dan Lowery, educational support needs to begin early and continue throughout the student's education. He said that is one reason the college took over sponsorship of Gary's Charter School of the Dunes when it lost Ball State University as its original sponsor.
At a recent forum on civil and human rights in Gary, one woman asked why there wasn't a greater push for more school vouchers for area children to attend private schools. But attorney Renee Hatcher, daughter of former Gary Mayor Richard Hatcher, said it is not enough to give vouchers to a handful of students so they can gain a better education.
"We need to reinvest in our public schools," Hatcher said.
According to Scott W. Allard, an associate professor with the school of social services administration at the University of Chicago, there have to be both short-term and long-term programs to address poverty.
In the short term, there is a need to make sure people have access to food and housing, so they can find -- and keep -- a job.
The long-range solutions are providing educational opportunities for children up through and after high school. It is helping those from under-represented families  be able to get into college and graduate. Over the years, revenues have risen steadily at many public institutions. But while state funding in real dollars has increased, more of the burden for paying college costs has fallen on students and their families.
According to the Chronicle of Higher Education, 60 percent of the revenue at Indiana University Northwest in Gary came from state funding and 22 percent from student tuition in 1987. In 2012, 39 percent of the funding came from the state and 43.5 percent came from tuition.
At Purdue University Calumet in Hammond, 54.9 percent of the revenue came from the state and 31 percent from tuition in 1987. In, 2012, the state provided 31.9 percent of the revenue, with 48.8 percent coming from tuition.
Allard agrees with state Sen. Ed Charbonneau, R-Valparaiso, that there also have to be higher education opportunities for those who don't go to college, like vocational training.
Allard said educators needs to prepare students with skills and training for new jobs that are going to exist five years from now rather than jobs that existed five years earlier. The investment in helping these students will benefit not only those living in the region, but also those all over the state, according to Allard.
The jobs that exist now in many cases don't pay as well as the jobs in the past, and government needs to provide assistance to workers in these positions so they can hold on to them and eventually advance to better jobs, he said.
Calumet College's Lowery also stressed the need for more family involvement in the educational process.
North Township Supervisor Frank Mrvan observed that in some cases parents are so young they don't have the education themselves to assist their children. The township office started a "Parents as Teachers" program, aimed at giving these parents the tools needed to help their children.
Another program, known as "Mom's Taking Charge," helps provide education and information to help families become self-sufficient. Funded by the Foundations of East Chicago, the program uses local community people as paraprofessionals to work directly with the families. The program is a joint effort of the Salvation Army, Healthy East Chicago, Ivy Tech Community College, Haven House, East Chicago Courts and Healthy Vision Midwest. 
Many of the people attending the recent panel discussion on urban poverty in East Chicago talked of the need for people to have self-respect and to take care of their families. Lake County Councilman Jerome Prince stressed the need for personal accountability and the importance of parents setting an example for their children and grandchildren.
The Rev. J.C. Wade, retired pastor of Zion Missionary Baptist Church, spoke of the need for family. Married for 51 years, he said, "we have to show people that marriage still works."
Another issue to be addressed, said the University of Chicago's Allard, is improving the region's transportation network so people can get to the jobs that are available. The current transportation network, he said, was built to access jobs that in many cases no longer exist. Both people and jobs have spread out from the central cores, and "I don't think our transportation system has kept up with that," he said.
Lack of access to social services is also a major issue as poverty has stretched out geographically, and agencies find themselves spread thin, according to Allard. At the same time, many social service agencies have lost funding in the last several years.
Hatcher, in addition to speaking of the need to reinvest in public education, also spoke of the need for better public transportation. She questioned what good it did to have employers committed to employing everyone if there was no way to get to those jobs.
Dan Murchek, deputy chief of police for the Lake County Sheriff's Department and a board member of the Northwest Indiana Workforce Board, agreed the "community lacks a proper transportation system. We don't have a regional bus system to get to the places you need get to."
Murchek said there are places with half the population that have such a bus system and said the area needs to have a regional approach when it comes to dealing with transportation, as well as public safety.
He said some people have a narrow viewpoint focused only on their own community, and they don't care what their neighbors in the region are doing. Murchek said, however, there is a ripple effect if problems in a particular area are ignored and not dealt with on a regional level.
Some poverty advocates have criticized Indiana for its lack of micro-businesses and support for such enterprises. Frank Becerra, with Standard Bank, talked about the need to shape financing to specific regions. He said what works in Munster may not work in East Chicago.
A micro-business generally has fewer than five employees and often is a one- or two-person operation, and small enough to require little capital, $35,000 or less, to get started, according to the U.S. Small Business Administration.
Standard Bank has a micro-loan program in East Chicago to provide small loans to businesses. For instance, many banks are not going to be interested in loaning to someone seeking a $10,000 loan to start a business, Becerra said.
He said his bank has a program that provides loans as small as $5,000. "It is our responsibility to make small businesses grow," he said
The housing coalition formed by members of Illinois' South Suburban Mayors and Managers Association has been cited as an example of cooperation in trying to deal with regional issues.
Twenty-three different communities are in the coalition, which tries not to be restricted by boundaries when trying to address the area's needs.
"We are looking at ways to best utilize resources," said Janice Morrissy, deputy executive director of housing for the South Suburban Mayors and Managers Association.
The group works closely with Habitat for Humanity and other organizations. One of the projects involves a collaborative effort among the communities, the state and the private sector for transit-oriented development that would include building housing near rail lines.
In Indiana, the Food Bank of Northwest Indiana distributes food to between 90 and 100 food pantries in Lake and Porter counties and also hands out food to school children who might otherwise go hungry on the weekends.
And thanks to action by Portage officials, bags of foods are distributed to needy school children throughout that community. About 200 to 250 school children are helped by the program in that community and a few other local schools. Additional funding is being sought to expand it to more schools in Porter and Lake counties, including Gary.
Megan Sikes, a spokeswoman for the organization, said only about a third of those needing food are served by the group, which currently sometimes has to turn down some large donations because of lack of space at its current facility. It hopes to expand to a 60,000-square-foot facility that would allow it to better meet the need in the area.
In 2012, there were more than 260,000 visits to the group's affiliated food pantries and to the Pantry on the Go program. That number dipped slightly to 256,000 last year. By early May, there had been more than 64,000 visits to the pantries and the mobile pantry program.
The lines of people seeking food can stretch for blocks, often standing in the cold and rain. "In the winter, it's terrible," said Petra Cox, of Valparaiso, as she waited for food on a rainy, chilly day in May.

Click here to view a larger version of the map.



(Source: Northwestern Indiana Regional Planning Commission)
Click here to view a larger version of the map.


Be the first to know
Get local news delivered to your inbox!