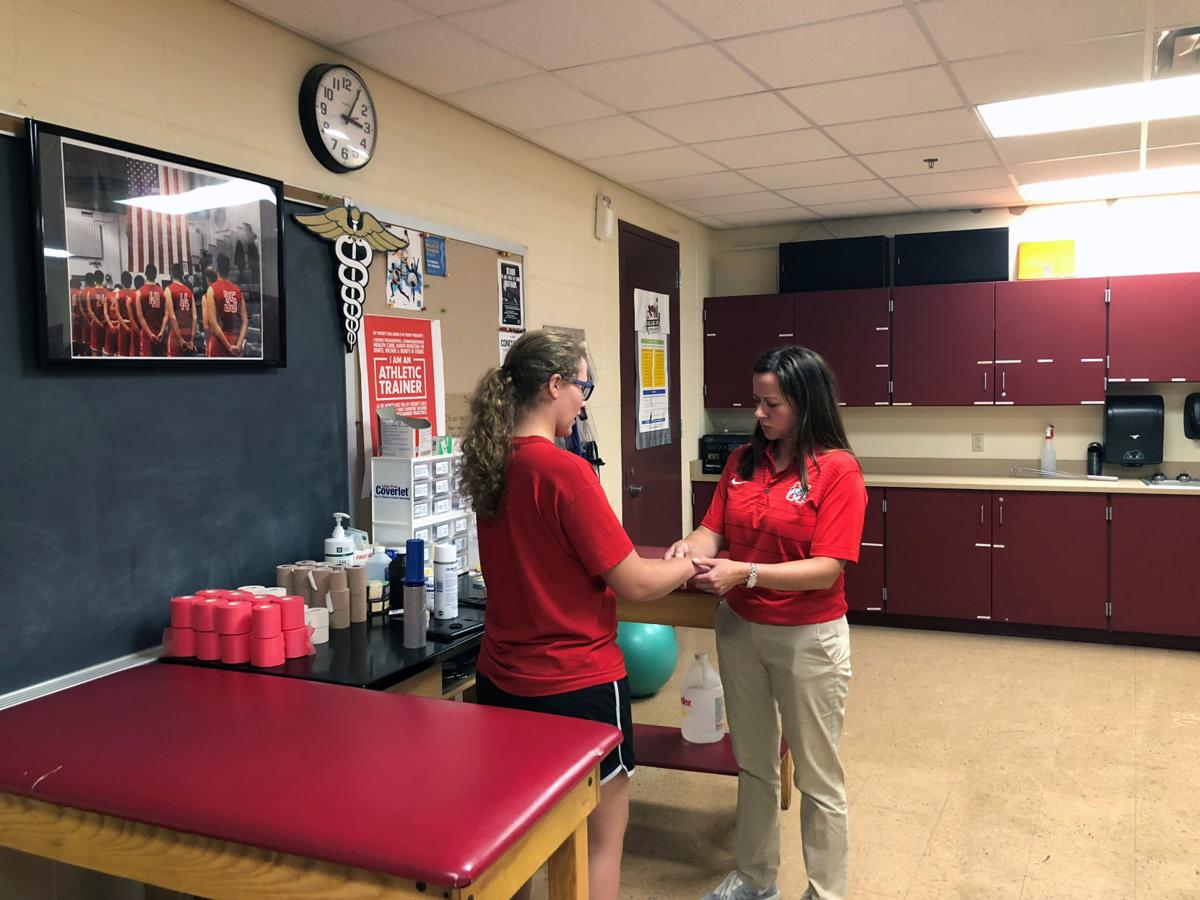 Less than a month before high school sports were set to return, Community Healthcare discontinued its athletic training program, leaving Region athletic directors scrambling to find resolutions.
The program, which served roughly 20 Region schools, including Purdue Northwest and Calumet College, provided athletic trainers to schools for local sports. 
Without trainers, schools will be left to search for medical health professionals for when high school sports resume in the summer.
"I can't see us proceeding with athletics without a trainer, especially with our students not doing anything for a month, and then all of a sudden they're gonna come back," Whiting athletic director Kelly Greer said. "We need to have an athletic trainer just in general."
Greer said her school's athletic trainer is integral to their athletic program. She covers all the school's games and practices. 
In a normal year, schools are under pressure to maintain the health of student-athletes. Without trainers, teams are unlikely to be able to support players with quick medical attention and healing aid.
Add a global pandemic onto that, and athletic programs find themselves fighting to stay above water. 
"It puts a lot of pressure now on myself and our head coaches because we have to implement all of these health aspects that we're not used to," Greer said. "That's what we rely on the trainer for."
Greer said trainers were not allowed to comment due to their severance contract.
The Indiana Department of Education's plan for return to extra-curricular activities details strict rules on social distancing, wearing masks, conditioning and other health guidelines. Trainers, and the knowledge of the medical field they have, are essential to assisting athletics as an extra set of eyes helping schools maintain protocol.
"If we were to not have trainers at that time, I'm not sure we would reopen," Lake Central athletic director Chris Enyeart said.
According to a statement from John Doherty, the vice president of therapy services, sports medicine and occupational health at Community Healthcare, the athletic training program will officially end June 27, just before high school practices are set to return on July 6. 
Doherty's statement notes COVID-19 and the subsequent furloughs of trainers as reasons for the discontinuation.
"Unfortunately, our athletic training services were downsized and athletic trainers furloughed from their regular duties due to all sports being on hiatus," Doherty said. "We have greatly valued our athletic training partnership with the local schools. Should a school chose to continue an athletic training program on their own, we fully support the athletic trainers securing a position with their school."
Athletic departments have been forced to search for a quick resolution before student-athletes return to practice.
"We have kids that haven't actively participated in the last three months," Enyeart said. "If a kid does show symptoms we need to take their temperature, or do a check on them. Without trainers it'd be hard to be able to reopen."
Community's partnership with schools provided trainers to the campus on contracts. The trainers, most of whom have been with their schools for several years, spent most hours on campus, with exception for a few they might have to spend at the hospital.
The trainers are familiar with the schools and programs, which encourages athletic directors like Lake Station's Jeff Bean to retain the ones they have.
"She's become a part of Lake Station," Bean said. "She knows our athletes, she knows our coaches, and they know her."
Bean said Lake Station was set to begin providing services to Edison's middle school athletic programs this year, adding three grades and pushing the number of student-athletes being treated to about 200. At Lake Central, Enyeart said his two trainers provide medical care for 700 to 800 athletes.
Any new trainers would need to learn the facilities and equipment before athletes return. Keeping current trainers on staff would expedite that process, especially for schools like Whiting, whose trainer has been at the school for nine years.
Community also covered the cost of certifications for the trainers and provided ice bags and certain softwares to maintain their working, Enyeart said.
These schools have looked in different directions for a solution, from hiring the athletic trainer to the school's staff directly or partnering with a different training service. 
If trainers are hired through an outside training company or a separate hospital, the process will work similarly to Community's current program. Any school that decides to hire the trainers directly will employ them as school staff members.
Lake Central has one bid already and three other proposals that are coming within the next week. Enyeart said he and the superintendent plan to sit down by June 26 and make a decision. 
But any decisions made will need to remain within the school's budget and will need to be moved quickly through the school's board for approval. 
"It's sad to see Community go, they were a great fit for us," Bean said. "They were a good partnership for small schools and big schools in the area."
Gallery: The Times' best prep sports photos of the 2019-20 school year
Our favorite photos from a photogenic fall prep sports season in the Region.
The coronavirus pandemic brought about the end for the remaining boys basketball postseason games. With the winter prep sports season effectiv…
Be the first to know
Get local news delivered to your inbox!