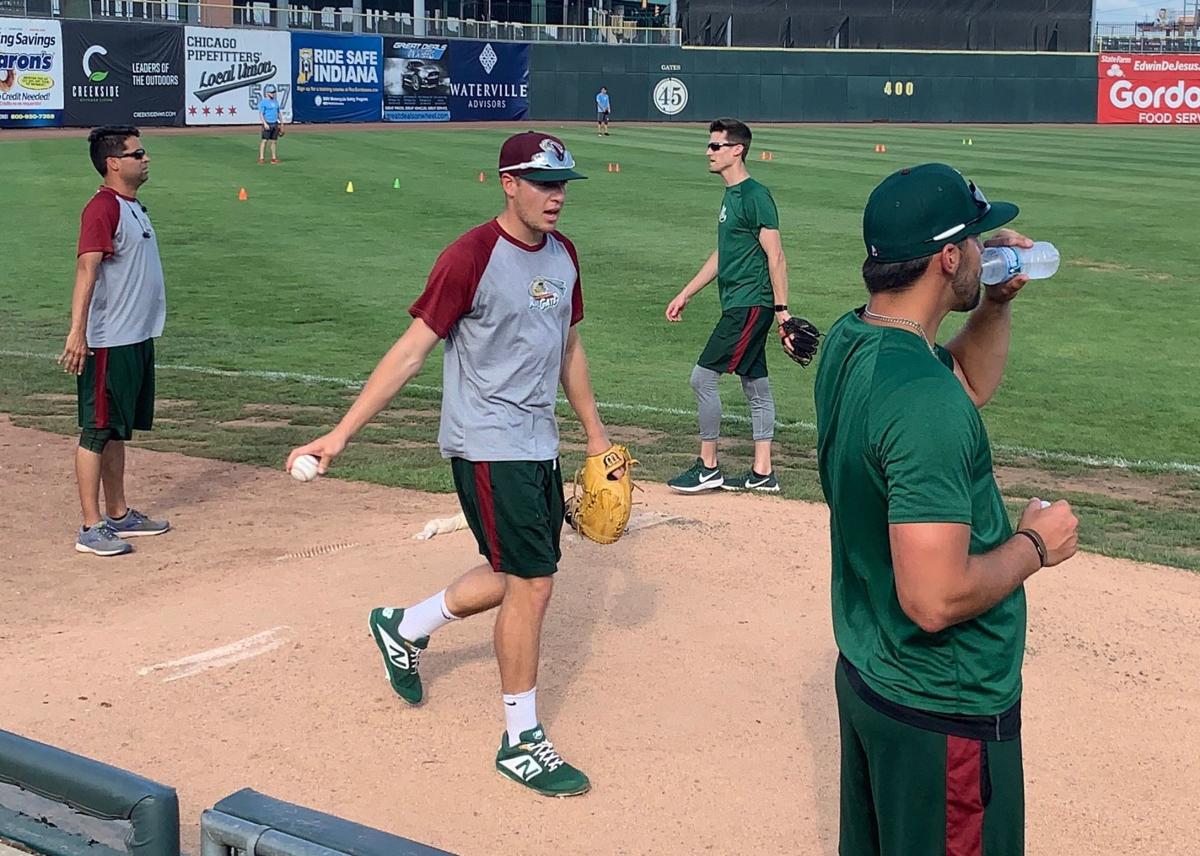 GARY — Over the past few days the Gary SouthShore RailCats have played in 90-degree weather, and entering Friday night the stifling temperatures didn't let up.
The heat index rose to 106 degrees just two hours before the RailCats' game against the visiting Chicago Dogs at U.S. Steel Yard. Another local team, the Northwest Indiana Oilmen, cancelled its Friday and Saturday games because of the sweltering weather, but the RailCats played on. 
Manager Greg Tagert sported shorts and a T-shirt right up until game time, and many of his players followed suit as they prepared for another hot contest.
"We were in Texas about two weeks ago, and it was close to 100 degrees, and that probably helped us adapt a little bit," Tagert said. "It's unusual here. In my 15 years here, I can probably count on my hand how many times we've seen the heat land over 100."
To combat the high temperatures over the last two days, Tagert said the team came to the ballpark a little later than normal and didn't take batting practice on the field. He acknowledged the heat still had some effect on his players when the games got underway. But since they can't dial things back during competition, the RailCats tried to preserve their energy during their pregame preparation.
Tagert also commended the team's head athletic trainer, Stephanie Swank, for keeping his players hydrated and monitoring them throughout the week. Swank, who is in her second full season with the RailCats, said her hydration techniques aren't too complicated.
Before every game, she always makes sure that the dugout is stocked with water, Gatorade and a third option suggested by Tagert.
"We actually have fresh lemon and limes squeezed into water, too," Swank said. "It's a Greg Tagert special. He asked that we have that, and it's just a good way for the guys to keep replenishing."
In addition to Swank's precautionary moves, she is also proactive during games. Whenever the RailCats come off of the field, she gives every player a fist bump and asks them if they need water. On really humid days, she also offers them ice towels with a bit of ammonia for energy, and the only exception to her routine is when she sees the catcher.
"Since they're wearing the extra equipment, I always just make sure that I give them water, that way there's no question on if they're actually drinking it," Swank said. "I physically hand it to them to make sure that they're taking it in."
The RailCats are slated for a doubleheader against Chicago on Saturday, which Tagert thinks will be another challenging day. But aside from the heat, his main concern is the team's lineup after picking up back-to-back victories over Fargo-Moorhead.
Rookie outfielder Alex Boxwell pulled up with a hamstring injury while rounding third base on Thursday night and has since been released, and rookie infielder Tom Walraven had to leave town for a root canal and his sister's wedding.
After a bad landing in center field Thursday, MJ Rookard was also a late scratch for Friday's game with a sore wrist. However, in his absence, John Price Jr. made the start and was set to play in his first game since May 29. He was out with a broken right hand, following a hit-by-pitch, and said he doesn't mind the hot temperatures.
The Florida native was just grateful to be reactivated.
"The heat and humidity is not a problem," Price said. "It's just baseball-related — pitch recognition, and getting my body back ready to play every day."