ST. PAUL, Minn. — More than once, Sandy Lugo's career seemed to be on the verge of slipping away. When Lugo was a teenager, he aspired to play professionally as a position player and hitter, but most players in his native Dominican Republic sign their first pro contracts by age 16 or 17, and at 19, Lugo remained unsigned.
"I was three or four months from turning 20 when I realized I wanted to be a pitcher," said Lugo, with RailCats teammate and catcher Danny De La Calle serving as a translator. "So I got on the mound, and threw 91 (miles per hour). They said, 'That looks good,' and a few months later I was able to sign."
That was five years ago. Now, despite two tough outings in a row, the hard-throwing right-hander has been one of the American Association's most dominant relief pitchers. In 15 innings, Lugo has an ERA of 1.20, with 23 strikeouts and seven walks (one intentional) in 66 batters faced.
Between first signing with the Cincinnati Reds and landing in Gary this spring, however, Lugo's career took several turns. His inexperience with pitching and some nagging injuries limited his workload during each of his four seasons in the Reds' organization. When he was on the mound, he regularly reached 94 mph with his fastball, and rival scouts submitted strong reports on his mechanics, noting that he repeated his release point well, threw strikes and matched the arm speed of his fastball with a power changeup.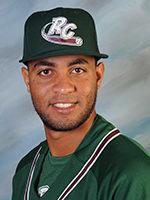 In mid-2017, another injury interrupted Lugo's season with the Daytona Tortugas, of the Class A-Advanced Florida State League. When he returned, his command was less sharp, and that winter, the Minnesota Twins selected him in the minor league phase of the Rule 5 draft. Just before the 2018 season began, however, they released Lugo, and he was left without an opportunity to pitch in organized baseball in the United States.
During the year off, Lugo did pitch in the Dominican, and over the winter, he was teammates with infielder Andy De Jesus, now in his fourth season with Gary. When winter ball wound down and Lugo still had no home for the coming season, he turned to his friend for help.
"I said to Andy, 'Look, I don't have anybody to play with in the summer. If you could contact your manager, that'd be huge.' So (De Jesus) put me in contact with (RailCats manager Greg) Tagert, and it worked out."
Keep reading for FREE!
Enjoy more articles by signing up or logging in. No credit card required.
Tagert believes that, between the cold weather Gary dealt with throughout spring training and Lugo's gap year, he might still be finding his top gear even as the RailCats approach the midpoint of the season.
"I think you look at a player that did have a year off — although he was pitching sporadically in the Dominican Republic — I think you find yourself pitching once a week, probably not doing the in-between work you normally would," Tagert said. "We think he has a chance to continue to get better; I think the ceiling is much higher for him."
Even in a losing effort Saturday night in St. Paul, Lugo showed signs of that. Early in the season, his velocity was down from its customary level, but he consistently hit 94 mph and touched 95 in a one-inning stint against the league-best Saints. He missed bats with his changeup at 86-87 mph, but lost command of his fastball and breaking ball and yielded two walks and a hit batter, in addition to a game-tying double and a walk-off sacrifice fly. He struck out one — fellow 2018 Twins castoff Max Murphy, one of the best hitters in the American Association this year.
While in affiliated baseball, Lugo fell under the eyes of the high-speed cameras and TrackMan systems that supplement scouting observations for big-league teams, and his slider graded out well. High-spin breaking balls are a point of emphasis in the modern age of pitcher evaluation, and Lugo's slider has above-average spin.
"I realized my slider was good, so I really didn't mess with it," Lugo said, acknowledging that his former employers talked about that data with him. "But I had always relied on a four-seamer, and it wasn't moving much, so I had to learn the sinker."
In affiliated baseball, the broad trend is toward more four-seam and fewer two-seam fastballs, as pitchers try to set up their breaking pitches, work away from the increasing power of opposing batters, and chase strikeouts. However, a good sinker can give a pitcher whose fastball too often straightens out a much-needed way to induce weak contact.
"I have three different ways to grip (the two-seamer)," Lugo said. "I can make it move more to the arm side, if I have to, I can make it cut, or I can make it a true straight-down sinker. So it gives me more ways to attack hitters."
His path back to Minor League Baseball (let alone the Majors) remains unclear, and given the changes he's made, it would be an improbable one. For Lugo, however, it would not be his first improbable bounce-back, and in the meantime, his overpowering stuff and easy smile are welcome sights in the Gary bullpen.