GARY — In the offseason, Gary SouthShore RailCats manager Greg Tagert committed to a plan for the catcher position that could be called noble, among other things.
He decided Wilfredo Gimenez, a one-time reclamation project who couldn't find a job in the U.S. for two years in the prime of his career, would play upwards of 90 percent of the innings behind the plate. While Tagert said he thought Gimenez "unquestionably can be the leader of this club," he also acknowledged he wanted to afford Gimenez a chance to showcase his skills.
Tagert was so unwavering in his convictions that he traded away Andy Paz, who hit .283 and platooned with Gimenez in 2018, and created a problem for himself. He needed a backup catcher who would embrace a seat on the bench. He wanted a backup catcher who is a defensive standout so there isn't a drop off when the RailCats pinch run for Gimenez late in the game. To Tagert, the backup catcher's batting average was almost irrelevant.
Tagert asked his network of baseball associates for help finding just such a player.
"The response from the good friends of mine that we reached out to in our contacts was, 'Good luck in finding that guy,'" Tagert said with a chuckle on May 3. "(They said it) with a little sarcastic tone."
During the preseason, Tagert auditioned a pair of former college infielders who were learning to play catcher and he continued to search each day for his ideal backup. Late Wednesday, just two days before the RailCats opened the American Association season at the Chicago Dogs, Tagert acquired a player who seems to fit his mold.
Danny De La Calle came to Gary as the player-to-be-named later in the February trade that sent Paz and D.K. Carey to Sussex County of the independent Can-Am League. De La Calle had a .200 career batting average in the Rays' minor league system and a .992 fielding percentage in two years as Florida State's starting catcher.
Tagert said he had not seen De La Calle play a game in person prior to the trade, but a couple former RailCats highly recommended De La Calle's character and they helped convince Tagert to complete the deal.
At a time when managers are increasingly marginalized — even the Midwest Collegiate League's Northwest Indiana Oilmen appointed a director of player personnel this offseason to assemble the roster for the team's field manager — and decisions are so often informed by advanced statistics, Tagert is a throwback. Now in his 15th season as the RailCats manager, he remains in charge of both in-game decisions and player procurement. Tagert calls on a small legion of friends, coaching associates, former and current players, and even a sushi chef in suburban Los Angeles, to not only find a backup catcher, but also to help him build the entire RailCats roster.
Tagert's methods produce results: Of the 11 teams to play both the 2017 and 2018 season in the American Association, the RailCats were the only one to make the playoffs each year.
"It's not glamorous by any means, but it's just the ability to make the impact in every area," Tagert said of his role. "We think one of the luxuries for the player is that when you come here, the guy that's going to make the decision on you — whether you make the club or not — is the guy that talked to you and signed you."
As the de facto general manager, Tagert searches not only for players who complete the puzzle he's assembling, but players with the right attitude. He only wants players who will buy in to his methods and embrace his team-first approach. Tagert refers to such players as a RailCats "type of person," and that only seems fitting because by now Tagerts' priorities are synonymous with the RailCats' identity.
Tagert set the tone at the outset of the 2019 season. He required Gary players to run a timed mile in cold conditions at the U.S. Steel Yard on May 3, which was the same day they completed their physicals. The first practice was the next day.
Running a mile might not sound like a big deal, but Tagert indicated some players would balk at the idea. Still others would embrace the challenge.
Tagert helped organize the run, but after it started he returned to his office for an interview with a member of the local media. He sat behind his desk wearing glasses and a puffy green RailCats jacket that concealed his wiry frame. Tagert was answering a question, but when he spotted pitching coach Alain Quijano he stopped mid-sentence and asked Quijano if everyone had finished the run.
"Coursel killed it," said Quijano, referring to pitcher and former Michigan City High School student Robbie Coursel.
"Oh my goodness," said Tagert,
"He ran it under 6," Quijano said.
"Oh my goodness," said Tagert, raising his voice in excitement.
"5:47," said Quijano, adding, "And then he threw up."
Tagert guided the RailCats to league championships in 2005, 2007 and 2013 and the lineup card from each title-clinching game hangs in a frame in his windowless office next to the locker room. Behind his desk is a gigantic magnetic white board. The RailCats' depth chart is listed position by position on one side of the board. Each RailCats player has his own color-coded rectangular magnet. Player last names are written in black ink on the magnets and the colors correspond to a player's years of experience. The remainder of the board is reserved for the rosters of the other American Association teams.
Tagerts' friends and acquaintances know just the type of player he wants listed on the RailCats side of the board. And the type of player he doesn't.
Pitchers who walk a lot of batters and position players who don't get on base and don't play excellent defense are not "Greg Tagert guys," according to Joe Torre, who runs the barnstorming Black Sox showcase team and is in his second year as a paid consultant for the RailCats.
Torre, who is not related to the former Yankees manager by the same name, and the Black Sox have served as a pipeline of players to Gary, including current infielder Randy Santiesteban.
However, Torre's relationship with Tagert got off to an inauspicious start. Torre said he met Tagert in 2015 when Torre brought the Black Sox to a tryout that Tagert was running in Tennessee. Tagert was interested in a Black Sox player and ended up signing him.
But it proved to be such a bad fit, Torre said he worried it would damage his relationship with Tagert.
"The guy went up to him (Tagert) and said like, 'Hey, I really need to get my playing time here. I'm trying to go to the big leagues. I can't go to the big leagues if I don't get some innings,'" Torre said. "And Tags called me and said, 'Is this guy flipping kidding me?' Like, 'Who is this guy? Who does he think he is?'
"I didn't know that kid that well. He just happened to be the left-handed hitter that he needed. It really taught me to get to know these dudes so that you don't have some guy running around in a (Black Sox) hat that you can't really vouch for. Since then I've now never sent him a guy that I couldn't really vouch for."
Over time, Tagert said the network of people he trusts for player recommendations has shrunk. He doesn't listen to most amateur scouts and college coaches because they don't know the level of play in the American Association, according to Tagert. He's also reticent to listen to agents who are more interested in getting their players signed by major league organizations than helping the RailCats win games.
Tagert makes an exception for agent Tatsuya Morikawa. Maybe that's because Morikawa shares almost nothing in common with a traditional agent or scout and his motives seem more pure. Or maybe it's because he served as a conduit to arguably the best reliever in RailCats history, Tagert said.
Morikawa works five days a week as a sushi chef at Z Sushi, a casual dining restaurant with a sushi bar in Alhambra, California. He's been a chef in the U.S. for about the last 15 years, he said.
Morikawa grew up around the game of baseball: He said his dad was a volunteer college baseball coach for half a century in Japan. Morikawa played in elementary and middle school but then he quit.
When the son of one of his dad's friends was looking for opportunities to play baseball in the U.S. around 2000 or 2001, Morikawa agreed to help. He had moved to the U.S. two years prior himself. He didn't know anyone in major league baseball or independent baseball at the time, but he was undeterred. Morikawa looked up contact information for managers and general managers on team websites and then reached out.
Morikawa encountered Tagert for the first time in 2008 when Tagert was interested in a catcher Morikawa was representing. It was the start of a fruitful collaboration. By his count, Morikawa has steered nine players to the RailCats since then, including reliever Koishi Misawa. As a 34-year-old in 2008, Misawa made 29 appearances and posted a 1.69 ERA. He averaged 11.4 strikeouts per nine innings.
"Greg is one of the very few managers I can trust," Morikawa said. "If he says, 'No,' it means no. But if he says, 'Yes,' there is a very high percentage of possibility that he's going to take my player. We don't have to waste our time and our money. He trusts me. I'm very honored to know Greg, and not only Greg, all the (RailCats) people, employees, are very nice to me."
Not only does the RailCats organization treat him well, but the club treats his players well, Morikawa said. As a result, Morikawa contacts Tagert when a quality Japanese ballplayer comes to the U.S. The most recent recommendation to wear a RailCats jersey is rookie right-handed pitcher Jumpei Akanuma.
"I had some opportunities to play for a professional team in Japan, but this is kind of my dream to play in the big leagues in the states," Akanuma said. "I just wanna play. This is the best opportunity to move up, pop up there, I think."
It's been roughly 20 years since Morikawa started helping Japanese players, and he and two colleagues now have an agency. Through it all his dad remains a big reason why he is involved in baseball.
"If I'm doing this and I have news that I can talk to him," Morikawa said Wednesday. "Jumpei made the team yesterday. I just got the call from Greg and blah, blah, blah. We have the topic that we still can talk (about). I came here like almost 20 years ago and I didn't know anyone. And I was doing everything to survive. And now I am the one to help the younger player if I know something more than they do and I can share with them, just helping them."
Akanuma pitched in the California Collegiate League in the summer of 2017 prior to his senior year of college. His summer ball coach got in touch with Morikawa's associate on Akanuma's behalf. It turns out Morikawa and Akanuma are from the same region in Japan and they remained in contact.
After Akanuma concluded his senior season, Morikawa reached out to Tagert and arranged a tryout for Akanuma last spring. That led to an invitation to camp ahead of this season.
Even though he helped broker the signing, Morikawa has yet to see Akanuma pitch in a game in person and he's never met Tagert in person. He's never been to Indiana.
"(It's) crazy he knows Tatsu," Akanuma said of his new manager.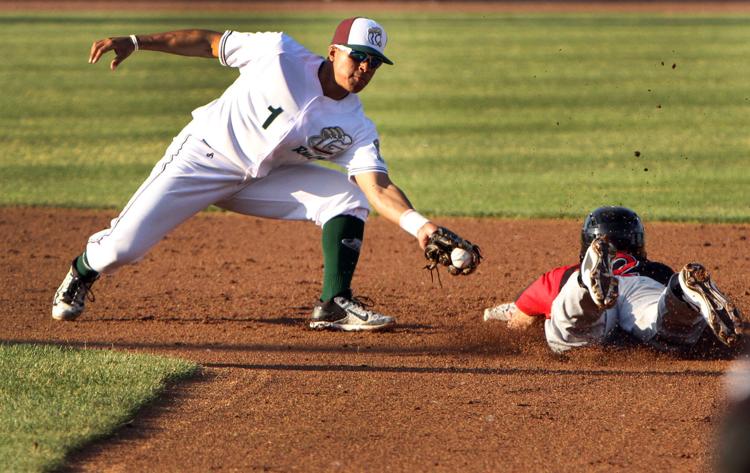 Past and present players — such as infielder Andy De Jesus, who is in his fourth season with the RailCats — also provide Tagert with valuable player recommendations.
While playing winter ball in his native Dominican Republic in 2017, De Jesus reconnected with Sandy Lugo. They had been teammates when they were about 14, but they had not seen each other in years. They saw each other again while playing winter ball this past season and De Jesus learned Lugo was looking for work. De Jesus said he knew Lugo was a quality right-handed pitcher who controlled the strike zone and had a great sinker. So he passed on his contact information to Tagert.
"I recommend Sandy because I've know the guy for a long time," De Jesus said. "I know he's a hard worker. He doesn't take any moment for granted. He's someone that is going to cherish every opportunity that he's given. Very humble guy and he's here to work. Disciplined guy. Very respectful. That was one of the keys that I told Greg."
Lugo, who pitched in the Cincinnati Reds organization from 2014-17, made the team and pitched 2.2 innings of scoreless relief Saturday.
While Tagert's methods have been very successful to this point, he knows they don't ensure future success or employment.
The American Association's Fargo-Moorhead RedHawks fired manager Doug Simunic, who also signed his own players, late in the 2017 season. Simunic managed the RedHawks for the team's first 22 years and was the winningest manager in independent baseball history. 
In a sign of the times, Simunic was announced as the director of player procurement for the Can-Am League's Ottawa Champions in April.
And while he knows the game all around him is changing, Tagert isn't yet willing to embrace it. The ability "to be in total control" of the roster and sign players, in addition to serving as the field manager, was the greatest attraction of managing in independent baseball when he got started, Tagert said.
"I couldn't imagine doing this job if that wasn't the case," Tagert said.