HOUSTON — Yordan Álvarez had a game-ending double in the ninth inning for his third hit, lifting the Houston Astros to a 2-1 win over the Chicago White Sox on Friday night.
The game was tied at 1-all when Yuli Gurriel singled off Garrett Crochet (2-3) with one out in the ninth. Álvarez smacked a ball down the right-field line that rolled into the corner, allowing Gurriel to slide home just before the throw to give Houston its fifth straight victory.
Luis García allowed one run and seven hits in seven innings, and Ryan Pressly (4-1) struck out the side in the ninth for the win.
José Altuve cooled off after hitting three homers in four games, going 0 for 4 with two strikeouts. The Astros didn't homer on Friday night after entering with at least two homers in their previous 10 games to tie a major league record.
García tied a career-high with eight strikeouts. He settled down after the first couple of innings, retiring 13 of his last 14 batters.
Brian Goodwin got things going for the White Sox with a double down the right-field line with one out in the first and he advanced to third on a single by Yoán Moncada. José Abreu followed with a single that scored Goodwin.
Chicago starter Carlos Rodón yielded one run and three hits with three walks and eight strikeouts.
Rodón retired his first 13 batters before Alvarez singled with one out in the fifth. Rodón walked Carlos Correa before Abraham Toro singled to load the bases.
There were two outs in the inning when Martín Maldonado walked to score a run and tie it at 1-1. Rodón was able to limit the damage by striking out Altuve to end the inning.
Trainer's room
White Sox: INF/OF Leury García was out on Friday because of a sore knee. Manager Tony La Russa said he bruised it sliding recently and they're trying to be careful with him. ... LF Andrew Vaughn sustained a bruise to his face when a ball bounced and hit him as he slid into second on a double in the sixth inning. He remained in the game before being replaced by Adam Engel for the bottom of the eighth.
Up next
Houston's Framber Valdez (3-0, 1.42 ERA) opposes Lance Lynn (7-2, 1.51) when the series continues Saturday night.
Guaranteed good eats: Sox Park offers new twists on classic ballpark food, most craft beer in the majors
Guaranteed good eats: Sox Park offers new twists on classic ballpark food, most craft beer in the majors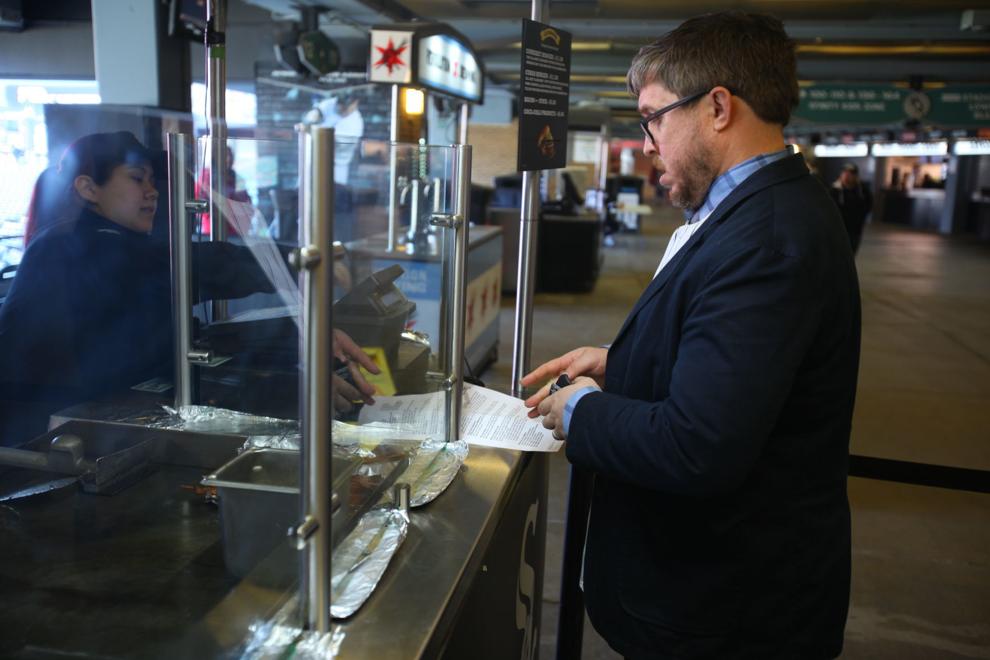 The Chicago White Sox are rebuilding and are likely to lose more games than they win this season.
But it's still an exciting time at Guaranteed Rate Field, a chance to see young talent develop as the Pale Hose tries to replicate the tear-it-all-down-and-stockpile-prospects approach that propelled the Cubs and Houston Astros to World Series titles. And of course the team has rolled out new food, amenities and craft beer this year.
Guaranteed Rate Field now offers than 100 different beers, including from beer sponsors Modello, Revolution and Goose Island, said concessionaire Delaware North Operations Manager Rebecca Spalding.
"We have the most craft options out of Major League Baseball," she said. "We've led the charge with that. But that's what fans are looking for. Craft beer is huge and it's definitely something that's hot right now. So we're excited to be able to provide that."
Last season, Sox Park replaced the Miller Lite Bullpen Sports Bar in right field with the Craft Kave, which sports more than 75 craft beers from 38 different Midwestern breweries, including 3 Floyds in Munster and 18th Street in Hammond. Fans could watch other games or horse races in the craft beer-themed sports bar, and pay a surcharge to sit outside right over the right field bullpen, with a view that feels like being on the field. It proved so popular they've added a Craft Kave Express location with 40 different brews on the 500 level.
"It's something no other ballpark has, and it was widely received by fans," Spalding said. "We wanted to make it available to fans on the 500 level so they don't have to travel as far to try all those craft beers. It's a little bit less space, so it's just the more popular selections."
Craft beer lovers can choose from a wide variety of India Pale Ales, pale ales, stouts, lagers, pilsners, sours and wheats.
"We have the full gamut of beers available," Spalding said. "We don't want all IPAs because we know our fans like all different types of beers. Whatever your taste is in beer, we want to have that for you. Craft beer lovers also want to try new things, so we, for instance, had a jalapeno ale. It was different. Craft beer lovers want to try new things."
The Craft Kave is planning a mug club, where participants could potentially earn T-shirts or their photos on the wall after trying enough varieties of beer.
Chicago-based Revolution Brewing also is pouring six of its acclaimed craft beers on tap in the remodeled Revolution Brewing #SoxSocial Tap room on the 200 level, which is in an all-new location that's accessible from the stairs at Section 157. Fans can go there to charge their phones, get free T-shirts or other prizes when they check in with the MLB Ballpark app, or snap selfies in front of a life-sized Jose Abreu bobblehead or a huge map of the surrounding Bridgeport neighborhood.
There's a rotating draft beer menu, a full bar with wine and cocktails, basic food items like pizza, phone chargers with lockers, comfy seats for hanging out and 22 televisions. There's an outdoor patio where fans can chill out and watch the game if they prefer the view there to their own seats.
"Revolution Brewing is an established hometown brewery that shares our passion for connecting with fans who love White Sox baseball in new ways," said White Sox Senior Vice President of Sales and Marketing Brooks Boyer. "We are thrilled to grow our relationship with a brand that has such a strong presence in Chicago and among our fans."
Other new features at the park include the new virtual reality batting cage in The Chicago Sports Depot near Gate 5, which simulates a 90-second home run derby at Guaranteed Rate Field, and the new Grab-'n-Go food stand in Section 142. Similar to a 7-Eleven or Walgreens, the kiosk offers beer, pop, milk, juice, fresh fruit, yogurt, hummus, salads and wraps that are often somewhat cheaper than more traditional ballpark fare.
"It's meant for fast transactions," Spalding said. "Just like at an airport, it has beverages, salty and sweet snacks and healthier choices. It's a one-stop shop for fans to get items that couldn't find anywhere else in the ballpark. We do get requests for healthy items, and want to have that available for the fans that like it. It's definitely a need our fans do have. People are always in search of healthy options."
There's also a wealth of new concessions on the 100-level and 500-level concourses, including Affy Tapple Caramel Apples, Chocolate Caramel Pretzel Rods, Churro Ice Cream Sandwiches, Cuban Burgers, Hand-Scooped Ice Cream, Johnsonville Specialty Sausages and Organic Apple Strawberry Frozen Juice Cups.
For fans lucky enough to land seats in the club level, there's also new Buffalo Chicken Empanadas; Nashville Hot Chicken Sliders; provolone-stuffed dough balls known as Knuckle Balls; and the South Side Horseshoe, a spin on the classic open-face Springfield sandwich that loads Italian sausage, giardiniera, hand-cut fries and Modelo cheddar sauce on thick-cut Texas toast.
Check out some of our other favorite foods featured at Sox Park!
Bacon on a Stick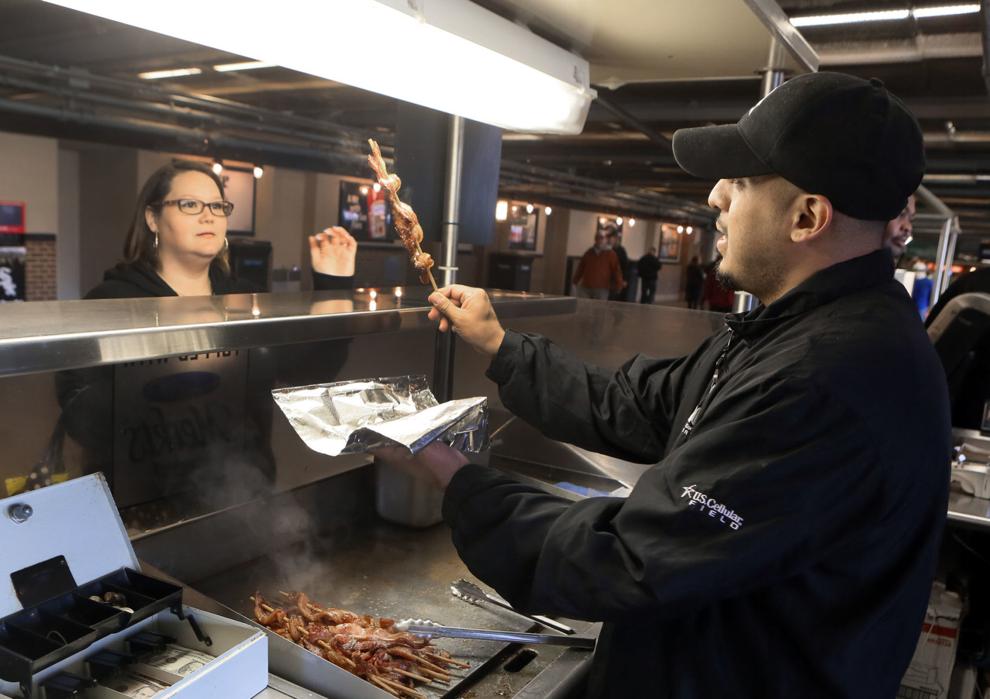 Sox Park has changed its name, gotten several new beer sponsors like Revolution Brewing and Goose Island, and seen most of its marquee players traded away for promising young prospects since bacon on a stick debuted in 2014.
But the simple yet impossible-to-improve up concession item has persevered for the last four seasons when lesser offerings like the Tex Mex cart's burrito, the Cheesy Beef and The Wok Off stir-fry noodles were relegated to the nitrate-laden and grease-slicked dustbin of ballpark food history.
Guaranteed Rate Field's bacon on a stick satisfies a primal urge for meat tempered by fire, kissed by flame, impaled on a stick.
Glenmark has grilled thick-cut premium Danish bacon to perfection — crispy but not too dry and crumbly, more like a substantial slab of good pork belly — at its Burger Barn stands in Sections 113 and 538. The savory bacon is seasoned with black pepper and glazed in maple syrup for that divine sweet salty contrast.
For $5, it's cheap by ballpark standards and a meaty, satisfying snack you'll polish off in short order. Think of it as the paleo equivalent of a hot dog for someone looking to delete carbs from his or her diet.
Cuban Burger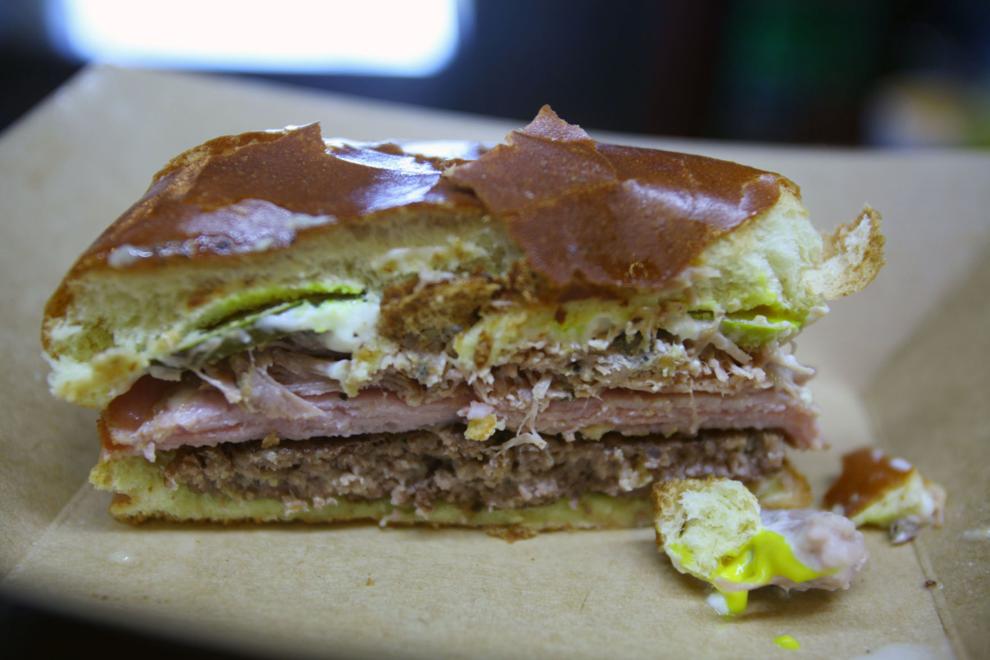 The White Sox have a long history with Cuban players, including the great Cuban Comet Minnie Minoso and the slugger Jose Abreu.
It's no surprise that Cuban sandwiches offered near third base in Section 148 and also in Section 529 on the upper concourse would prove to be one of the more popular offerings at the South Side park. So Guaranteed Rate Field concessionaire Delaware North was looking to build upon it by topping a heap of thinly sliced ham, tender pork, tangy pickles, Swiss cheese, a yellow deli mustard and a garlic mojo sauce atop a sturdy all-beef burger. A veritable stack of meat, the hybrid Cuban burger is tucked and pressed into the authentic soft white Cuban bread baked with lard.
"The Cuban is one of our more popular items," said Delaware North Operations Manager Rebecca Spalding. "The Comisky burger has been a fan favorite for a long time. So we decided to take that and blend it with the Cuban. We wanted to stay true to the tradition as well."
The Cuban burger, kind of a Cuban sandwich on steroids, replaced the discontinued Cheesy Beef at Glenmark's Burger Barn stands in Sections 113 and 538.
The Change Up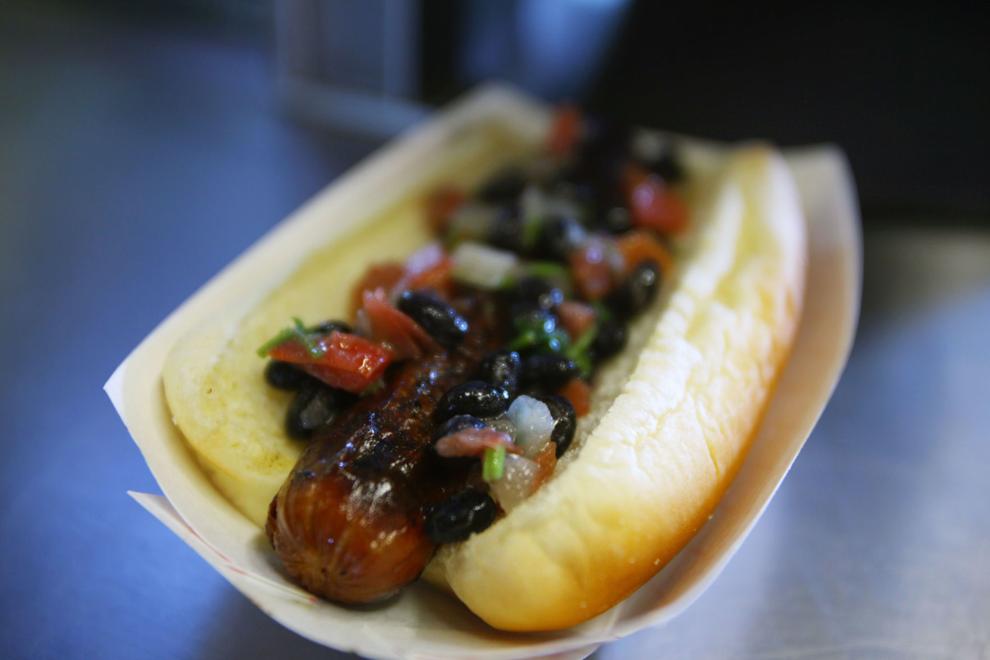 The Change Up at the Johnsonville Brat stands in Sections 126 and 535 at Guaranteed Rate Field is a change of pace from the usual encased meats one finds at a ballpark.
It's a chipotle Monterey Jack chicken sausage that wouldn't be out of place on the shelves of Trader Joe's. Though the white-meat sausage is leaner than more traditional options, it's still bursting with flavor. The chipotle brings the heat, which is cooled off with the nice contrast of a salsa fresca that's loaded with diced tomatoes and black beans.
It's one of three new specialty sausages named after pitches, following the successful debut of The Heater jalapeno cheddar sausage last year.
"We just wanted to try something different we didn't have before," said concessionaire Delaware North Operations Manager Rebecca Spalding. "Sausages are always very popular with our Chicago fans, and Johnsonville gives us a list of what they offer so we selected what we like."
The Change Up and other specialty sausages could gain a permanent place on the menu at Sox Park if they prove popular enough with fans this season, she said.
The Slurve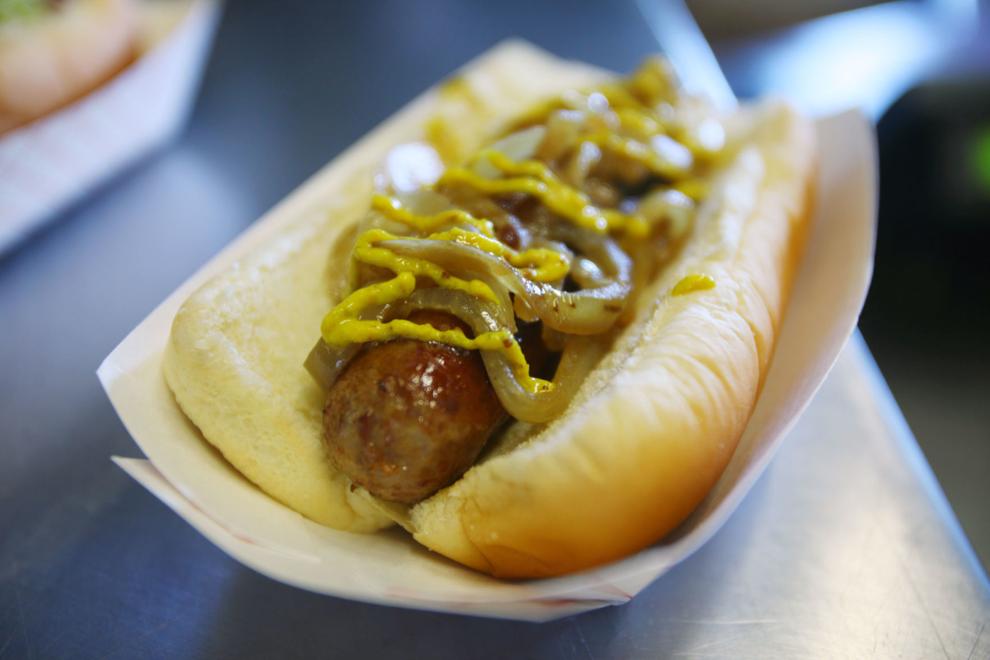 A natural baseball season staple is the hot dog, and Guaranteed Rate Field is rolling out cleverly named selections.
White Sox fans will find that the Slurve isn't named only for a type of pitch — it's also the title for an aesthetic beer brat. This wiener is grilled to perfection and is piping hot. Caramelized onions are strewn across the top and bun. A spicy mustard is drizzled in gentle streaks across the entire ensemble.
The dog is an excellent combination of flavors. The beer brat has a meaty goodness. Caramelized onions have that slight sharpness that the vegetable provides along with a pleasant sweetness. Mustard can add that extra zing to a hot dog or sandwich, and the spicy option here is excellent.
The Cutter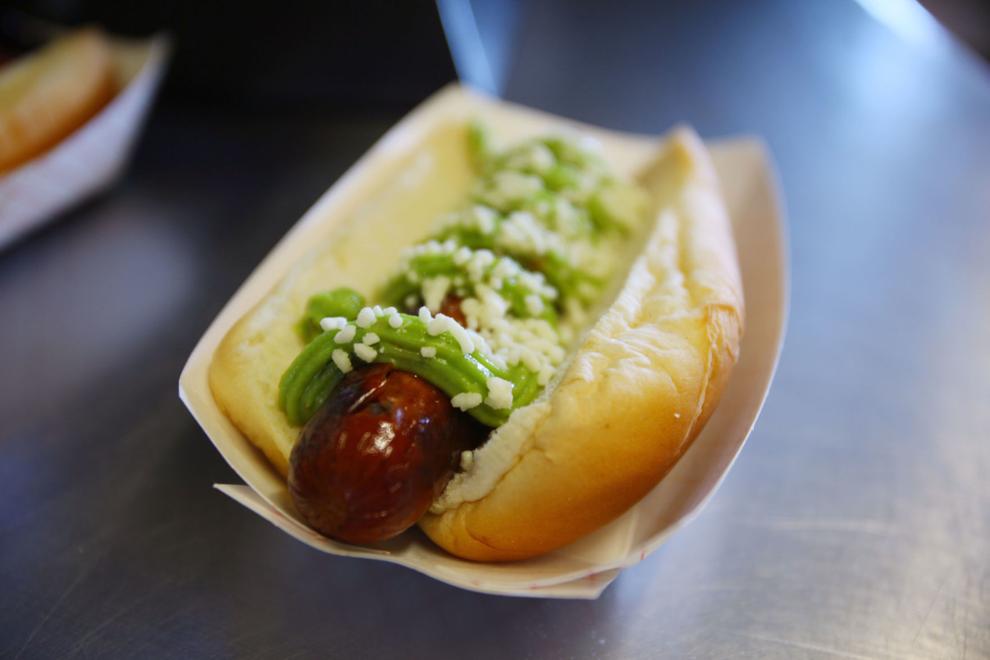 Being in Chicagoland, Mexican and Spanish influences are included in food selections, too. Another worthy choice is the Cutter.
This item is a chorizo, spiced pork sausage. This also receives a splash of color as guacamole is squiggled across the dog. It also has tortilla cheese shavings sprinkled on top.
Fans will enjoy this one. The chorizo is cooked well and a nice contrast from a more standard frankfurter or beer brat. Guacamole fans can rejoice with a nice helping of the spread that gives a zesty and cool flavor in each bite. Any cheese also is bound to give a slight or sharp tang to the combination as well.
Those sampling this dog likely will be pleased with the unique, piquant concoction.
Southsider Burger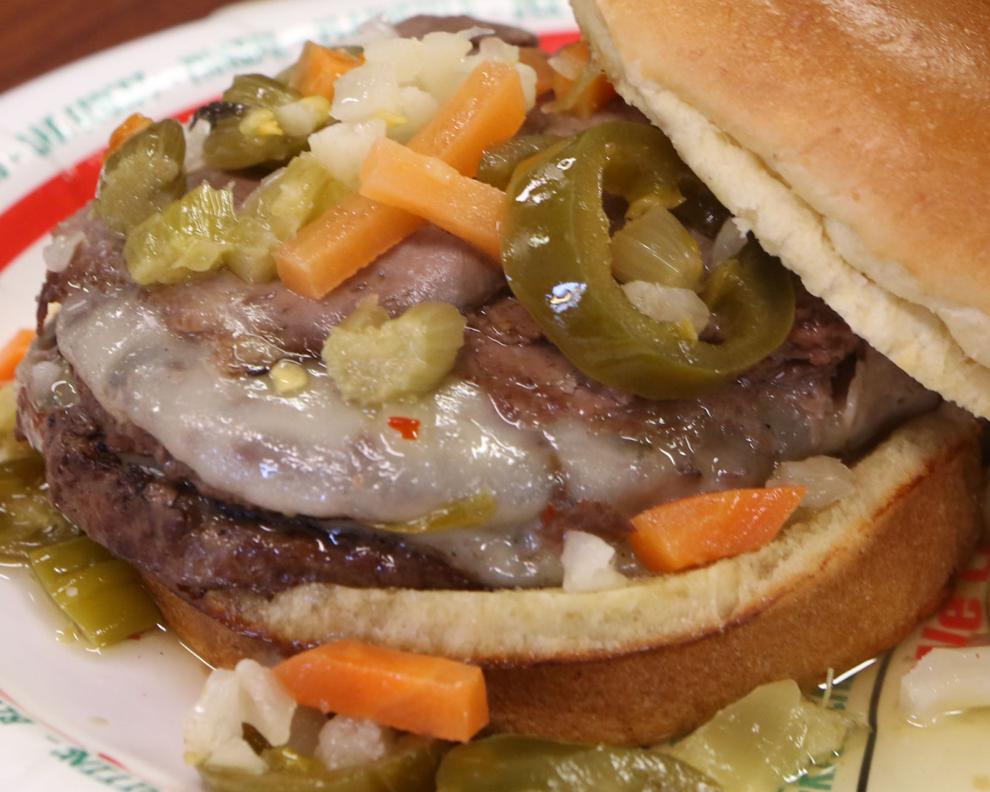 Veeck as in Wreck Burger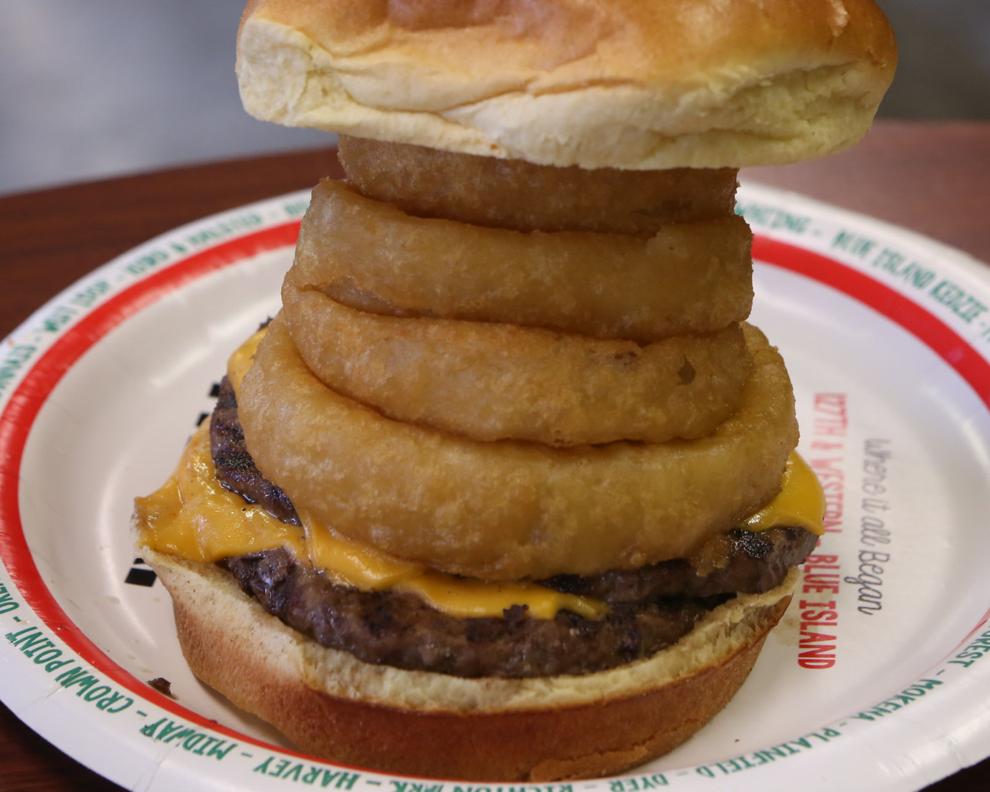 Four-Bagger Burger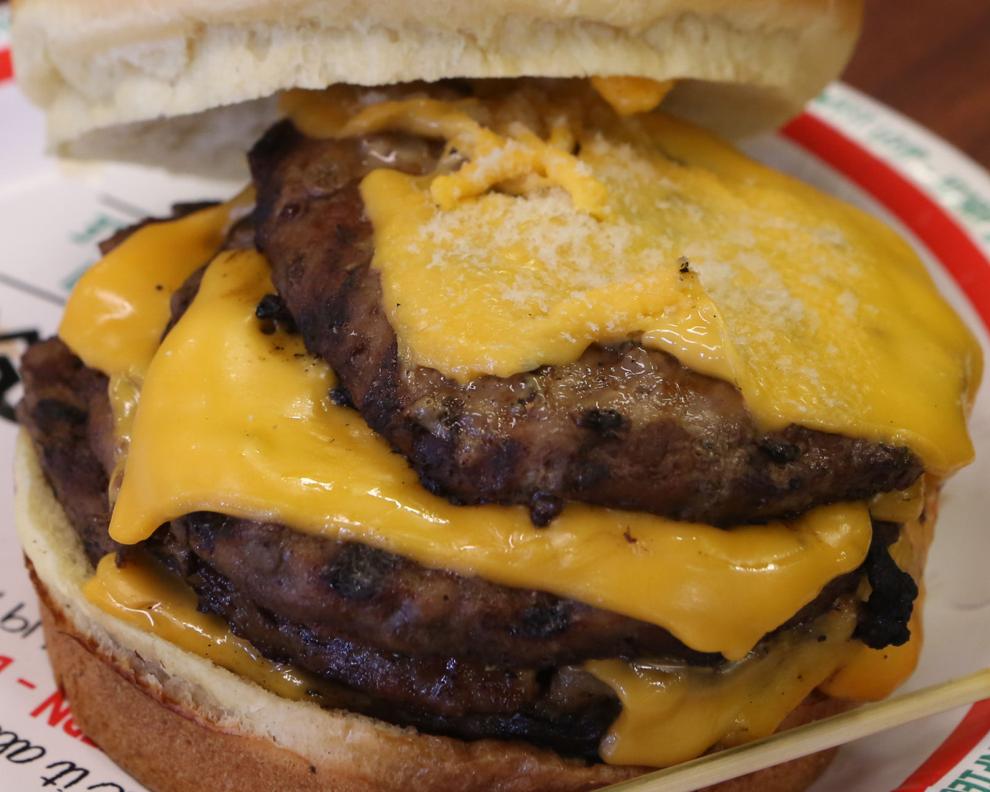 5-4-3=2 Burger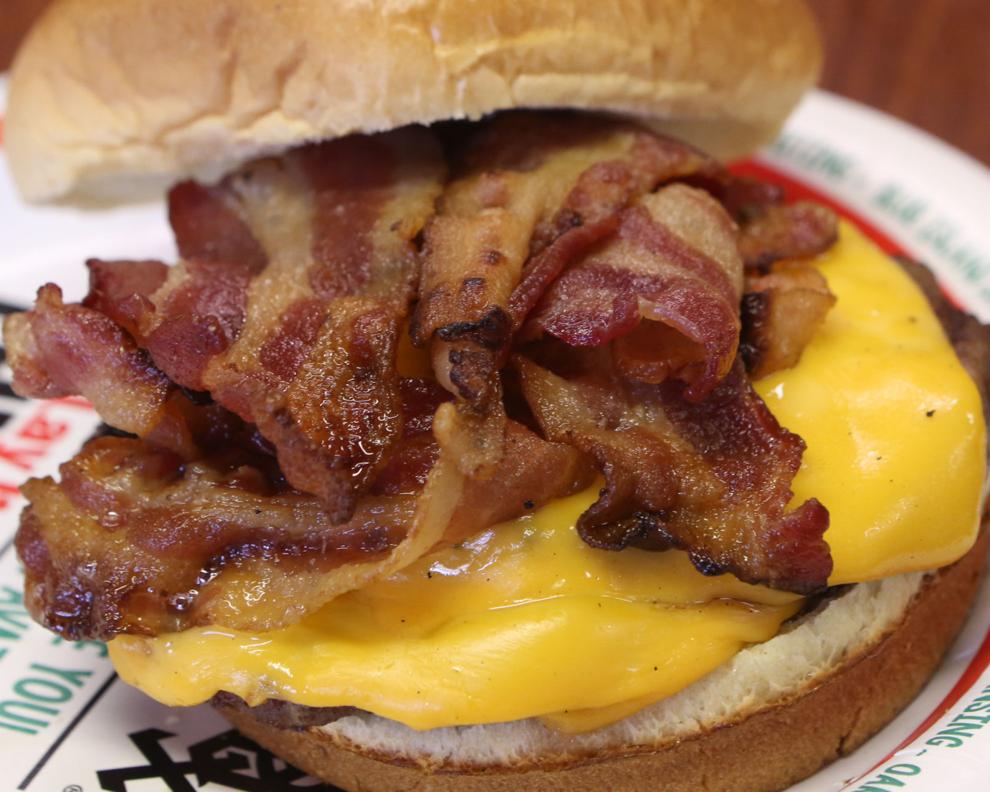 The Wild Pitch Burger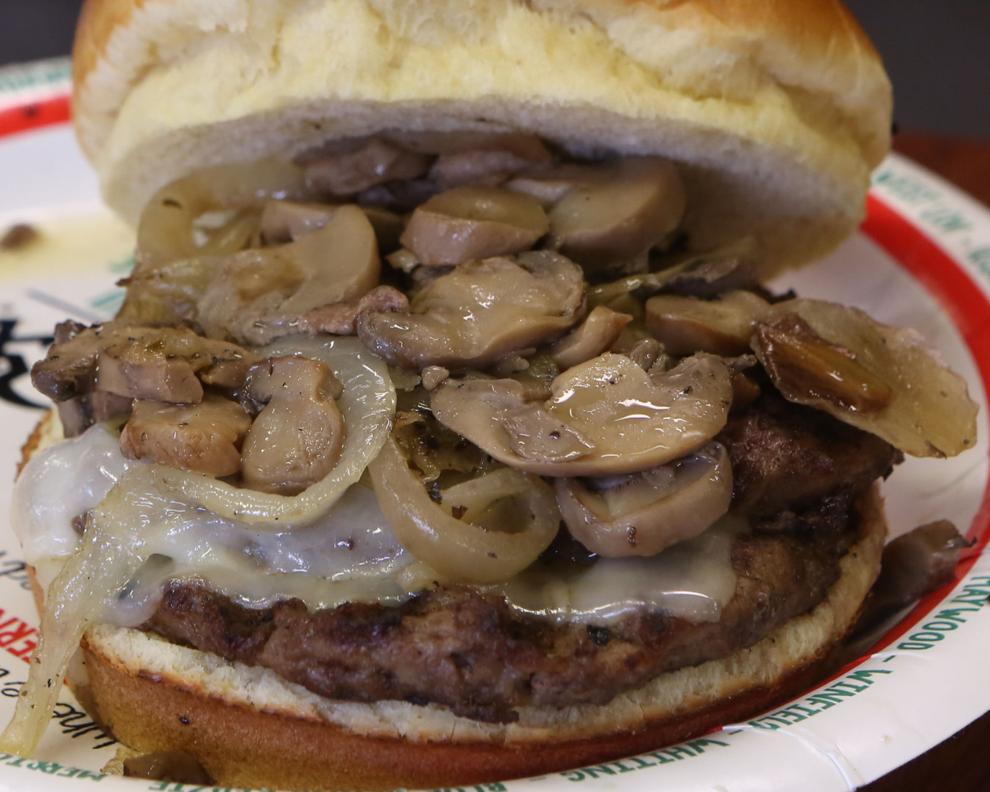 King 14 Burger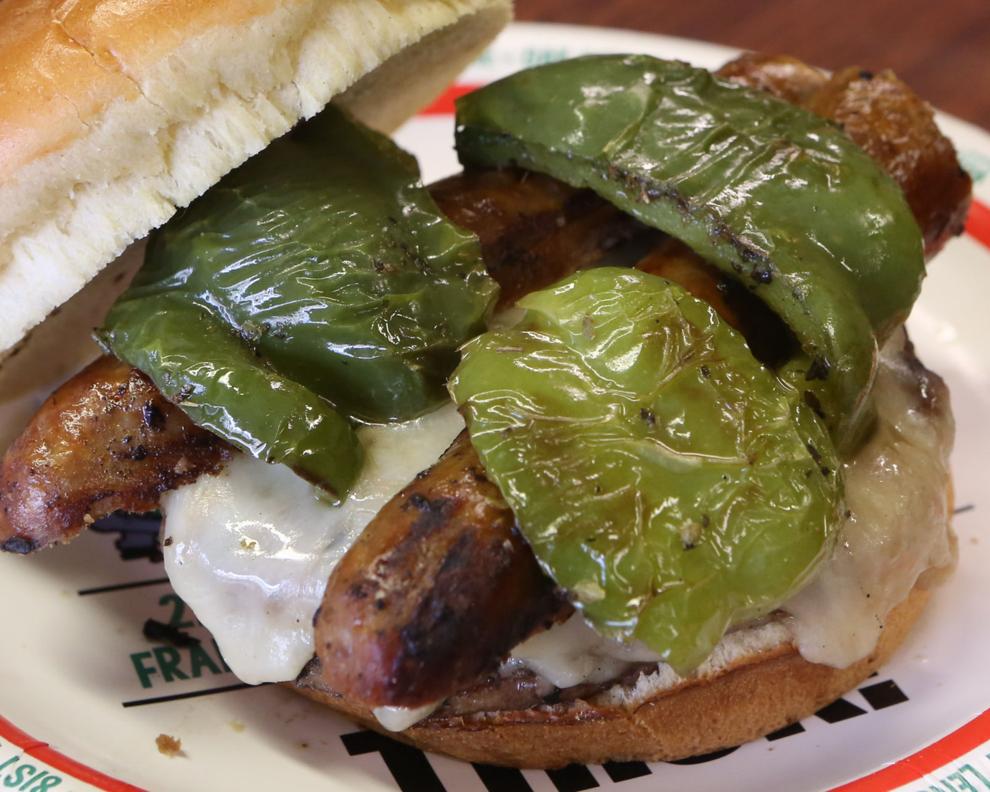 Clean Up Hitter Burger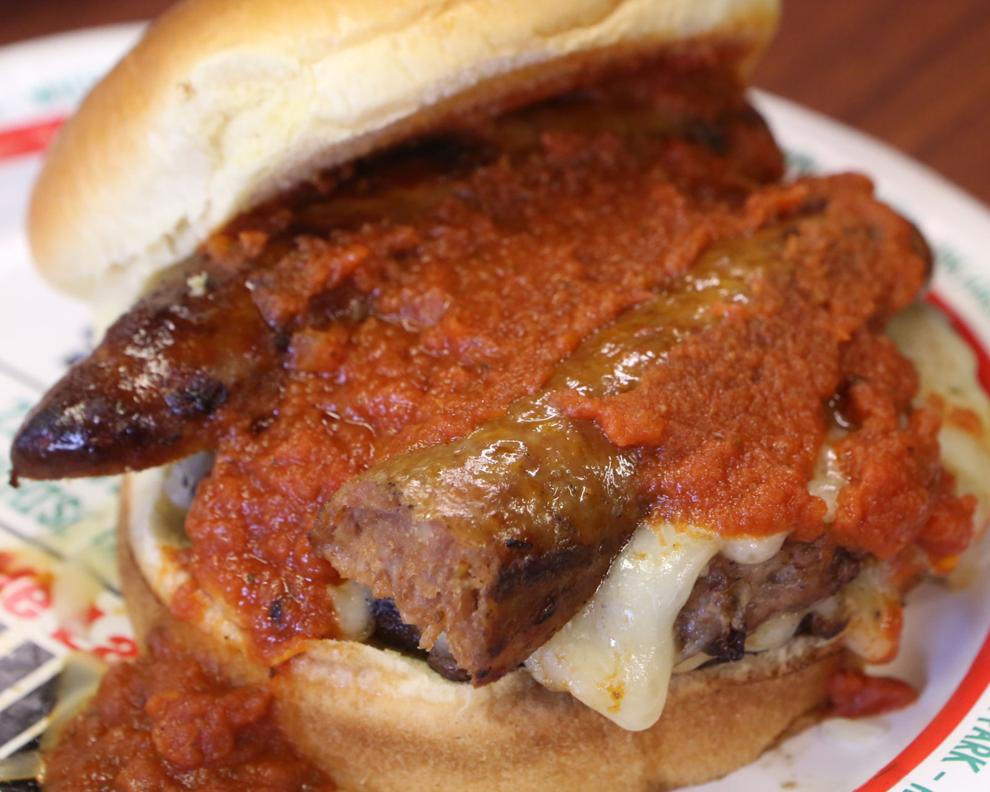 The High Cheese Burger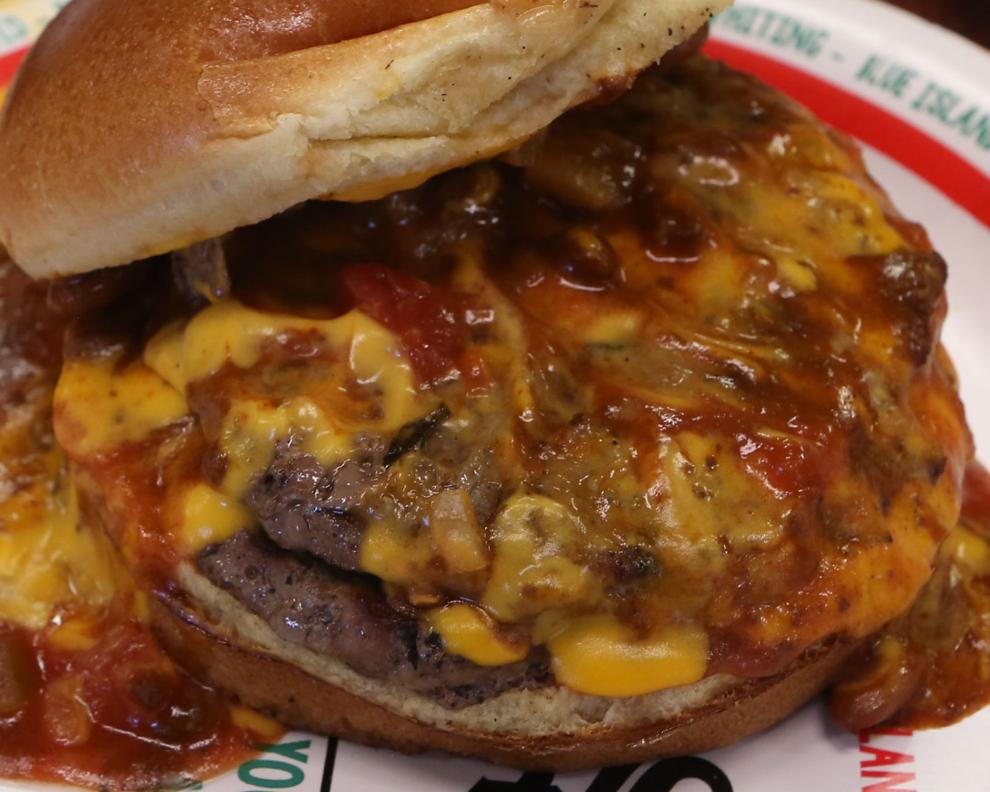 Food at the Sox game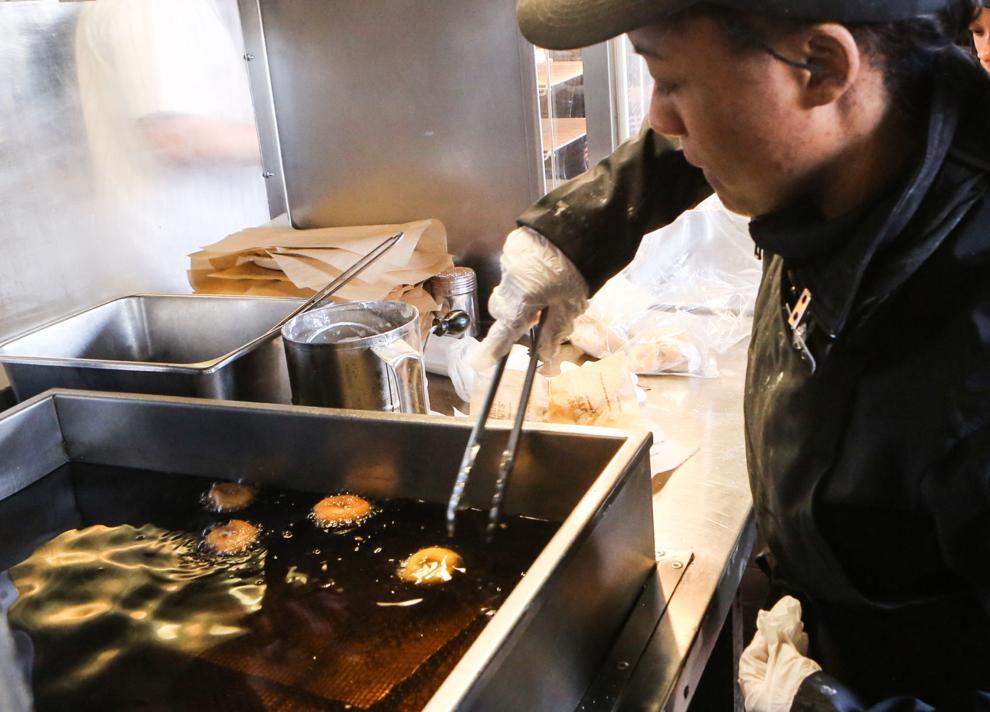 South Side Mini Donuts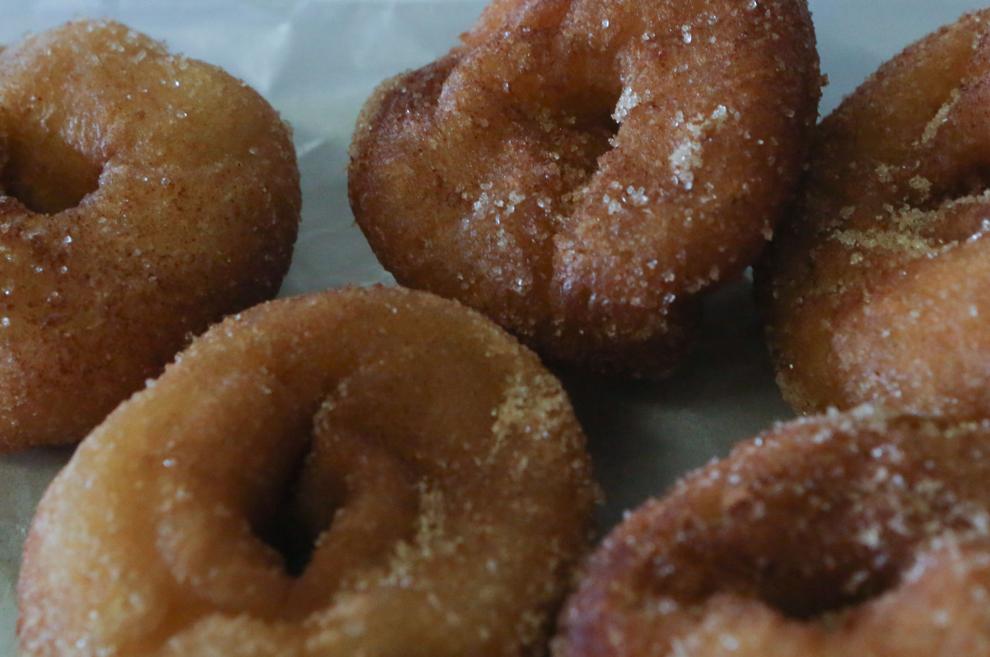 The Heater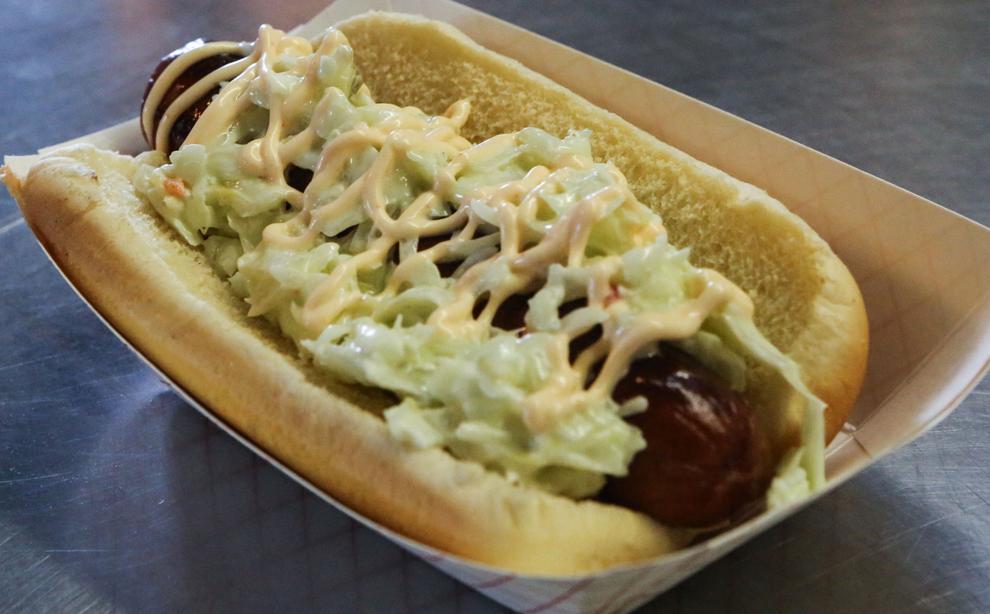 RIP: Wok Off