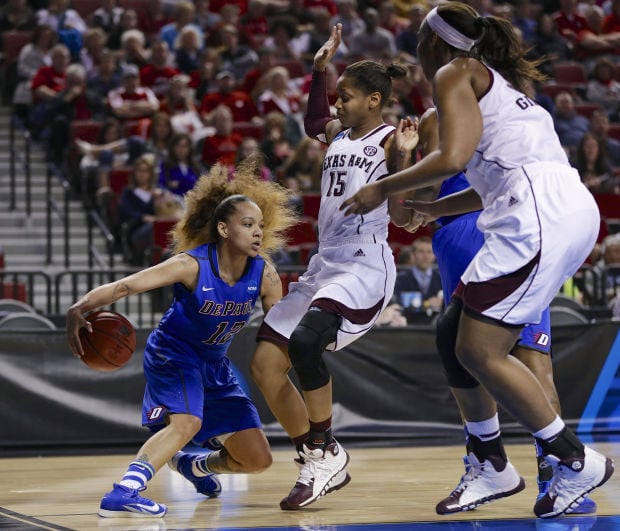 Courtney Walker scored 25 points, and Texas A&M beat DePaul 84-65 on Saturday night in Lincoln, Neb., to advance to the regional finals of the NCAA women's tournament.
The Aggies (27-8) led by 14 points at halftime and turned back two DePaul runs to move to a Monday night game against defending national champion Connecticut, which beat BYU 70-51 in its semifinal. Courtney Williams had 14 of her 15 points in the second half for Texas A&M.
DePaul (29-7) shot 40 percent, 28 percent in the first half, and struggled defensively against the physical Aggies. Jasmine Penny had 16 of her 24 points in the second half and Megan Rogowski added 14 points for the Blue Demons.
Texas A&M shot 60 percent and has won each of its three tournament games by at least 15 points.
Karla Gilbert and Jordan Jones had 11 points apiece and Tori Scott added 10 for the Aggies.
Walker scored 13 points over a nine-minute stretch of the first half when the Aggies' lead grew from seven to 13 points. The Aggies led by 22 in the second half when Walker went the bench with three fouls, and DePaul went on an 11-2 run to close to 57-44.
Texas A&M got its lead back to 17 points, but the Blue Demons pulled to 10 with 6 minutes left. The Aggies then used a 12-2 spurt to make it a 20-point game again.
The Aggies are in the Elite Eight for the third time since 2008 and first since they won the national title in 2011.
DePaul had won nine in a row. The Blue Demons were in the tournament for the 12th straight year and in the Sweet 16 for the third time. They had beaten Oklahoma 104-100 and second-seeded Duke 74-65 in the first two rounds and came into the game averaging 84 points for the season. Their 65 points matched their season low.
DePaul, which shot 45 percent while making a combined 25 3-pointers in its first two games, was 4 of 20 from long distance.
Walker scored eight points in a 10-2 run that put the Aggies in control in the first half. Her jumper made it 34-21, and the Aggies led 38-24 at the break.
UConn 70, BYU 51: Kaleena Mosqueda-Lewis had 19 points to lead four Connecticut players in double figures, and the defending national champion Huskies shook off BYU early in the second half to win in a Lincoln Regional semifinal.
The Huskies (37-0), winners of 43 straight, need a win over Texas A&M or DePaul on Monday night to reach the Final Four for the seventh straight year.
UConn season scoring leaders Breanna Stewart and Bria Hartley overcame slow starts, with Stewart having 12 of her 16 in the second half and Hartley all 12 of hers after halftime. Moriah Jefferson had 11 for UConn.
Kim Beeston led the Cougars (28-7) with 16 points, and Morgan Bailey added 14. Jennifer Hamson had nine points to go with 13 rebounds and six blocked shots.
Baylor 90, Kentucky 72: Odyssey Sims scored 25 points, including her 1,000th this season, to lead No. 2 seed Baylor (32-4) to a rout of third-seeded Kentucky in a Notre Dame Regional semifinal.
Sims became only the second player to reach that milestone in a single season. She is 41 points behind Jackie Stiles' record of 1,062 for one year set in 2001.
The last time Baylor and Kentucky met, they played one of the most exciting games in the history of women's basketball. The Wildcats came away with a 133-130 four-overtime victory back in December.
This one fell far short of matching that thriller as Sims and Baylor put the game away by the half.
DeNesha Stallworth scored 19 points to lead Kentucky (26-9).