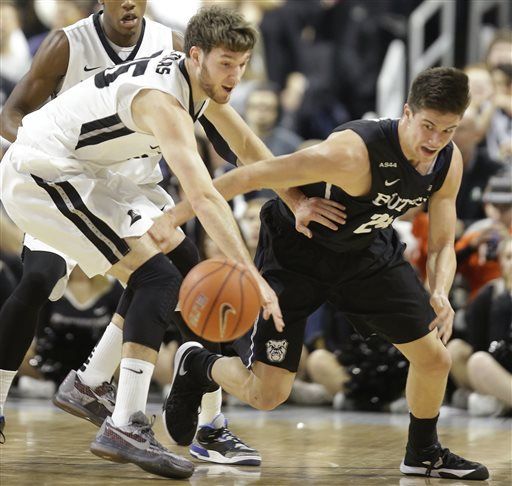 Ryan Fazekas is coming home.
The Marquette Catholic graduate and Chesterton resident announced Sunday that he will be transferring from Providence College to Valparaiso University.
"Part of it was coming back to the Midwest, being closer to home, where my parents and family can see more games," Fazekas said. "I definitely liked Vanderbilt and Fordham a lot. I appreciate everything they did. The Valpo offer was the one that appealed to me the most. They really made me a priority."
The 2015 Times Player of the Year, Fazekas was recruited by Valpo and Bryce Drew out of high school and it was one of his finalists before choosing Providence. He started 12 games as a freshman with the Friars, averaging 18.8 minutes and 5.1 points per game. He started seven games this season, all of those early in the schedule, before his numbers dropping significantly, the minutes to 11.8 per game and points to 3.0.
"My decision to leave was based on how I was feeling with the program," Fazekas said. "I wanted to go my own way, somewhere where I could expand my game and be more than just a shooter. I saw my role getting smaller and smaller, and I thought it would be best for me to get out while I can."
At 6-foot-8, Fazekas is similar in stature to Valpo's Alec Peters and while he is more of a perimeter player, he was impressed with how Peters developed into an NBA prospect with the Crusaders.
"They can definitely do the same for me," he said. "That stuck out to me."
Fazekas will finish out the semester at Providence and plans to take summer classes at Valparaiso.
Valapraiso can not comment on the transfer until the paperwork makes it official. Fazekas will sit out next season, but will be able to practice with the team.
"It was definitely a more stressful process this time," he said. "You've got to get it right and I think I've made a good decision. My parents were surprised when I told them (Saturday). They were thinking it was going to be another week. I talked to Coach (Matt) Lottich and (assistant) Coach (Luke) Gore and they were both really excited. I'm just really excited to be coming home and have the opportunity to play there."