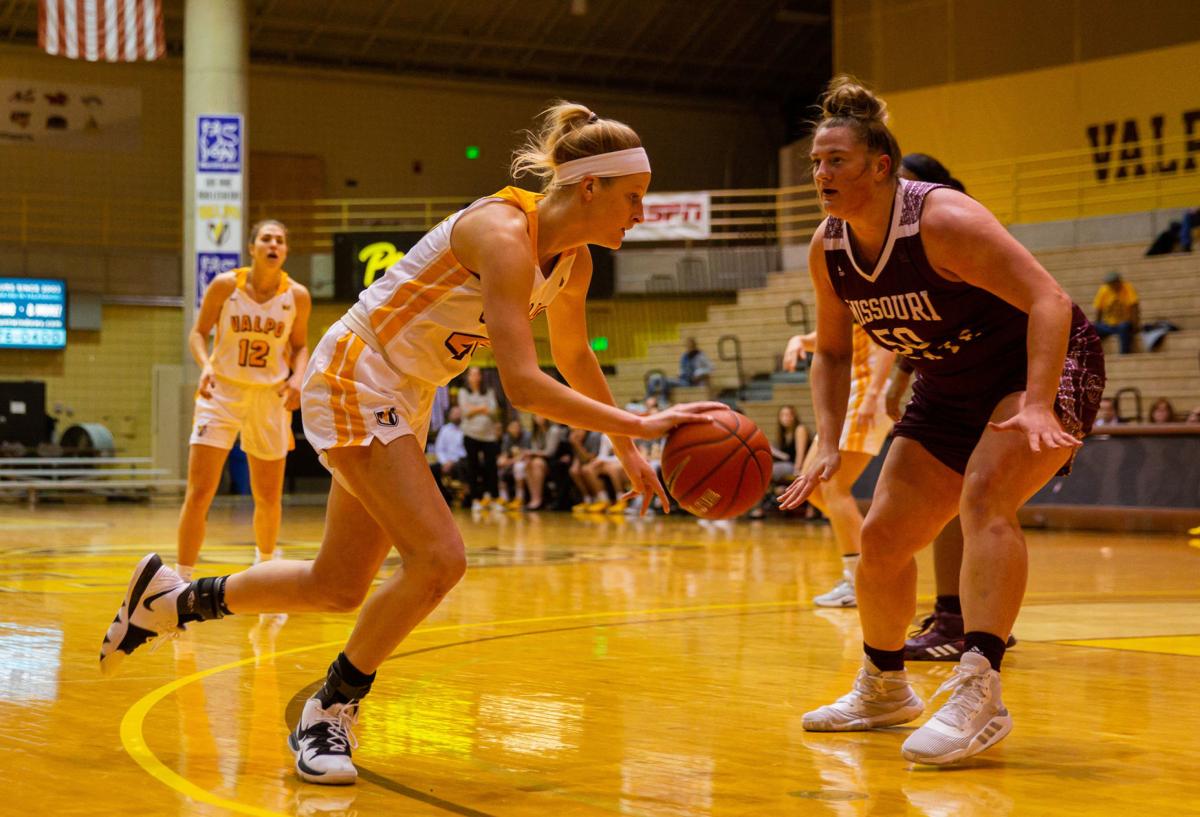 WOMEN'S BASKETBALL
VU women lose to Bradley despite Morrison's career-high: Caitlin Morrison scored five of her career-high 15 points to tie the game early in the third quarter before Bradley pulled away. The Braves (14-2, 5-0 Missouri Valley Conference) sit atop the conference standings with a 75-61 win over Valparaiso. Morrison aided a 7-1 run to pull even at 36 with 8:31 to play in the third quarter to erase a four-point halftime deficit. But Bradley nailed consecutive 3-pointers to stretch the lead, which eventually ballooned to 10 by quarter's end. Senior Grace Hales scored 13 points to pull near the 1,000-point mark. She passed Agnieszka Kulaga for 18th on the program scoring list and sits two points behind Cheryl Wilbrandt. Bradley's Gabi Haack scored a game-high 21 points on 6-of-8 shooting, connecting on all five free throw attempts. Bradley only received four points off its bench, requiring Nyjah White (19 points), Lasha Petree (17) and Chelsea Brackmann (14) to handle the load. The Crusaders (10-7, 2-4) shot 39% from the field but were 4-for-22 from 3-point range.
PRO HOCKEY
Kane scores 1,000th point in Blackhawks 5-2 win: Patrick Kane reached 1,000 career points when he picked up an assist on Brandon Saad's third-period goal, and the Chicago Blackhawks beat the Winnipeg Jets 5-2 on Sunday night for their season-high fifth straight win. Kane became the 90th player in NHL history to reach the milestone with 5:46 left. The All-Star winger passed from behind the net to Ryan Carpenter in the right circle. Carpenter then fed a wide-open Saad at the left side of the net for an easy tap-in before goalie Connor Hellebuyck could slide across the crease. The 31-year-old Kane got an extended ovation from the crowd of 21,487 and was mobbed by teammates after extending his point streak to 10 games. Saad made sure to pick up the puck before joining the celebration. Alex Nylander and Erik Gustafsson each had a goal and an assist for Chicago, which has climbed back into the Western Conference playoff race with an 11-4-0 run. David Kampf also scored and rookie Dominik Kubalik added an empty-netter for his 10th goal in his last seven games. Mark Scheifele and Patrik Laine scored for Winnipeg. Hellebuyck stopped 28 shots in the Jets' fourth loss in five games. Robin Lehner made 36 saves for the Blackhawks, who killed six Jets power plays. Four of the man advantages were created by minor penalties on Chicago forward Drake Caggiula.
WOMEN'S GOLF
Darkness forces extra day to determine LPGA Tour-opener winner: The final round of the Diamond Resorts Tournament of Champions featured a little bit of everything. Clutch shots, bold play, lead changes, a few costly mistakes and even bonus golf. Sunday did everything but decide a champion. Nasa Hataoka and Gaby Lopez matched par five times in a playoff at the 197-yard 18th hole until it was too dark to continue. They will return at 8 a.m. Monday at Four Seasons Golf and Sports Club to see who gets the trophy. LPGA Hall of Famer Inbee Park also was in the playoff, but was eliminated on the third extra hole when her tee shot with a fairway metal caromed off rocks left of the par-3 18th and bounded into surrounding water.