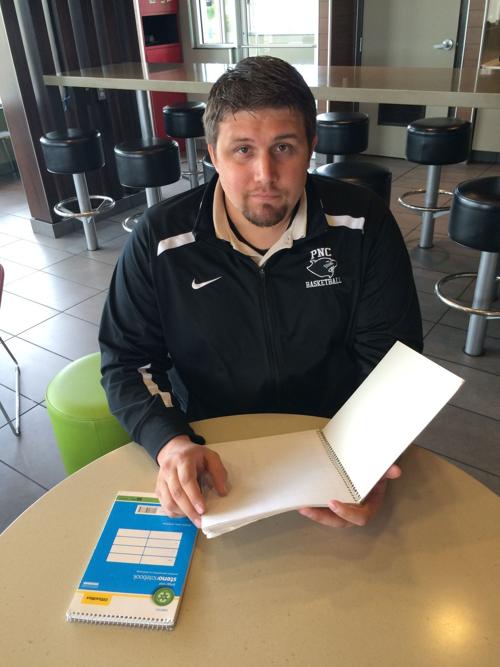 Matty Bush didn't know what to do with a weekend off.
Between his job as an accountant at Building Construction and Resource Center (BCRC, Inc.) in Portage, an assistant men's basketball coach at Purdue North Central and taking Saturday classes at Purdue North Central for his MBA, Bush was a busy young man.
He recently completed his MBA and said he took a long weekend over the Memorial Day holiday.
Bush, a 2004 Morgan Township grad, said numbers have always fascinated him, so accounting is a natural.
"I guess I was always kind of a nerd," Bush said. "Math was always a real strong subject and business seemed natural."
Bush put up some great numbers as a player for the Cherokees all-time leading scorer (1,467 points) and his 158 carer points in the now-gone South County Tournament is a record. As a junior and senior, he averaged 23 points per game. At St. Joseph's College, he shot 52 percent from 3-point land as a junior (2006-07).
Bush graduated from St. Joseph's in 2008 with a bachelor's in history. He also served as an assistant men's basketball coach at his college alma mater for four years. He also was a boys varsity assistant basketball coach for one year in Florida.
As an assistant at Purdue North Central, he coaches under his dad, Matt, who was his coach at Morgan Township. The younger Bush said he enjoys having played for and coaching under his dad, like Joey Meyer did at DePaul for his dad Ray.
"It has really been a good thing because he was my high school coach and I am now teaching the same things that he taught us," Bush said. "You know, you are now telling players the same thing you heard as a player."
Bush, who has a 6-year-old daughter Allie, also loves being involved with the program.
"I learned from my dad, who really took an interest in his players, about how you can help shape guys lives," Bush said. "My dad is an old-school coach, so we are still going to teach the fundamentals, push you to get good grades and just work hard.
"I guess the teaching part (of student-athletes) is the whole reason I got into coaching."
Bush was part of a Pumas program which made two NCAA Division II postseason appearances in 2006 and 2008.
At St. Joseph's College, he was co-captain his senior year (2007-08) and was part of the reason the Pumas made NCAA Division II tournament appearances in 2006 and 2008. He was also part of the Pumas 2006 Great Lakes Valley Conference championship team. As an assistant, the 2010 Pumas went to the Elite Eight as the only No. 8 seed in Division II history to do so.
"I really had a great time playing great basketball against some great competition," Bush said. "My sophomore year we beat (Division I) UIC and played a good schedule.
"I am really fortunate that I had a chance to play college basketball and get an education."
To submit a "Where Are They Now?" idea, contact Mike Nieto at mike.nieto@nwi.com or (219) 933-3232.