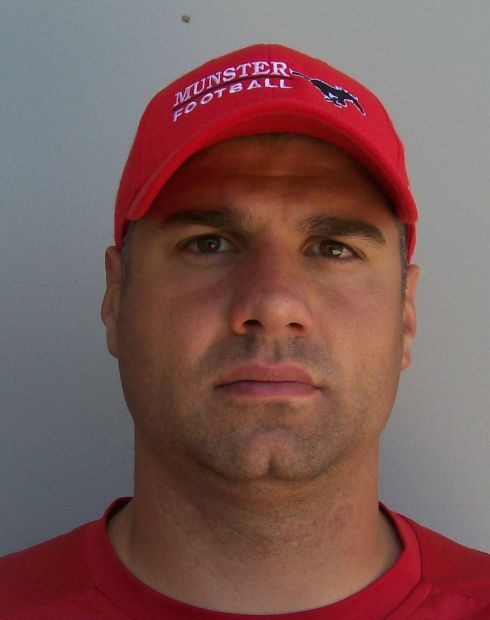 For Munster coach Jason Grunewald and his senior class, earning back-to-back wins for the first time since 2017 feels sort of like a revenge tour.
The Mustangs beat Morton 21-16 last week, and before that, they downed E.C. Central 44-8.
With some critical playmaking from seniors like Tommy Choros and Blake Siurek, and some steady play from junior quarterback AJ Prieboy running the triple option, the Mustangs (2-2) are finally seeing returns on years of toil.
"I'm so proud of them," Grunewald said. "They've stuck it out through some hard times, but I think because of that, they're all kind of flourishing here."
Choros, an outside linebacker and wingback, plays every snap for Munster. He returns the kicks and punts, and even serves on the punt and kick protection units.
He had a key interception and a fumble recovery — his third in four games — in the win over the Governors, and led the team with seven tackles and a tackle for loss.
Choros thinks the Mustangs are rounding the corner this fall.
"We've had years to get to know each other, and once we were able to take leadership roles and lead this team, I think we all kind of stepped up in our own way," Choros said.
"Coming up on this year, taking revenge, it feels good," he added. "It lets us know that we've always had the opportunity to do what could happen when we work hard, trust our coaches, trust each other, do our jobs."
And a decision to run the triple option is beginning to pay dividends. The system puts a lot of pressure on Prieboy, who has to make the right read between pitching the ball to his backfield options or tucking it and running it himself.
"The triple option is something we adopted because we're a smaller team," Choros said. "We don't have the big linemen and absolutely huge backs that other teams in the conference do. But after all summer of practicing our reads and our pitch relationships and things like that, I think we're getting pretty good at running this option, confusing defenses and tiring them out and frustrating them."
With a win against Kankakee Valley on Friday, the Mustangs would go above .500 for the first time since a win over Morton took the them to 3-2 in 2016.
"(We have) grown not just physically, but mental toughness-wise," Grunewald said. "They've totally grown."
Offenses key for Hanover, Highland
Coach Brian Parker wasn't too pleased with how Hanover Central came out of the gates against River Forest last week, falling behind in the first quarter before eventually pulling away to win, 48-14.
The Wildcats had nearly 500 yards of total offense, including 211 passing yards and a TD for sophomore quarterback Matt Koontz.
"We're trying to bring Matt along," Parker said. "Up to this point, he's exceeded expectations and where we thought he would be. Matt's a very coachable kid, he works hard and what you're seeing on the field is a byproduct of all that stuff."
Parker liked the way the Wildcats bounced back from a 35-34 loss at Culver Academies on Sept. 3.
"I think there were some hard lessons learned in that game from the players, definitely on my behalf as well," Parker said. "But we'd rather have something like that happen Week 3 than Week 12."
Highland got back on the winning track with a 61-34 win over Hammond Central, just in time for a tough test against Andrean at home on Friday night.
Quarterback Nick Steele went 8-for-8 for 179 yards and a touchdown, and added five rushes for 35 yards and two TDs.
"The big plays kind of swung the game in our favor," Highland coach Pete Koulianos said. "We were able to loosen them up a little bit and then run the ball effectively as well."
Senior running back and defensive lineman Drew Barsich added two scores that helped the Trojans jump out to a 42-20 halftime lead.
"Our O-line played really well," Koulianos said. "We were able to spread the ball around really well, and that was kind of strategy, to get the ball in some of the kids who can make plays, get in their hands and let them play in space."
West Side returns, downs Bowman
Led by senior Payton Jordan's three-touchdown burst, West Side (2-1) returned to action with a 58-0 shutout of Bowman.
"It makes our offense much more explosive, having that passing attack," coach Eric Schreiber Jr. said. "It opens up a lot of what we can do on the offense, opens up the running game and helps a lot of guys out. He's definitely an impact player."
Jordan missed the first two games of the season after fracturing his fibula in July. The Courgars got several key players back from injuries and contact tracing ahead of the Bowman game.
"On the defensive end, Donald Robinson, played a really big role," Schreiber said. "He's a senior we did not have the first two weeks of the season with a hamstring injury. Shawn Ambrose is another kid who was out Week 2 who is a big part of our offensive line. A 6-6, 360-pound right tackle ... gives us depth and also allows us not to have so many guys go both ways."
Robinson had a 20-yard rushing touchdown, two tackles for loss and five total tackles. Another defensive lineman, junior Jamari Jefferson, finished with two tackles for loss and a sack in three total tackles.
Football recap: Valparaiso, Chesterton win to set up Week 5 showdown of unbeatens
Valparaiso held off a strong push from Michigan City and Chesterton rolled past LaPorte in Week 4 action to set up a clash of Duneland Athletic Conference unbeatens.