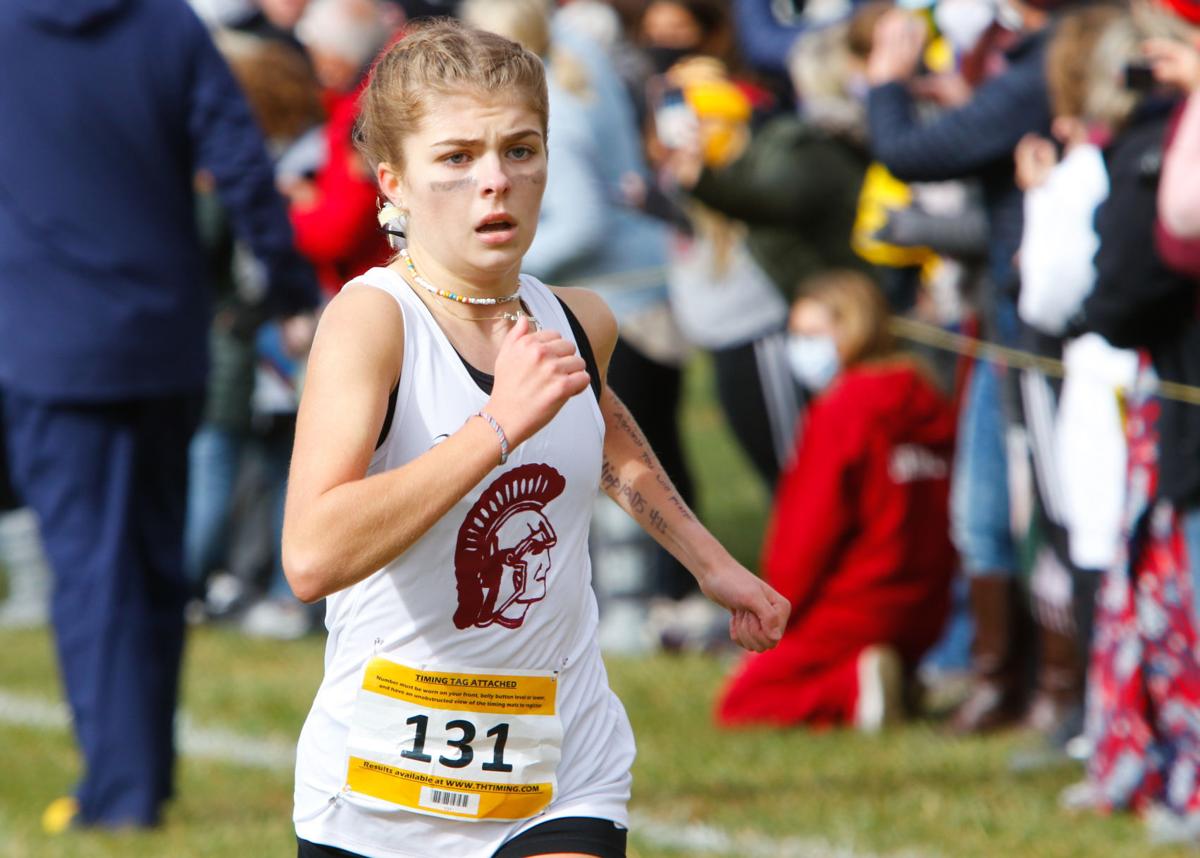 CHESTERTON — Bailey Ranta has made her college decision and is ready for the next step.
"Senioritis is hitting me hard. Now that I'm committing, I'm like, 'Do I get to leave now? Do I get to start this college process yet, or what?'" the Chesterton senior said. "It's kind of just counting the days now."
Ranta officially committed to run for Toledo last week. She also considered Indiana, Butler, South Carolina, Grand Valley State, Bradley and some other lower-profile schools. She's a three-time state qualifier in cross country and advanced to state in track twice.
Toledo coaches were on Ranta earlier than most schools, she said. When they made the trip across the state line earlier this season, it made a big impression.
"That's rare for cross country. Usually, you have to go there," she said. "The coaches and team are just really welcoming. I really like how (coach Andrea Grove-McDonough) approaches things and her personality and mindset. I really liked the whole team, how they were really team-oriented. I could really tell they were real people and they weren't just putting on an act for the recruits."
The Rockets have a Regionite on the roster, as well, in Lowell graduate Jordan Boyer. Ranta said the chance to train with a runner she's known for a while was attractive.
"She really helped me settle into things," Ranta said. "Jordan's always been super encouraging, even when we were competitors. She would always congratulate me and help me. Seeing a familiar face there definitely helped."
Ranta is considering studying something in the sports psychology field or early childhood development. She wants to work as a child life specialist, helping kids deal with illness or injury. She's interning with the Boys and Girls Club and looking for an internship with a hospital.
Now she goes from recruited to recruiter.
Lowell standout Karina James is considering the Rockets, as well. She actually visited Toledo with Ranta. James is considering Penn, among others, but Ranta hopes she can sway the defending state champ.
"I'm like, 'Karina. Come on. Let's go. Toledo,'" Ranta said. "Once I committed, she congratulated me and I was like, 'All right, Karina, now it's your turn. Let's be roommates.'"
Ranta finished third at last week's New Prairie Invitational, behind only James and Valparaiso's Kaylie Politza. That race is often seen as a semistate preview.
Ranta's attention now turns toward helping a talented Trojans team maximize its potential.
"We're hoping to medal at state as a team and I definitely have some individual goals that I still want to accomplish," Ranta said. "I'm just really focusing on getting my time down as much as I can because placing really well at state helps with the team result. There's definitely less pressure now. It's just like, 'Let's see what I can do.'"
Football recap: Merrillville, Valparaiso win to stay unbeaten and atop DAC
Merrillville pulled away from Michigan City and Valparariso held off Chesterton to remain perfect through five games.