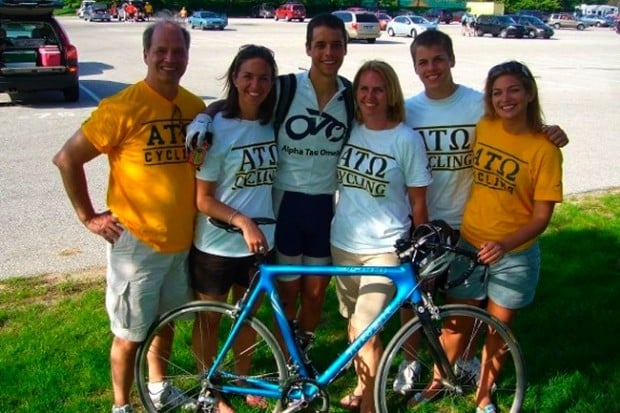 Lindsey Ziemba has been a spectator to both the celebratory and anguishing sides of the Little 500 bicycle race.
As a Munster sophomore in 2006, she watched older sister and Kappa Delta rider Lauren as she was edged out at the finish line in the women's race. The next day, she was also on hand as older brother Steven rode for the victorious Alpha Tau Omega squad in the men's race.
Last year, she was a mechanic for Kappa Delta, which finished third overall. Now an Indiana University sophomore, she'll be riding in her first race today.
"I'm pretty nervous; I looked at my calendar and said, 'Oh my God,'" said Lindsey, whose team is seeded eighth. "I think I'm ready."
Lindsey feels fortunate to be the third sibling to ride in the race and she believes her past experiences have helped her to progress as a rider.
"I've seen some of the strategies," she said. "I've also gained some perspective on how much dedication and work is involved.
"I watched (Lauren and Steve) train, but now I'm doing the work. It was definitely an eye-opener."
Lindsey Ziemba will see a familiar face in the pit, as Steve is one of her team's mechanics.
Steve Ziemba rode in his final race last season. He's now a wholesaler for an insurance company in Denver, but the new job wasn't going to limit his ability to be a part of the event. He'll also be a mechanic for Emanon in the 60th running of the men's race.
"I just hope I can provide some assistance to her," said Steve Ziemba, who also worked in the pits for older sister Lauren's squad. "There is some sibling pressure, but -- at this point -- it's a personal choice."
Older sister Lauren won't be in the pits for either race, but she'll be up in the stands. Lauren is a physical therapist in Denver, and she's accompanying her brother on a flight back home.
"It's my first paid time off, so I'm very excited to return," said Lauren, who is making her fourth trip back to watch the races. "I'm more of a spectator now. I feel like I passed the so-called torch to my sister. I just want to be there to encourage her.
"She's got a taste of it now, and it's in her blood."
Lauren believes the reason why it's stuck in the family is that it has always been a personal choice, that started when she was in eighth grade.
"We were moving a few blocks to a new home, and our parents (Joe and Dorothy) asked if we wanted to keep our bicycles," Lauren said. "We said, 'No'. After attending the race as a freshman at IU, and I asked my parents if I could have a bike. They told me it was my sport now, and I would have to buy one.
"That's when I took ownership of it. If I'm going to invest money and time into this, I'm going to try to stick with it."
That attitude has been carried on by Steve and Lindsey.
"I now understand what it takes to do this," Lindsey said.
Next year on campus, Lindsey will transform from pupil to teacher. Youngest sibling Sean will attend IU, and he plans to race in the event.
"Having family members involved in it like this is great," Lindsey said. "I trust Steve (in the pits), because he's doing it for the family. All of this just makes things so much more special."
Where: Armstrong Stadium, Indiana University, Bloomington
When: Women's race -- 3 p.m. today; men's race -- 1 p.m. Saturday.
Julie Bembenista Munster Teter
Allison Bickel Munster Wing It
Shayne Cleary Flossmoor Alpha Xi Delta
Lindsey Conger Munster Last Chance
Natasha Damjanovich Munster Alpha Xi Delta
Rosalie Delarme LaPorte Alpha Delta Pi
Jamie Duncan Schererville Chi Omega
Rachel Eldert Munster LAMP
Megan Hruska Munster Alpha Gamma Delta
Kellie Kidd Valparaiso Alpha Phi
Theresa Kretz Munster Alpha Gamma Delta
Jana Kovich Schererville Delta Gamma
Julie Lazzaro Crown Point Alpha Chi Omega
Stephanie Maggio Valparaiso Alpha Xi Delta
Alyssa Minich LaPorte Alpha Delta Pi
Caitlin Pitts Hobart Chi Omega
Kelsey Phillips Chesterton Delta Gamma
Stefanija Puaca Valparaiso Wing It
Dana VanderGenugten Schererville Munster
Lindsey Ziemba Munster Kappa Delta
Eric Anderson Munster Beta Theta Pi
Jordan Bailey Ogden Dunes Black Key Bulls
Logan Brown Crown Point Lambda Chi Alpha
Cameron Cornet St. John Delta Chi
John Gillard Schererville Collins Bunny Gamma
Justin Haviar Schererville Emanon
Nick Kappas Valparaiso Achtung
Cyle Kasper Portage Phi Kappa Sigma
Ryan Meneghin Dyer Delta Chi
Andrew Misch Crown Point Lambda Chi Alpha
Tyler Schwartz Munster Sigma Alpha Mu
Kevin Skelton Valparaiso Air Force Cycling
Chris Williams Homewood Evans Scholars