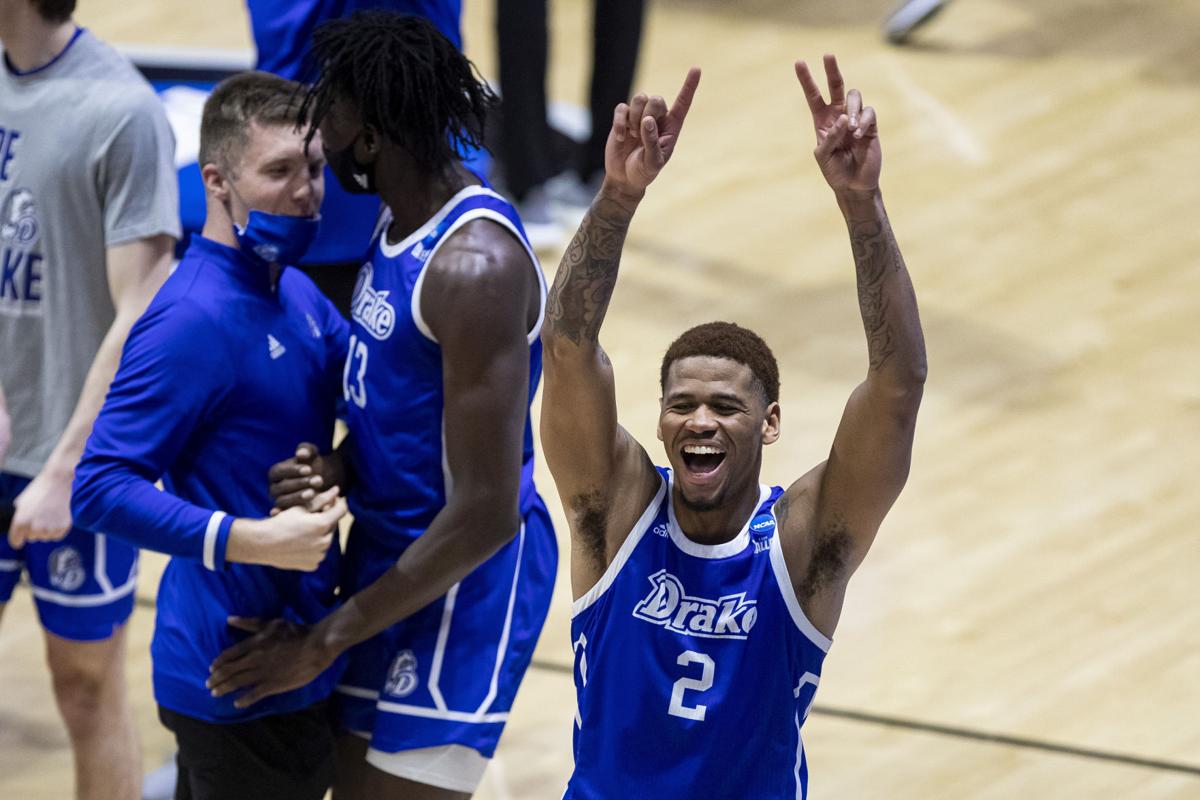 After winning three of its last four games, Valparaiso arrived at Missouri Valley Conference favorite Drake on Thursday night with the intention of taking an upset win back to the Region.
But, riding strong performances from a trio of Region talents, it was the Bulldogs who opened conference play in style, staving off a late rally to win, 73-66.
Wilkins, Murphy play like vets
Drake coach Darian DeVries has fielded a winning team in each of his first three seasons, and local talents like D.J. Wilkins and Jonah Jackson (Merrillville), Tremell Murphy (Griffith), Roman Penn (Bishop Noll) and ShanQuan Hemphill (Michigan City) hope to be a part of a group that returns to the postseason and competes for a Missouri Valley title.
Murphy and Wilkins are two of several returners who prompted voters to pick the Bulldogs as the preseason Valley frontrunners for the first time in program history. Murphy entered the night averaging a team-high 13.7 points per game.
He started slowly, but finished with 10 points on 4-of-5 shooting, while Wilkins added 11 points, knocking down three 3-pointers. Murphy's 3 with 1:27 left — which came via a Penn assist — put Drake up 68-57 and the game out of reach.
DeVries praised his group for putting together enough stops and executing efficiently in half-court sets, shooting 45.8% from the field and 9 of 23 (39.1%) from long distance.
"It was a typical Valley game," DeVries said. "It was very tough, very tough on both ends of the floor."
"Second half, it really became a half-court game," he added, "and I thought our guys did a good job of finding a way to figure that out."
Penn played a team-high 34 minutes and paced all players with five assists, most of them on Murphy baskets. Hemphill had eight points and a team-high seven boards.
Murphy, Wilkins and Hemphill combined to spur a 9-0 Drake run to take a 29-22 lead with 6:44 left in the first half, and the Bulldogs never trailed again.
Learning from losses
Drake's win followed a three-game losing streak to Belmont, Alabama and North Texas. DeVries said his team showed signs of maturity in preserving its late lead this time around.
"We were ahead in all three games against quality opponents," DeVries said. "It was just little things that didn't allow us to finish those games."
"Our turnovers were better tonight," he added. "We only had three in the first half, finished with nine, but that's great. That's winning basketball. I thought the guys really locked into some of the little things that maybe cost us those close games down in Orlando, and (Thursday), we flipped that and were able to win a hard-fought game."
Krikke's big night
The Beacons (3-5) have only had Ben Krikke back in the lineup for a handful of games, but it's to see he's a surefire scorer.
Krikke scored a game-high 20 points on 9-of-16 shooting to go along with four rebounds and two blocks. The 6-foot-9 junior was tested by Drake's big men — Hemphill and 6-foot-10 Darnell Brodie — but held his own, scoring 15 points in the first half.
"Just being aggressive,' Krikke said. "We talk a lot about toughness, so I tried to bring that early."
Valpo coach Matt Lottich had his faith reinforced on Thursday night, noting he saw his team play with mettle and effort. And the Beacons' transfer-heavy roster is growing accustomed to new roles.
"It's December 1st, and we've got a lot of new guys," Lottich said. "We've just got to try to get better every day, and we did. We have."
King is coming
Valparaiso will play at Western Michigan on Sunday before opening up a six-game homestand that runs through Jan. 2. After the trip to Kalamazoo, Wisconsin transfer Kobe King will be eligible to make his first appearance against East-West University on Tuesday at the ARC.
Lottich thinks King, who played in all 34 games and averaged 4.2 points at Wisconsin as a redshirt freshman, will be a game-changing presence this winter. Even after another narrow loss, things look a lot brighter for Valparaiso than after a Nov. 17 loss at Stanford that dropped the Beacons to 0-3 to start the year.
"I think Kobe is going to be our best athlete, our strongest player," Lottich said. "He can score in a variety of ways. I think he'll really help on defense and really help on the backboard, he'll be able to rebound. We're going to work him in."
Krikke echoed Lottich's optimism about the way the Beacons are trending.
"We did have some momentum, and we dropped it," Krikke said. "But we all feel like we're still in a good spot. We're going to watch film on this and rebound."