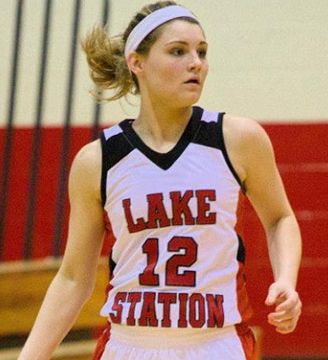 The Indiana University Northwest women's basketball program just added GPS.
Lake Station's Joanna Dwyer, a two-time scoring leader for the Eagles, will continue her education and basketball career at IUN next fall.
The 5-foot-6 floor general led the Eagles to an 11-10 record last season en route to earning First-Team Greater South Shore All-Conference honors.
Lake Station's 11 wins were the most in more than 10 years, equaling the total number of wins by the program from 2000-2009.
Dwyer averaged 14.4 points, 3.1 assists and 3.7 rebounds.
"Joanna was one of the top scorers and players in the area over the past three seasons due in large part to her athleticism, speed and basketball acumen," IUN coach Ryan Shelton said in a news release.
"We were looking to bring another explosive scorer to our backcourt and Joanna fits that need for us. We expect her to make an immediate impact."
Lake Station's versatile athlete earned 11 varsity letters in basketball, volleyball, softball, tennis, track and field.
SSC reaches end of the road: South Suburban College's marvelous season came to an end at last weekend's NJCAA Div. I Regional Tournament when the Bulldogs suffered back-to-back losses to host Iowa Western (10-2) and Wabash Valley (10-5).
Coach Steve Ruzich's club managed only 11 hits for both games in finishing 37-21.
IUN inks Kougars' star: Kankakee Valley senior Allison Rockley is the first signee of Indiana University Northwest's new NAIA-sanctioned cross-country program.
"This is awesome. I'm glad I get to continue my career to the next level because it's part of my life," Rockley said in a news release. "I can just keep doing what I love to do."
Rockley is the first recruit for either the women's or men's teams slated to begin competition this fall.
"We want to build a program with athletes just like Allison," RedHawks coach Javier Heridia said. "We are thrilled to have a quality runner to begin this journey as we build the program at IUN."
Added KV coach Lane Lewallen: "(Heridia) is getting the best KV has to offer. She is everything right in high school athletics."
Rockley is a four-time All-Northwest Crossroads Conference First Team selection and 2013 semi-state qualifier.
Note: This is the last NWIUNOTES until the 2014-15 school year.