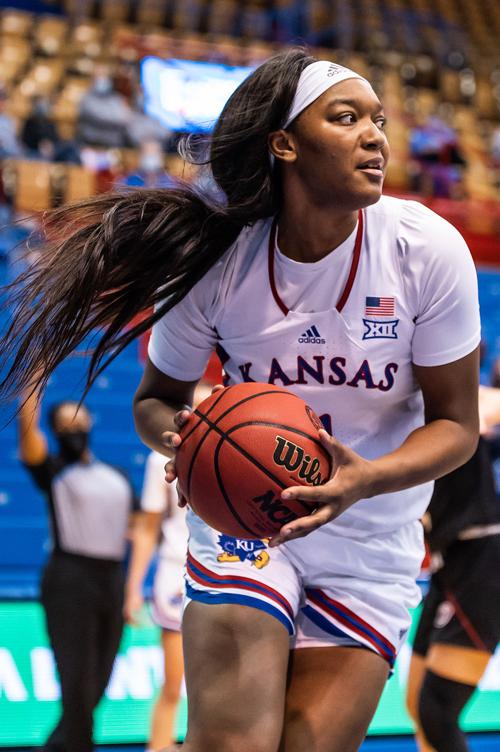 Taiyanna Jackson is just starting to get comfortable at Kansas.
That could be a big problem in the paint for opponents.
The former EC Central star and 6-foot-5 center said she's still working through some nerves and trying to get acclimated to the Division I game. But she's enjoying the learning process.
"To be honest, I'm not playing to my full potential right now," Jackson said. "I don't know why, but it will change. I'm getting used to it."
Jackson, who originally committed to Ole Miss out of high school, never made it to Oxford. She spent the last two seasons at Trinity Valley (Texas) Community College, where she was the 2019-20 NJCAA Region 14 Freshman of the Year. Last season she led the team to the national championship where it fell 67-60 to Northwest Florida State.
Jackson averaged more than 13 rebounds a game and helped the Cardinals to a 22-3 record.
Jackson has started all four games for the unbeaten Jayhawks and is averaging 7.3 points and a team-high 8.8 rebounds per game. She had 10 points and a team-high eight rebounds in Sunday's 79-50 victory over Saint Louis. She also leads the team in blocked shots.
"I think moving forward she's going to continue to improve because she has tremendous upside," Kansas head coach Brandon Schneider said.
A solid two years in junior college started the recruiting process all over again for Jackson. She said she picked Kansas over Mississippi State and Auburn.
"I chose Kansas because of Brandon," Jackson said. "Every time we talked he'd ask about my family, ask about my grandmother. It was never basketball-first in our conversations."
Taiyanna's twin sister, Tiara, is playing at Indiana Northwest. The family was raised by their grandmother, Dorothy Phillips. Taiyanna, who has four siblings, said she lost her mother when she was only two months old and her grandmother has been the rock of the family ever since.
Taiyanna has three years of eligibility and Schneider is more than happy to see her develop and prosper with the Jayhawks.
"I think Taiyanna has a chance to really impact our team and our program," he said. "Right now she's probably further along defensively than offensively, but I think she's going to grow in that area.
"As for her future, I think Taiyanna has a chance to be a pro for a long time."
In other women's college basketball news:
Purdue Fort Wayne's Ryin Ott (LaPorte) was named the Horizon League Freshman of the Week.
In her collegiate debut, Ott scored 16 points and grabbed six rebounds in a victory over Manchester. She added three steals and two assists.
Ott is the first player in program history to be named the Horizon League Freshman of the Week.
Men's basketball
Sacramento State's Cameron Wilbon (Merrillville) stole the ball with 31 seconds left and that led to teammate Bryce Fowler's three-point play in the closing seconds in a 58-57 victory over Cal Poly on Nov. 15.
Wilbon, a transfer from Robert Morris, is averaging 6.3 points per game.
Mount Vernon Nazarene's Trace Ramsey (Valparaiso) had 13 points and four rebounds off the bench in an 86-63 victory over Michigan-Dearborn on Nov. 16.
Football
New Mexico Highlands quarterback Ramone Atkins (Merrillville) was named All-Rocky Mountain Athletic Conference first team.
The senior led the conference in passing yards (2,589), was second in touchdowns (25) and first in the conference n total offense (322.4 ypg). Atkins rushed for 635 yards this season.
Winona State's Jaylen Schleicher (Hammond) caught an 11-yard TD pass as the team ended its season with an 18-16 victory over Minnesota State-Mankato.
Devon Moore (Hammond) had five tackles in the win.
Franklin's Kody Wilkerson (Chesterton) and Anderson's Dean Foundos (Highland) both earned Heartland Collegiate Athletic Conference (HCAC) second-team honors.
Wilkerson, a junior linebacker, was third on the team in tackles with 60 and added a forced fumble.
Foundos, a junior tight end, had 171 receiving yards and two touchdowns.
Anderson's Jawan Coney (Morton) earned honorable mention honors. The sophomore defensive lineman led the team in sacks (six) and tackles for loss (10.5).
Cross country
St. Francis (Illinois) finished runner-up in the women's race at the NAIA National Championship on Friday in Vancouver, Wash.
The USF men placed fourth. Bishop Noll grad Jeff Barker is the head coach of both programs.
Women's volleyball
Sarah Spangler (Hanover Central) had 17 kills and five digs as Marian beat Bryan (Tenn.) in four sets in the NAIA Opening Round match Saturday.
The Knights (33-1) advance to the NAIA Final Site in Sioux City, Iowa on Nov. 30.
Spangler earned All-Crossroads League first-team honors for the fourth time. The senior was second on the team in league play with 165 kills and finished with the highest hitting percentage in the conference at .378. She's also in the top five in the NAIA in hitting percentage.
Bethel's Cheyanne Seymour (LaPorte) earned Crossroads League honorable mention honors.
Women's soccer
Bethany's Lyric Green (Wheeler) was named honorable mention by the Kansas Collegiate Athletic Conference. The junior forward led the team in scoring with five goals.
The Times welcomes information about local athletes for inclusion in Region Collegians. E-mail Brian Waddle at bjwaddle@comcast.net.
Football recap: Brothers practicing over the summer helped Andrean get to state
Three Region teams competed for state championship berths in their respective classes. Get caught up on the action!