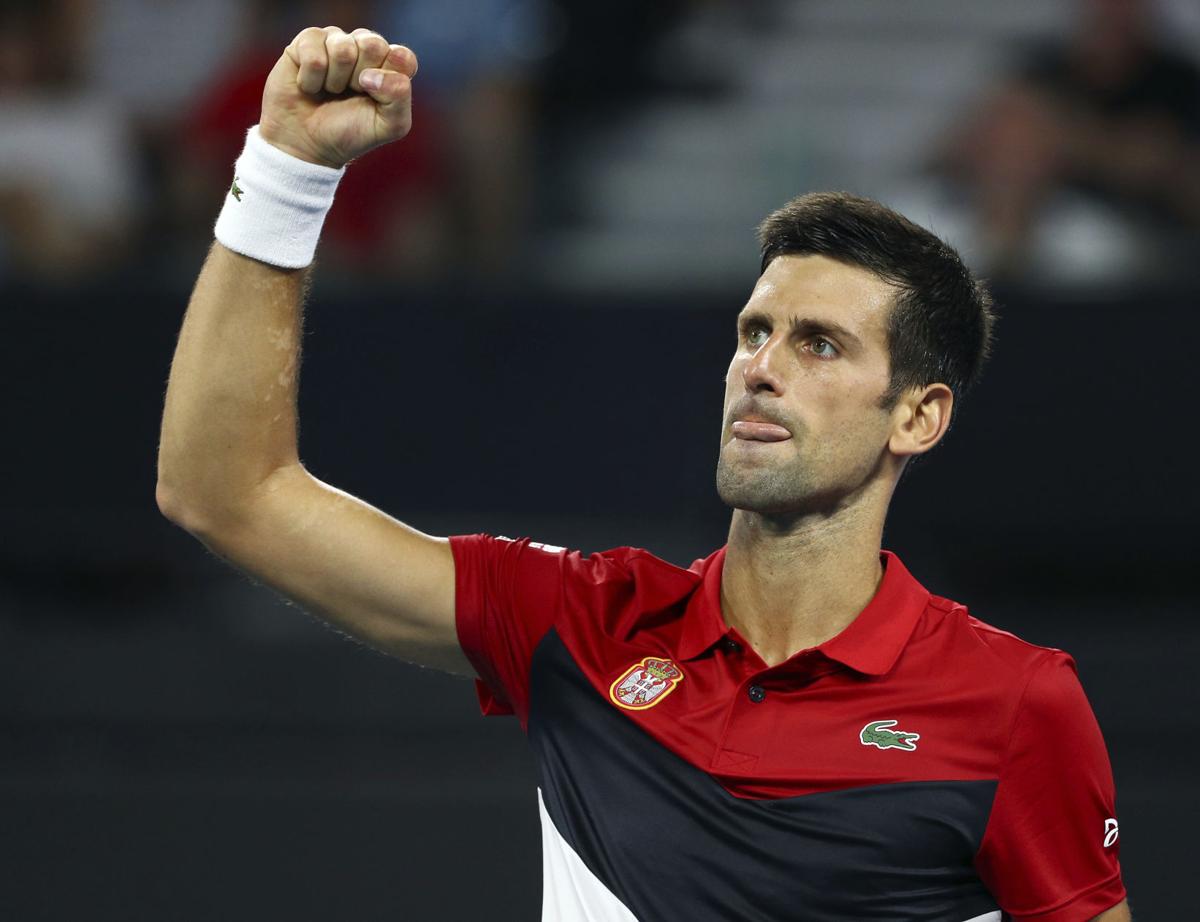 MEN'S TENNIS
Djokovic clinches Serbia's win; Nadal's Spain beats Georgia: Novak Djokovic got more than he bargained for in his first competitive match of 2020 before fending off Kevin Anderson 7-6 (5), 7-6 (6) late Saturday to secure Serbia's win over South Africa at the ATP Cup. Top-ranked Rafael Nadal had an easier time clinching Spain's win over Georgia, beating Nikoloz Basilashvili 6-3, 7-5 in Perth after Roberto Bautista Agut crushed No. 678-ranked Aleksandre Metreveli 6-0, 6-0. But No. 4 Dominic Thiem went down in an upset to Bornic Coric, who clinched Croatia's win over Austria with a 7-6 (4), 2-6, 6-3 win in Sydney. Marin Cilic took the opening singles 6-7 (4), 6-4, 6-4 over Denis Novak. The night-time matches in Groups A, B and E all ended 3-0. In the earlier Group A match, Gael Monfils secured France's victory over Chile with a 6-3, 7-5 win over Cristian Garin after Benoite Paire's 6-7 (3), 6-3, 6-3 victory over Nicolas Jarry. Chile cut the final margin to 2-1 when Jarry and Garin combined to win the doubles. Japan won both singles and the doubles against Uruguay in a Group B tussle in Perth. Go Soeda beat Martin Cuevas 6-1, 6-3 and Yoshihito Nishioka had a 6-0, 6-1 win over Pablo Cuevas. Argentina needed a win in the doubles to edge Poland 2-1 in Group E. The 10-day, 24-team tournament ends with the final in Sydney on Jan. 12, leaving players time to fine-tune for the Australian Open in Melbourne.
MEN'S BASKETBALL
IUN loses in final seconds at Governors State: Indiana Northwest lost in dramatic fashion as the ball dropped through the net to break a tie with two seconds left. The RedHawks (10-6, 5-3 CCAC) led for 33 minutes and the game was tied five times before losing 85-83 at Governors State. Rashad Richardson finished with a team-high 25 points and 14 rebounds. Marshaud Watkins added 23 points.
WOMEN'S BASKETBALL
Pride's stifling defense leads to win over Northwood: Purdue-Northwest held its visitors to 29.4 percent shooting in a 61-52 win over Northwood (2-11, 0-5 GLIAC). The Pride (4-9, 3-2), had a 22-point outburst in the third quarter to take an 11-point lead into the fourth quarter. Savaya Brockington led all scorers with 22 points, grabbing nine rebound and five assists.
RedHawks fall in overtime: After leading for most of the game, Indiana Northwest faltered late and lost 62-59 in overtime at Governors State. The RedHawks (6-10, 3-6 CCAC) held GSU (7-10, 4-5) to 29.5 percent shooting for the game but were outscored 7-4 in the overtime period after the game went scoreless over the final 1:33 of regulation. Breanna Boles scored a team-high 16 points and grabbed 13 rebounds. Ashley O'Malley (Crown Point) scored 10 points and grabbed six rebounds.
COLLEGE FOOTBALL
McMillan's storybook ending lifts Tulane over Southern Miss: Justin McMillan won two Texas state championships playing for a high school only about 35 miles away from where he played his last game for Tulane. Both of his parents served in the Army. The Armed Forces Bowl provided a storybook finish for his college career. McMillan, who started for the Green Wave for two seasons after transferring from LSU, threw three touchdown passes in the third quarter as Tulane rallied for a 30-13 win while renewing a rivalry against Southern Mississippi on Saturday. "It is a home game. I live right down the road," said McMillan, who went to Cedar Hill High School. "It feels good to, one, play a game down here, two, to have two parents in the military. It's literally a Cinderella story for me." Tulane (7-6) finished consecutive seasons with bowl wins for the first time in school history. The Golden Eagles (7-6) took a 13-0 lead after Jack Abraham threw a touchdown pass and ran for a score on their first drives, but the quarterback took a hard shot on his last snap before halftime and didn't play again. They also lost top running back De'Michael Harris to a hamstring injury in the first half.