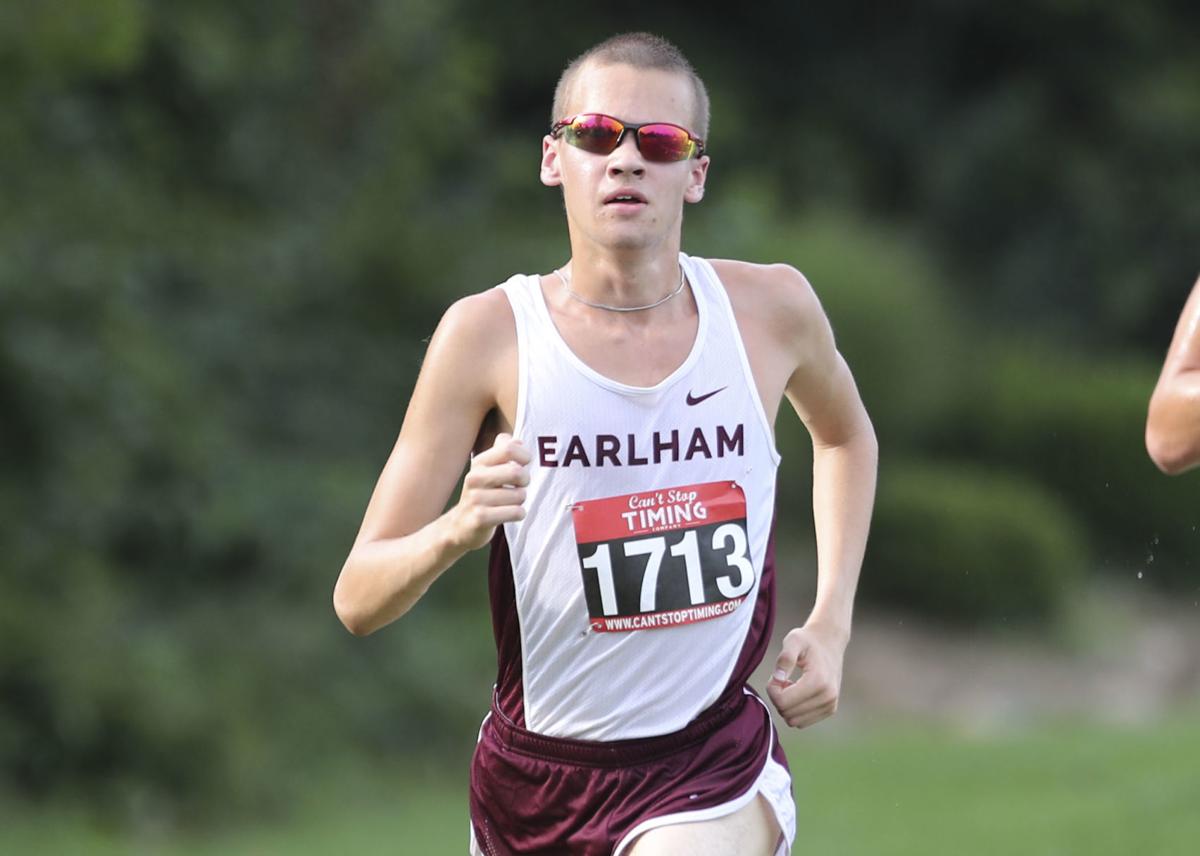 One thing is certain: Never doubt Noah Scherf.
The Earlham College runner and Michigan City product is considered legally blind, with 20-200 vision in his left eye and less sight in his right eye. He was born with bilateral retinal coloboma, but hasn't let that slow him down.
"Cross country is obviously tough (with my vision), but the nice thing is people don't know about your vision — it just comes down to how fast you are," Scherf said.
"It's a challenge I've had all my life, but running is something I'm passionate about. I could use it as an excuse, but the great thing about running is at the end of the day the only thing that matters is who's fastest."
Scherf was recently named the Heartland Collegiate Athletic Conference Runner of the Week for his performance at the Ohio Wesleyan Invitational. The junior was the team's top runner at the 11-team event with a time of 26 minutes, 54.5 seconds to finish eighth overall among 129 runners on the 8K course.
"We're fortunate to have Noah here at Earlham College," Quakers coach Derick Lawrence said. "He's an extremely dedicated and determined student-athlete. He is very goal driven and strives to compete at the highest level possible."
Scherf said he runs three to four times in the mornings on his own and then puts in another 80-85 miles a week for the team's practices.
The HCAC award was quite impressive considering Scherf just returned from Lima, Peru where he competed in the 2019 Parapan American Games for Team USA in late August. Scherf was fourth in the 5,000 meters with a time of 15:44.48.
"His experience in Peru competing for Team USA showed him that he's able to compete against the best and it will be exciting to see the progress he will make towards achieving his goals," Lawrence said.
Scherf competed in everything from swimming to track to karate while growing up. He says the course and terrain of cross country is definitely tough because he was able to see the constant white lines in track and the white lines on the bottom of the pool. It makes it challenging both mentally and physically.
"I just love cross country, though," Scherf said. "I didn't start running until my junior year in high school. I think once I started running 5Ks and 10Ks I found out I liked them and I was good at them. It suited me well."
Scherf won gold in the 1,500 meters at the 2017 World Para Athletics Junior Championships and took bronze in the 800 meters at the same competition.
He actually is heading overseas again to compete in the 2019 World Para Athletic Championships in Dubai, United Arab Emirates from Nov. 7-15. Upon his return, he doesn't get any rest, either. He'll have the NCAA Division III Regionals.
"We'll see what happens," Scherf said. "Right now I'm just taking it day by day and working hard to get better."