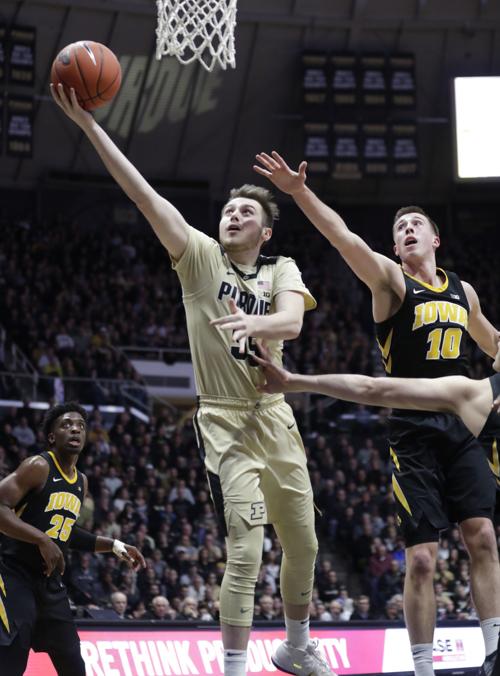 Michael Miller, a 6-foot-3 starting senior guard for the North Texas men's basketball team, hit the game-winning layup with 0.6 seconds left in the second half to help his team earn a 76-75 win over Rice.
The Michigan City graduate completed the comeback for the Mean Green as they ended the game on a 19-4 run after trailing by 16 points with about 7 minutes left in regulation during the Jan. 19 home game.
Miller finished with 12 points and made 5 of 6 free throws. The victory extended North Texas' Conference USA-best home winning streak to 14 games.
However, the streak was snapped Thursday when North Texas suffered a 52-49 loss to UAB. Miller had 11 points and seven rebounds during a season-high 33 minutes. North Texas is 18-3 overall this season.
Crown Point's Stefanovic comes up big against Rutgers
Sasha Stefanovic had a career game in Purdue's 89-54 win over Rutgers in men's basketball.
The redshirt freshman from Crown Point scored a career-high 14 points in the Jan. 15 game. He entered the game with just 13 points combined over his previous eight games. Stefanovic went 5 for 6 shooting and 4 for 5 from 3-point range, which were both season-high marks for shots made. He also recorded a pair of assists.
Stefanovic was one of six Purdue players with at least nine points in the game, and he helped the bench contribute 39 total points to match a season-high.
Bonin sets career-high mark in points
Blake Bonin sunk a career-high 27 points in a conference victory for the Earlham men's basketball team.
Bonin provided the offensive spark for his Division III team in the second half of the 86-82 win at Defiance on Jan. 16.
He and a teammate hit back-to-back 3-pointers to get Earlham within two points, 61-59, with 9:54 left in the game.
Bonin finished 8 for 11 from the field, including 5 for 8 from beyond the arc. His five 3-pointers were a season-high, as were his six made free throws (on six attempts).
Bonin, a junior guard and Crown Point graduate, also recorded three assists in the Heartland Collegiate Athletic Conference victory.
Krause wins butterfly for No. 2 Michigan swim team
Vanessa Krause turned in several strong performances in the butterfly at recent meets to help the No. 2-ranked Michigan women's swimming and diving team.
The Chesterton graduate and Michigan junior won the 200-yard butterfly with a time of 1 minute, 58.49 seconds during a home dual meet Jan. 19 against No. 22 Ohio State. Michigan improved to 7-0 overall and 4-0 in the Big Ten with a 196-104 team win.
Michigan also defeated No. 14 Indiana on the road on Jan. 17 by a 172-128 score. Krause was part of a dominant Michigan effort in butterfly events, as Michigan swimmers finished first, third, fourth and fifth in the 100 fly and first, second, fourth and fifth in the 200 fly. Krause took first place in the 200 fly with a 1:58.08. And she was fourth in the 100 fly (55.28).
Girgenti takes second at wrestling meet
Wabash freshman Cade Girgenti took second in the 174-pound weight class to help the Little Giants wrestling team win the team title at the Manchester University Spartan Classic.
Girgenti, a Chesterton graduate, earned a pin in his first match of the day during the Jan. 12 meet before scoring a 6-5 victory in the next round. Then he added a pin (1:47) of Adam Green from Baldwin Wallace. Girgenti also defeated top-seed Anthony Walsh from Waynesburg with a pin (4:30) to move into the final before losing 5-3 in the title match.
The Division-III Wabash program won the meet of 22 teams with 164.5 points finishing ahead of second-place Wheaton with 118.5 points.
The Times welcomes information about local athletes for inclusion in Region Collegians. E-mail Heather Rule at hlrule@outlook.com.