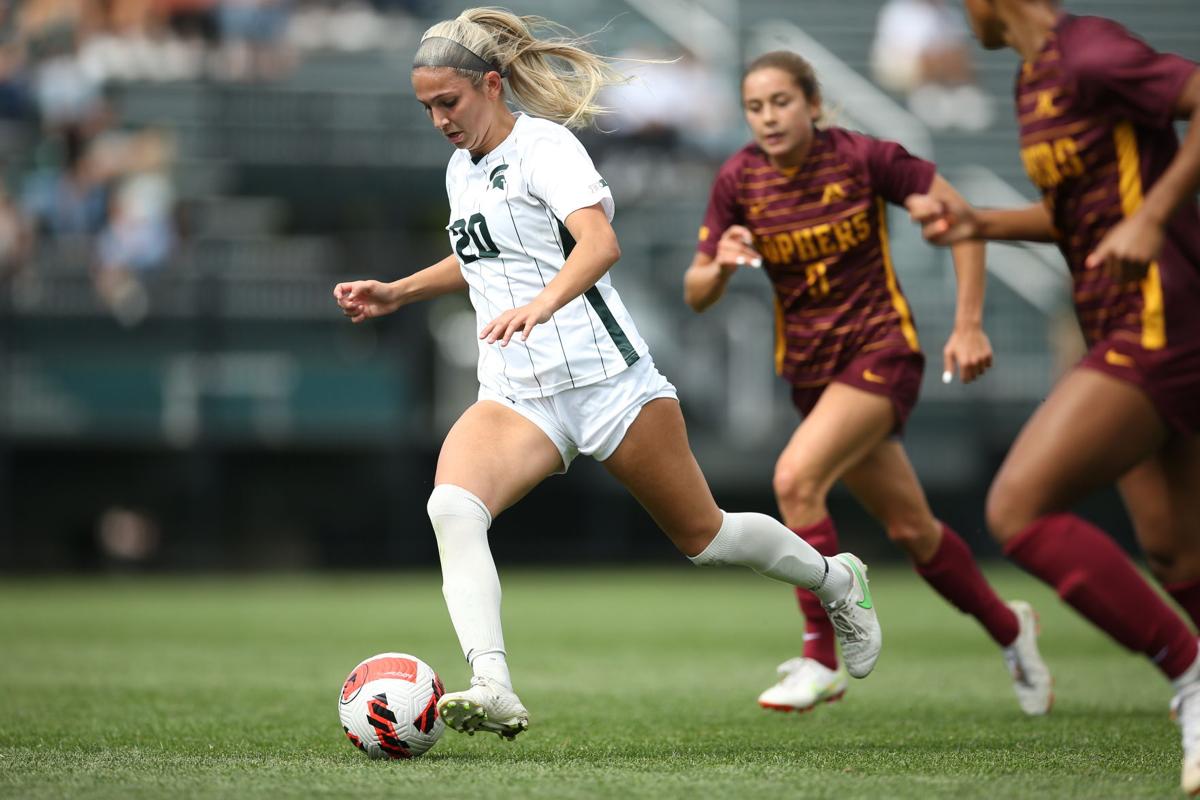 Michigan State's Zivana Labovic has always played soccer with a chip on her shoulder.
Last season, however, it felt more like a mountain for the Schererville native.
"I really thought about transferring, it definitely crossed my mind a lot," said the Marian Catholic graduate. "But I'm so happy I didn't."
After going 1-10-1 last year during her freshman season in East Lansing, Labovic was down and deflated. It was far from a normal year because of COVID, but the losing didn't sit well, either.
Even as a true freshman, Labovic was one of the team's top players. But the constant losing wasn't something she was accustomed to, especially growing up playing on elite club teams that were used to constant success.
"The way we were headed, I didn't feel I was developing or learning anything — and not getting challenged," Labovic said. "I was really concerned of being here for the next four years; I wasn't sure if I'd develop into the type of player I want to be. I want to play professionally if that opportunity presents itself, but I didn't think it would happen here."
Now, though, she does. A new season, a new coach, and the Spartans are scary good in the Big Ten. Michigan State is currently 9-1-3 and thriving under new coach Jeff Hosler.
Labovic, a defender, is second on the team in scoring with four goals and one assist.
"(Hosler's) mentality is so different. He expects so much from us and we see that and try to live up to it," Labovic said. "He treats us like professionals and that's what the expectations are every day, whether in practice or games.
"It's been such a big difference."
Labovic was groomed to be a Division I player. Her mother, Susan, played softball at DePaul and is in the Hall of Fame there, while her father, Danny, played soccer at DePaul and professionally. Her brother, Sasa, played four years of soccer at DePaul, and her sister, Bela, currently plays at West Florida.
Losing is something that doesn't sit well with her family, and wasn't going to be part of Labovic's future, either.
"Most of (my teammates) were so used to success with our club teams that it was like developing a different mindset last year," Labovic said. "It was hard losing every single game. It's so nice to be back to winning and different habits. We're a whole new team.
"We're all bought in and it's literally the same girls. It's a different perspective, but you can see when we play the other teams, they are sort of afraid — they don't know what to expect from us."
Labovic is a kinesiology major with plans to become a physician's assistant.
That chip on her shoulder still remains, which is probably a good thing for the Spartans and a bad thing for the competition.
"I still have that bad taste in my mouth from last year, so when I play I try to make it personal — it's really always been my way and made me a better player," Labovic said. "I feel I'm more intense with that chip on my shoulder.
"I'm still so upset by the way things went down last year I really go in with a different mindset to help this team go as far as we can."
Football
Grand Valley State's Aryuan Cain-Veasey (Michigan City) ran for two touchdowns in a 70-9 victory over Northwood Saturday.
Tory Lewis (TF South) had four tackles and forced a fumble for the Lakers (5-0).
Volleyball
Northwestern's Temi Thomas-Ailara (Marian Catholic) led the team in kills (16), digs (11), and blocks (seven) in a 3-0 sweep of Rutgers.
Bethel's Rachel Vendl (Valparaiso) is second in digs and Cheyanne Seymour (LaPorte) is third in kills and fourth in points. The Pilots (23-5) have won six straight matches.
Sydney Dixon (Boone Grove) is fourth in kills and fifth in total points for Walsh.
Men's basketball
Furman's Colin Kenney (MC Marquette) announced on his Twitter page that he's redshirting the 2021-22 season because of a recent hip labral tear.
Men's cross country
Alexavier Arce (Hanover Central) ran a personal-best 28:02.1 to place second for the hosts at the Bethel Invitational Saturday.
The Times welcomes information about local athletes for inclusion in Region Collegians. E-mail Brian Waddle at bjwaddle@comcast.net.
Football recap: Crown Point hits milestone and Hanover Central's aerial attack on display
Here's a look back at what transpired on the gridiron around the Region Friday.
The Times welcomes information about local athletes for inclusion in Region Collegians. E-mail Brian Waddle at bjwaddle@comcast.net.