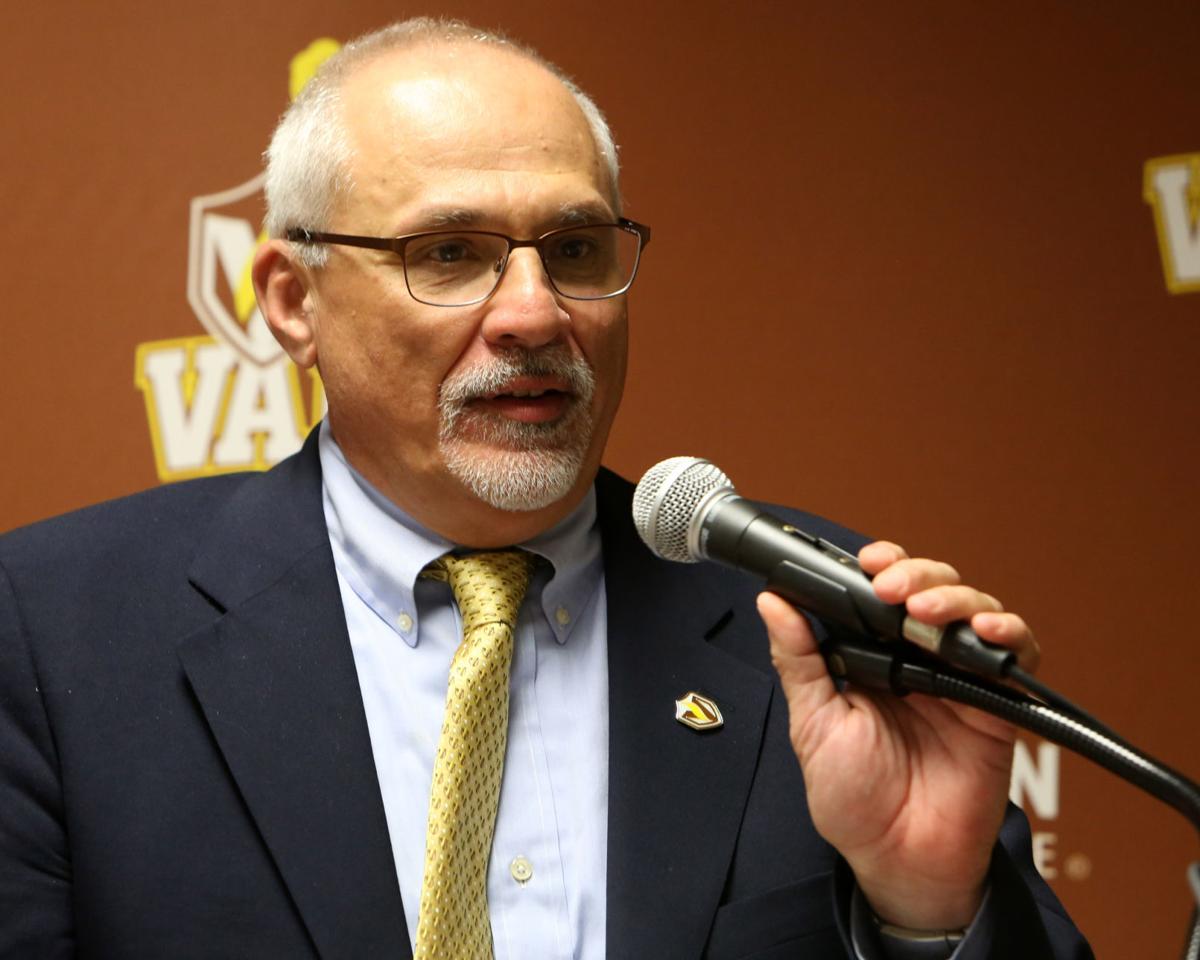 VALPARAISO — Valparaiso University will discontinue its men's soccer and men's tennis programs, multiple officials confirmed to The Times.
Chief Communications Officer Nicole Niemi and athletic director Mark LaBarbera told The Times on Wednesday that the Athletics Oversight Committee of the university's board of directors decided on the change after a multi-year review.
The men's soccer team, which concluded its season Nov. 13, will be dropped effective immediately. Men's tennis will play its 2020 spring schedule before being discontinued.
LaBarbera said current men's soccer and men's tennis student-athletes can transfer without sitting out a season or will have their scholarships honored if they decide to stay at Valparaiso.
"This is about more than money," LaBarbera said. "This will enable us to focus better and focus our resources on the programs that we do have that will continue to happen.
"... We're sad that we came to this point, because these are young men that have represented the university well. They've been good students. They've been good citizens. It's difficult to get to the position where we need to take opportunities away from them."
For the 2019-20 season Valparaiso fielded 21 Division I teams, the most in the Missouri Valley Conference. Valparaiso joined the MVC from the Horizon League in 2017.
Division I members are required to field at least 14 teams, but the rest of the MVC ranges from 15 to 19. LaBarbera said the league was supportive of the cuts.
LaBarbera said Valparaiso's athletic department doesn't make a profit and that 21 teams "was a lot for the university to support" if its goal was to optimize overall team performance. He added that the board of directors have not recommended more cuts.
"We don't do athletics because it's a money-maker," LaBarbera said.
With an undergraduate enrollment of 3,220, Valparaiso is the third-smallest full-member MVC school after Evansville and Drake. Evansville fields 17 teams, while Drake features 18.
As staff support for the committee, LaBarbera was in all of the meetings during the review process. He said it became clear the cuts would need to happen at a board meeting earlier in the fall.
LaBarbera said the university's strategic plan includes a section concerning a review of the "breadth and mix of the athletic department to optimize performance, reduce liabilities and expand national recognition." The move reduces liabilities by cutting spending, and LaBarbera said he hopes manpower and facility access will be spread less thin throughout the department.
LaBarbera also said facilities played a role. The hope is that this makes more room for improvements to Valparaiso's current structures.
"We have a lot of teams trying to train in the same spaces, particularly in the winter," LaBarbera said. "But it's also about access to the training room, the amount of trainers we have, access to the weight rooms, the amount of staff we have there to help."
That could lead to more recognition, LaBarbera said. Especially since Valparaiso is working to put more resources into the MVC's strongest sports where members can make national noise — like basketball, baseball and volleyball.
"One of the things that the board committee said is that we as an institution were committed to being members of the Missouri Valley Conference and we needed to take advantage of the strengths of the Missouri Valley Conference," LaBarbera said. "By that, they said that we have to aspire to be good where the Valley has a real national presence."
The Crusaders' men's soccer team went 4-13-1 this season under coach Mike Avery but featured multiple productive freshmen. Chesterton graduate Jack Eaton wrote in a text message to The Times that he is in the process of entering the NCAA transfer portal.
"It was not my decision and what's done is done," Eaton wrote.
Former Lake Central forward Cole Rainwater was another starter this year for Valparaiso, and Bishop Noll graduate Danny Salazar was a reserve goalkeeper.
The men's tennis team is the last Valparaiso program to qualify for its respective NCAA tournament, falling to Michigan in 2017.
LaBarbera said he informed Avery and men's tennis coach Jim Daugherty on Wednesday morning. Then LaBarbera, university president Mark A. Heckler and each coach informed the respective teams in the afternoon.
Daugherty and Avery declined comment when reached.
"(The coaches) were obviously surprised and disappointed," LaBarbera said. "They both created really good programs that represented the university well, which makes this obviously a hard place to be at."
This story will be updated as more information becomes available.
Be the first to know
Get local news delivered to your inbox!